On the 31st of May, 2019 EY made good on their promise to open source their latest blockchain project called Nightfall. While largely overshadowed by Facebooks Libra announcement we feel Nightfall deserves more attention than it got (read the original article by EY). Read why we feel Nightfall marks an important step in the development of blockchain-based solutions and how you can benefit.
The blockchain dilemma (public or private)
When we architected our first blockchain solutions in 2015 we quickly learned that public blockchains delivered the business value that our clients were looking for: Just like the internet the marginal cost for connectivity to a public blockchain was 0 which paved the way for inclusion and lower cost of connectivity. The BIG problem also became obvious: In order to benefit from this innovation one has to expose sensitive business information as this was needed by nodes in the network to validate transactions. There was no alternative other than to build a so-called private blockchain network where participants were screened before they could exchange protected information. While this idea sounded nice on paper the reality was that it only provided marginal business benefits as such a private system could also be built using existing technologies.
Private blockchain bear great similarity to the intranets that were developed back in the 90's like CompuServe, AOL and Apple eWorld. The business benefits that these platforms were supposed to bring were marginal compared to the scalability of the publicly (and freely) available internet. When the https protocol became more widely available the public internet quickly became a richer environment that was more secure at a lower cost, hence no more intranets exist today. In the case of blockchain the same development is unwinding at a much higher speed: Private connectivity to 3rd party platforms is not providing enough business benefits to warrant large investments, hence adoption slowed and the blockchain market quickly lost traction.
Market dominance
While most businesses abandoned their failed blockchain proof-of-concepts there was a group of enterprise customers that was benefiting from private blockchains. By combining the buzz surrounding blockchain with their existing market power they demanded their suppliers and business partners to onboard their own blockchain. While there were no significant gains for these smaller business partners the enterprise firms benefitted as they could now exercise more control over their supply chain. A good example is Daimler.
Smaller suppliers are now facing a new problem: Larger firms are dictating how they should communicate with them and since there are hardly any suppliers out there who want to be dependent on 1 customer they have to pay for each integration which impacts their bottom line. As a result paper and PDF documents still reign for now as a polite way to delay the inevitable digitization throughout supply chains. We need to rethink how businesses can interact with each other as they see fit at the lowest possible cost.
Solving the dilemma
Back to Nightfall, EY created a solution on top of the public Ethereum blockchain which allowed for a private transaction of tokens. In short this allows 2 users of a public network to make a transaction in full privacy. Similar to what https did for the internet Nightfall allows us to lower the cost of secure transfer of assets between businesses on an existing infrastructure with 0 marginal cost. Nightfall works on Ethereum, a public blockchain that's well established and that has a rich developer network. It's also open source, meaning businesses are able to use it freely to develop new ways of transferring value as shown below.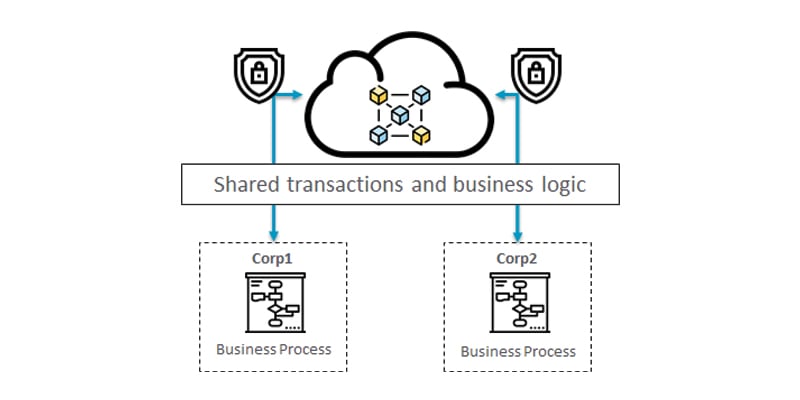 Icons designed by Freepik & monkik from Flaticon
While the initial code is still rough and not user friendly the potential is clearly there. Adam Smith once said: The easier it is to work and coordinate activity with others, the larger a firm can become. Thanks to Nightfall the cost of transfer between organizations can come down once again, allowing us and our customers to make new steps in digitizing their business.