Since the internet came into existence, our way of doing business changed radically. Today you purchase your cat litter online as easy as you would book a flight, apply for a loan or buy a house. Every year the numbers show that e-Commerce is on the rise and will continue to do so. One thing didn't change however and that's the way we sign our contracts. Most online transactions still end with a polite "Can you please sign, scan and email this document" request. This seems strange given the fact that digital signatures have been in existence for over 10 years. But if the technology is ready, why isn't anybody using it?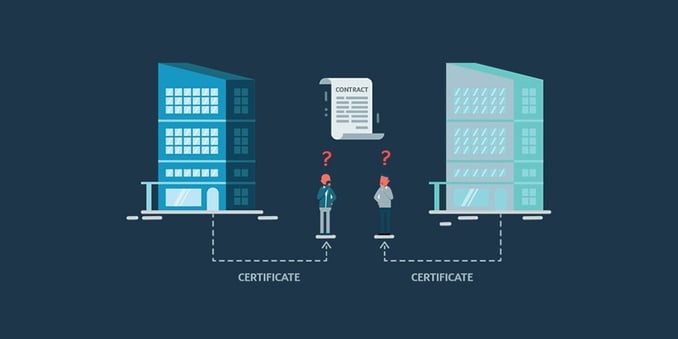 Existing digital signature technologies run on a centralized server, the so-called Certificate Authority. This server generates electronic signatures for documents on behalf of its users. Aside from the complexity of this technology this approach has a fundamental flaw which shows itself when you want to verify a digital signature. To do so you'll need access to the server that generated the signature. While this might not be a problem in times of peace between contractual partners, this is a deal breaker when a conflict arises and parties will no longer cooperate except when forced by the court. There is no fix and identity providers such as governments, banks and more recently Facebook and Adobe have offered workarounds by acting as a trusted third party that will store and verify your signature. Despite these efforts the adoption of digital signatures remains slow.
Everybody agrees there is a need for digital signing to succeed to resolve the inefficiencies and risks that result from the existing print-sign-scan practises. If a technological solution wants to succeed we'll need it to work like the signatures we place on paper today. This is where blockchain technology comes into play. In order to sign a contract on a blockchain infrastructure the user first creates a digital signature himself (just like we all did in elementary school). This signature can be used immediately to sign any contract. The signature and a unique reference to the contract (called a hash) are placed on the blockchain where they can be viewed by anyone at any time, just like anyone can verify a signature under a paper contract today. Even when something better than blockchain comes along, the transaction history can be archived at a fraction of the cost of existing solutions, making blockchain both future and historyproof.
The use of blockchain technology has additional benefits over the existing way of working. Today we need to share our agreements with other parties as well. The example that comes to mind is when you buy a house. You need to prove to your mortgage supplier that you have insured your house and today you would scan and email your contract to them, offering very little security to the supplier. With blockchain technology you can point your supplier to the transaction in the blockchain and send along the digital version of the contract. The supplier can then verify that both you and the insurance company signed an insurance contract and verify if it is still in effect. If the contents of the contract were changed, the unique reference is not equal to the reference that was digitally signed, eliminating the risk of contract fraud.
What is not visible in the blockchain is who signed what. Neither the contract nor the identity behind the digital signature are visible. For anyone to proof that you signed a contract they would need to possess the digital contract which holds the identity information. In addition the supplier would want to verify that your digital signature belongs to your identity, third parties such as banks or governments can provide that functionality.
All in all there is plenty to like about using the blockchain for digital siging. It becomes easy for consumers to retrieve an overview of active contracts they have from the blockchain and such contracts can be drafted as mandates for processing periodic payments under the PSD2 legislation in Europe. Consumers are also able to cancel contracts by sending a cancellation notice to the blockchain, this eliminates any discussion about cancellations that were received too late or about the conditions for the cancellation of the contract since both are coded in the blockchain and cannot be changed by either party without mutual consent.
To show you the possibilities of digital signing on the blockchain Cegeka has developed a signing application that demonstrates the use case above. You can create a digital signature at our identity website and then use that signature to sign an insurance contract. It is then possible to retrieve the contract, verify its hash and cancel it at the identity provider website. This demo shows you what is possible with blockchain technology. If you want to know more about integrating blockchain digital signing in your workflow, please contact us.