Save your sales: how a business application solves 3 major sales challenges


With an imec case story


With a vast array of services to provide and customers to delight, it can be hard for project and services companies to develop strong buyer relationships and communicate effectively with prospects, customers and even employees. Multiple challenges might underlie an interrupted or inefficient sales flow.
So, what can you do to solve these challenges? Find out in detail how our sales application helped imec out in the following webinar. Looking for a summary? Read about the key takeaways in the blog post below.
3 main sales challenges and how to face them
A streamlined sales process is a must-have for any project and services company. If you want to close deals while keeping both potential and current customers happy, it's important to facilitate straightforward communication, collaboration and sales follow-up.
How? A powerful sales application helps you address at least three of the most common sales challenges in project and services companies. Here's how one such application impacted imec's sales processes for the better.
Sales challenge 1: disconnected business departments
If your company consists of multiple business lines operating independently from each other, your salespeople regularly come into contact with customers they haven't worked with before. Having to admit that they have no clue who the customer is makes them – and your entire company – look bad. This can lead to awkwardly stressful situations and frustrated customers.
From attracting leads to closing deals and following up on projects; many different business lines, teams and individual colleagues play roles in your sales processes. They communicate with customers, develop plans, and internally discuss optimal project or service approaches. Data silos are a common outcome, which slow down both internal and external communication, straining your sales processes and your customers' trust in your business.
How do you solve this problem?


Give your salespeople the tools to identify a customer and their sales history in a heartbeat. With this information handy, they'll be able to offer your customers the best-possible experiences, vastly improving sales processes and the number of closed deals. Connect your organization by documenting and centralizing all relevant customer communication and information in a single, user-friendly sales application.
Sales challenge 2: no access to collaborative tools
Piecing together project presentations or important proposals can be challenging if you require input from multiple departments. With contributors who have to sift through folders and inboxes in search for the most recent version to work with, it's hard to maintain a streamlined workflow and avoid duplicate or incorrectly updated documents. This is especially true with teams working remotely, or when there's no standard template document to start from.
A lack of a standardized workflow that enables effortless collaboration between departments leads to more and more unnecessary administrative tasks. These eat up most of your sales reps' and other employees' time and increases the risk of errors.
How do you solve this problem?
A hands-on example from our imec customer case: automated gated collaboration that meets strict security requirements
Imec's sales processes are propelled by different business departments. From R&D to engineering and legal departments – they all have tasks to complete to help sales representatives. Close collaboration is key, but only under strict conditions. As a research and development hub for nanotechnology and digital technologies, the company's sales and customer data is subject to heavy security and validation requirements.
With the Microsoft Dynamics sales application Cegeka implemented, employees only have access to sensitive information relevant for their specific task in the sales process. Sales documents are passed on automatically in a secure digital workspace after a manager's approval.
a

utomated flow

between departments to improve productivity

g

ated

business data

only accessible after

validation

fully traceable

v

alidation

processes

embedded within Office 365

d

edicated

Teams

workspaces

for every stage in the sales process

e

fficient

collaboration

with

cloud-based documents and

tools

t

ime-saving

standardized templates
Curious to see how this works? Check out the demo in the webinar above (starting at 8:50).
Sales challenge 3: immediate follow-up on the sales process
To deliver the best possible customer service, your sales representatives must answer any questions, inquiries or concerns as quickly as possible. However, when they're working remotely or are on the road most of the day, they might have trouble finding the information needed to respond in a timely manner. When a customer has to wait too long for a response to their question, their trust in your company might plummet.
Without access to the tools needed to get a quick update on customer information or a work order's status, salespeople are unable to take control of their sales processes. Customers perceive slow feedback loops as poor customer service, which makes it less likely for them to do business with you
How do you solve this problem?
A hands-on example from our imec customer case: follow-up on project status in a digital workspace
For imec's salespeople to succeed in their jobs, it's crucial that they can be productive anytime, anywhere and on any device. To give them the agile, always-on sales environment they needed, Cegeka set up intuitive digital Teams workspaces
c

lear overviews

of business projects

and customer information

d

ata

centralized

and

accessible

directly

in workspace

i

mproved productivity thanks to

combined features of Microsoft Dynamics 365

, Office 365 and

other applications

automatic notifications and reminders for

easy follow-up

streamlined

internal and external

communication



Curious to see how this works? Check out the demo in the webinar above (starting at 8:50).
Webinar: Boost your sales
Twenty-three minutes of wisdom – with an in-depth case study of the challenges faced by imec and a clear demo of how our sales solution helped respond to them.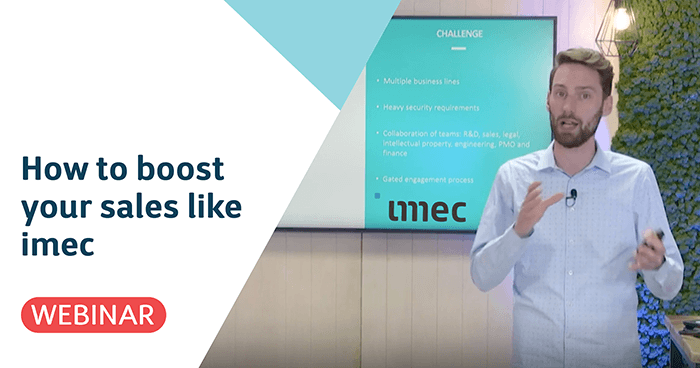 Ready to evolve your sales processes?
Tackle these common sales challenges and enhance the way your teams communicate, collaborate and follow up on the entire sales cycle. Connect your company through powerful business applications and benefit from more sales, higher productivity and better customer relationships. Not sure where to start? We're here to help!

Written by
Maarten Bekaert
Solution Architect with a strong affinity for sales & marketing, having over fifteen years of experience in business & IT consulting for digital transformation and CRM-related solutions. Fascinated about the flexibility of Dynamics 365 and its potential to digitally transform companies without limits. With Power Platform at its core, translating company strategies into effective solutions will never become impossible.
Want to give feedback? Deliver it straight to the author