Cegeka starts up Data Solutions division in the Netherlands
Data-driven working is getting more and more attention from companies and organizations. Data governance, the organization of data, is gaining momentum. More than ever, Cegeka offers organizations a helping hand with data-related solutions. In May 2020, Cegeka took over the Utrecht-based data specialist Finavista. A lot of hard work has been done on the integration of the company with Cegeka and on March 1, 2021, Cegeka Data Solutions started in the Netherlands providing a wide range of services and solutions around data - from data engineering and data governance to business intelligence and data science.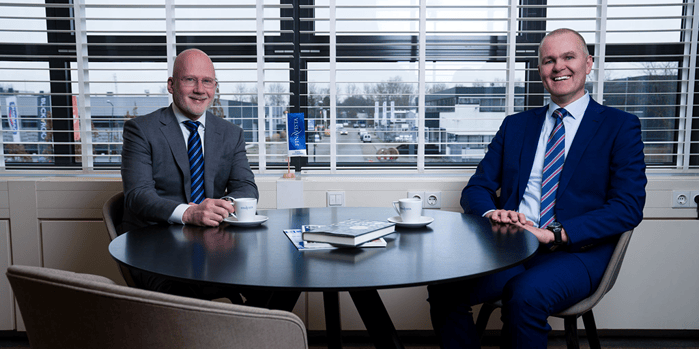 A conversation with Marcel Schenk, general manager (left) and Raimond Joosten (right), commercial director of Cegeka Data
What is the core activity of Cegeka Data Solutions?
Marcel: "The digital transformation is essentially data-driven and we offer all the necessary components to support this: data engineering (data in the right place), data governance (data in order), business intelligence (management based on data) and data science ( improve with data). It starts with thinking along with the customer about how he can best use, access and manage his data, up to and including the realization of the required ICT solutions. Every customer is different, so we do not deliver a ready-made solution!"
Do organizations themselves know how to handle data?
"Some organizations know very well what they want in the field of data and approach us with specific questions for support. For example for data management issues, data migrations and solutions such as dashboards to be able to (re) steer based on data. Other organizations initially come up with a business question. They see their competition digitizing further and want to strengthen their competitiveness, for example by improving customer service. Another example of customer needs is the implementation of cost savings by using data. You can see that it is not primarily about IT here, but about the business. That is why we also have colleagues with the necessary business knowledge who know the processes in the various sectors very well. We also have technical employees and of course data specialists, such as data scientists, and colleagues who know everything about artificial intelligence (AI) and advanced analytics. Together we now have more than 150 driven and enthusiastic data experts in the Benelux who are ready to translate the customer's business demands into technological solutions. "
How do you support organizations in their growth towards a data-driven organization?
Raimond: "Many organizations experience an abundance of data and at the same time want to do more with data. We see that they are struggling with the right approach. Organizations are not automatically data-driven just by setting up a hypermodern platform. Cegeka stands for a pragmatic approach, the customer really needs further assistance. For example, when a customer wants to start with data science solutions, such as AI and machine learning, we work out a concrete use case together with the customer and show the added value in a proof of value. We use our reference architecture in the technical development. This is based on best practices and insights based on our experience. In this way we offer customers a reliable and future-proof data intelligence platform, which is modular and scalable in design. Another advantage is that it can be started 'small', but can result in, for example, major cost savings."
Can you give some examples of what you do for customers?
Marcel gives an example of a project that Finavista carried out for Dutch insurance company a.s.r. "We transferred data that was spread across countless applications within a.s.r. itself, and within a number of companies that a.s.r. had acquired over time, to a single integrated system. As a result, the organization now has a correct picture of all data. It was a large-scale migration process, in total it involved data from almost 1 million insurance policies that we have migrated in steps in recent years. In addition to the migration, we also safeguarded data quality and implemented a rationalization, so that we now only work with 10 products instead of 1,800."
Raimond: "One of our customers is a retailer with dozens of physical stores. Due to the corona measures, no one could enter the stores anymore. The company decided to approach its customers by telephone to persuade them to make a repeat purchase. Only 1 in 20 calls ultimately led to a sale. Thanks to the use of available data, AI and machine learning, the company can now predict which customers are most likely to make a purchase. Only that group is actively approached. This has led to major gains: 1 in 5 calls is now successful. Here we have deployed the Cegeka reference architecture, with this data intelligence platform we make it possible to use AI and machine learning technology for data processes."
Marcel: "Another interesting project we carried out was at Pon Caterpillar. A great environment with heavy machines and vehicles. Working with data is often abstract and here we could clearly see what difference our efforts can make. We have improved data quality for Pon and migrated data for the ERP system. When a machine or vehicle breaks down, a mechanic who does not always know exactly what is going on has to go out and must rely on him to have the correct parts with him. Our efforts have ensured that the mechanics are much better supplied with parts, so that they do not have to return a few hundred kilometers to the warehouse for other parts."
Which markets do you see for Cegeka Data Solutions?
Marcel: "As you can see from the examples, we focus on a broad target group in terms of organization size, from medium-sized organizations to enterprises, with a focus on the healthcare, government and financial services sectors. We expect high demand from these sectors and therefore an acceleration of growth. We see that organizations are increasingly investing in a data-driven approach and the necessary infrastructure. For example, they want to improve their predictive ability and be able to anticipate better. At the moment we are still seeing many experiments and proof of concept projects that will go into production later. Market analysts from ING Sector Research have calculated that € 1.6 billion was invested in AI solutions in the Netherlands last year. That amount will double by 2025. In view of all these developments, it is our ambition to be one of the top data specialists in the Netherlands by 2025. "
What do companies that want to get started with data need?
Marcel: "Companies usually know broadly what data they need, but getting the details clear is not always easy. However, the details are essential to serve as a basis for, for example, business intelligence and AI. Once you have the data available and in order, the way is open for the use of business intelligence and data science techniques. For example, you can use smart algorithms to sharply identify a change in customer needs or to predict when extra capacity is required in a process. "
"Finavista brings 18 years of experience in data quality to Cegeka. Data quality is especially crucial in the financial world, which means that the data must be correct and complete. This is also necessary because of compliance - think of the financial regulators. Our experience in the financial world can also be used very well in other sectors. In addition to requirements from a legal point of view, systems themselves impose requirements on data. The customer also sets requirements for data. And when it comes to determining what "good data" is, we determine that together with the customer. "
You place a lot of emphasis on quality. But how can you guarantee it?
Raimond: "Our approach and method of course help to determine the quality that customers experience. We have the necessary certifications for quality assurance and we work with independent quality assurance, which determines whether we actually work according to our own methodologies, standards and values. The software that we have developed and use for data migrations and monitoring data quality has a four-star TÜViT certificate. At the beginning of this year, the Software Improvement Group (SIG) again awarded this certificate to our software. This certification gives customers the assurance that we use high-quality software to perform extensive data migrations and to systematically monitor data quality. We also make intensive use of Microsoft technology. Cegeka is a gold partner of Microsoft in many areas, including Data Analytics."
Marcel and Raimond also talk about making data available based on the FAIR principles. FAIR stands for Findable, Accessible, Interoperable and Reusable. Especially within healthcare and government, these principles are increasingly used to simplify the exchange of data. Raimond: "The FAIR data principles serve as a guideline for making data suitable for reuse and interchangeability. We support organizations in applying and implementing these principles."
It seems as if we are just at the beginning of the data revolution. How do you see the future?
Marcel: "In recent years, more and more attention has been paid to data quality. And now we see that data governance - putting data in order - has gained momentum, with a lot of input from business practice and from the academic world. Organizations are investing in a data-driven approach in which the quality of data forms the basis for good BI solutions and Data Science solutions, for example to increase the predictive capacity of organizations. It is true that "data" as a field is still developing strongly. "
What makes Cegeka special?
Raimond: "There are of course many parties that offer data solutions. With the integration of Finavista within Cegeka, we have a complete and special range of solutions and services around data. Thanks to the integration, we have more than 150 passionate data experts within Cegeka Data Solutions. These professionals have been working on data projects for years. Based on these many years of experience, we have extensive knowledge of various industries and we understand the customer's processes well. As a total supplier, Cegeka is active in the field of data, applications and infrastructure, which is interesting for many (potential) customers. These activities are closely related and form the IT trinity for every organization! What sets us apart is that we do not work for but with the customer, in close cooperation. Together we grow in realizing their digital aspirations. "
---
Raimond started working for Cegeka on 1 January 2021 and has previously gained 20 years of experience in the ICT sector in advising and supplying ICT solutions to governments, healthcare institutions and companies in various sectors.
Marcel is one of the founders of Finavista, a company that started seconding IT staff in the financial sector in 2002. Since 2007, the focus has increasingly been on activities related to data. Finavista developed its own approach and best practices for handling, managing and analyzing data, still mainly for the financial sector. The growth continued and at the beginning of 2020 Finavista had 35 employees and a flexible layer. The growth also prompted talks about joining a larger party. Due to the good match in terms of corporate culture, commitment and craftsmanship, Finavista joined Cegeka and the acquisition became a fact in May 2020. In the meantime, the necessary successes have already been achieved together with customers from the Cegeka network, including government organizations.
---