Finavista has received a four-star TÜViT certificate from the Software Improvement Group (SIG). The TÜViT certification is a confirmation that the Smart Software Suite version 6.1 meets the international standard for the quality of software products (ISO/IEC 25010). With four stars, Finavista's Smart Software Suite is among the top of the market when it comes to software quality.

Over the past few months, SIG has been reviewing Finavista's software. The software was assessed against five quality levels and calibrated against a benchmark repository of similar software products. The TÜViT certificate was issued for the Smart Software Suite that was developed by Finavista as no-code platform for custom generation of software solutions for managing and monitoring data quality. In addition, this platform is used to perform complex and extensive data migrations. Various financial institutions and organizations in the supply chain sector have successfully completed migration projects thanks to this platform.
Marcel Schenk, managing director Finavista: "The TÜViT certification gives our customers the assurance that high quality software is being used to perform large data migrations and to systematically monitor data quality. This allows customers to focus on the required result without having to worry about software development".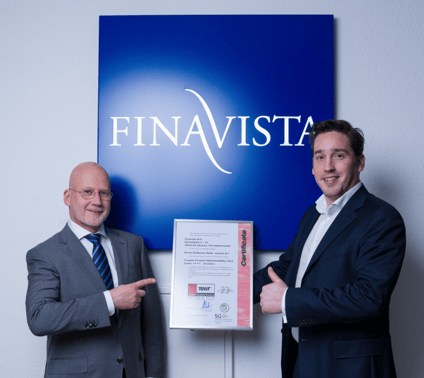 Marcel Schenk & Tim de Boer with the TÜViT Certificaat
Finavista has achieved this certification twice before: 3 stars in 2012 and 4 stars in 2015. Finavista has been developing software since 2007. Since May 2020, consultancy firm Finavista is part of the Cegeka Group. In March 2021 Finavista was rebranded to Cegeka Data Solutions.
About SIG
SIG helps market and technology leaders achieve their business goals by fundamentally improving the quality and security of their software landscape. SIG combines its proprietary analysis environment and models with accurate benchmark data. It uses the expertise of its consultants to help organizations measure, evaluate and improve the quality of their source code - whether they are building, buying or managing software. www.softwareimprovementgroup.com