We're seeking exceptional professionals to join our fast-growing AI & Big Data team in Belgium. As a machine learning specialist, you will be responsible for analyzing, transforming and processing data so that machine learning models can be generated which fulfill the needs of the customers. You will perform these operations using preferred technologies such as Google Cloud Platform & Tensorflow, Microsoft Azure, Python, Scala, etc.
We're mainly searching for senior experts, but if instead of job experience you already collaborated in hackathons or you are passionately following the latest trends in deep learning, that doesn't hurt either.

That being said, we strongly care for a super team and our central value 'respect' is more than a nice image. The below values represent our company culture. Please consider them seriously and only read further if you also value them.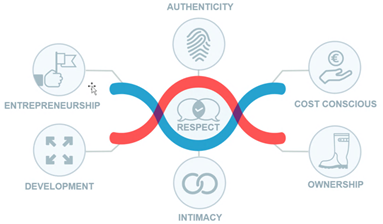 Job Description
You will be responsible for, and continuously further develop, the necessary skills to transform, mine and visualize data in a distributed scalable way. You will help us to improve our cloud operations, maintain strong customer relations and keep innovating towards better and more performing analytical solutions. It's our goal to help our customers with their 'AI first' approach, so we need you to be passionate about keeping up-to-date on technologies related to machine learning, cloud storage & computing, and deep learning. Only a collaborative learning culture allows this, so we expect everyone to play an active role in this.
Responsibilities
Machine learning, business analysis, modelling, reporting and documenting
Collaborate with our team members (also helping/sharing ideas on other than your dedicated uses cases), improve operational efficiency and document best practices.
Developing relations with clients: translate business requirements into robust technical solutions, maintain a high level of support with our clients, deliver in a timely fashion and continue to further improve our offerings.
Requirements
Preferably BS or MS in Computer Science, Electronics, Math, or Statistics.
You have a passion for, and experience with AI & big data, data science, cloud computing and technology in general.
You possess excellent analytical skills and are a good problem-solver.
Good programming knowledge, preferably experience with languages such as Python and (no)SQL
Experience and/or certification of Google Cloud Platform or Microsoft Azure are a strong advantage.
Bringing 'AI first' solutions means you always keep the business use case in mind to prioritize on tech architecture & developments
Team player: both internal with the team as well as client facing.
Cegeka is an international company with Belgian roots having offices in Ghent, Antwerp, Leuven & Hasselt to help you with optimal work-home distance. Work at customer location is part of consulting, but we definitely also work often at the office to empower team collaboration.
You're fluent in Dutch and English.
Why Grow with Cegeka?
Are we looking for an expert in machine learning, yes. But above all we value your drive and culture equally as important – if not more important – than every bullet above.
The AI & Big Data team is a growing department with countless growth possibilities for you. You are the CEO of your career and we want to help you growing together!
Attractive salary & benefits matching your experience, such as meal vouchers, hospitalization, group insurance and company car.
---
Sollicitatieprocedure
01.
Solliciteer
We bekijken je sollicitatie en nemen zo snel mogelijk contact met je op.
02.
Ontmoet ons
We nodigen je uit voor een kennismakend gesprek en ter voorbereiding hiervan vul je een persoonlijkheids- vragenlijst in.
03.
Offer
Ben je overtuigd en wij ook, dan doen we je graag een aanbod om bij ons te komen werken.