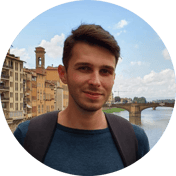 I have joined the Professional Services department in Cegeka about two and a half years ago. Since then, I am working as a Backend Developer for one of Cegeka's clients in a team that was built from scratch. Here I found great people that have all the technical skills in order to do their job properly and they also know how to have fun at work.
During my time in Cegeka, I had the opportunity to work in an Agile development team and to be the Scrum Master of it for about a year. While I had this role, I have dealt with some challenging situations, but I think that I handled them properly together with my team.
One of the things I am looking for in a company is the encouragement to develop new talents. In Cegeka, I think that this policy is one of the company's core values, due to the fact that last year the idea of a Java Academy program appeared. Being involved in organizing the first Java Academy program in Cegeka was a great experience for me, especially because it had a positive outcome. A part of our students joined Cegeka after the program and they performed very well in the projects they were allocated.
What inspires you to become better in what you are doing?
In my job, in order to perform very well, I have to keep up with the latest technologies. I am very interested in researching new technologies and frameworks which could help me to optimize and ease my daily work. Also, working with professional people motivates me to learn more and deliver better.
How does our culture get in line with your personal success/goals?
In a few years, I would like to migrate to the people management area and become a Technical Lead. I think that Cegeka offers me many opportunities in order to accomplish this personal objective. Getting involved in Java Academy and being a Scrum Master helped me a lot to pursue this goal.
What do you love about your job at Cegeka?
I was always encouraged to develop myself by obtaining technical certifications and attending tech events. I think that these aspects are very important in my job in order to keep up with the latest news and technologies. Also, I like that Cegeka offers a good work-life balance and a flexible schedule.