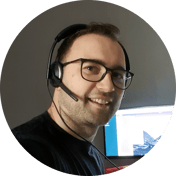 Two and a half years ago I was preparing to return in Romania and hadn't already started looking for a job. It may seem made up but Cegeka was one of the companies where I was thinking to apply for a position and, luckily, for me and for them, I was contacted just when I was thinking to start applying. Even more, the job description contained Java 8, DDD, Agile, Angular, everything I was interested in working with after only reading and watching talks and video conferences about for some time while working on less challenging projects. I joined a distributed team of 8 people out of which 6 in Bucharest and 2 in Brussels which were already working very well together.
As a developer I tend to focus more on learning about new technologies, architecture and technical aspects. Technical skills are important but so are the soft skills. At Cegeka I participated at some very interesting soft skill trainings where I found lots of interesting things about me and my colleagues. The most interesting things I found during one of the exercises are how I like to communicate, how should I do it with people different than me and my core values: Growth, Exploration, Freedom, Fun. I think these values really represent me in general, not only as a developer. I always like to learn (Growth) about new things (Exploration) that I like (Freedom) and I also enjoy (Fun) while doing it. It's even true that if I don't like something I will try to finish it as soon as I can so I don't keep doing it. So fun and freedom are really important to me.
I am not really a sporty person but for the last 3 months I have been hitting the gym 2 times a week every week (yay!) and I have found out that I like shooting the traditional (recurve) bow!
What inspires you to become better in what you are doing?
Except the times when I consciously decide to learn something, I always like to understand how things work and this is what triggers my curiosity which in turn drives me to learn more about a certain subject.
How does our culture get in line with your personal success/ goals?
One of my long term goals is to become a Technical Architect and that requires knowledge in multiple areas of development. At Cegeka I am able to get closer to my goal because, while working on the project, I am able to focus on different subjects of interest to me and also take ownership of new developments which I am later able to share with my teammates during knowledge sharing sessions or even other people in the company during guild meetings or workshops.
What do you love about your job at Cegeka?
I love that I am able to exercise my curiosity, learn new things and grow while having fun with my colleagues. I also like that there's always openness for discussion and there are no hard/absurd rules that are imposed on us even if we don't like them.