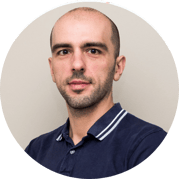 It's been more than 6 years on this incredible journey and still counting.
I started out as a BI developer and worked my way into learning new things and deliver great projects.
Looking back, I would say it was not too hard to accomplish this. I was always surrounded by friendly and supportive people eager to teach and grow potential in others. If you have the right mindset and willingness to grow your skills, Cegeka offers great opportunities for it.
Another dream opportunity appeared about 3 years ago when a new Azure CI-CD project was started in DSA.
Being attracted to it from the beginning and collaborating on the BI part, I didn't hesitate to agree when asked to join it full-time.
And now, my team and I are building and delivering great things - automation and integrations that make the process of delivering quality software much simpler for the other colleagues.
I enjoy very much the work I am doing and I am thrilled to be part of this success story.
What inspires you to become better/ be the best version of yourself?
In my opinion, personal and professional development should be a big focus for every person in our society.

It is easier than ever to access new information, to study, to form ideas, and this self-development should be seen as a natural process (and encouraged more by all institutions in our lives).

Professionally, I try to be up to date with the latest trends, to have the latest certifications and to be able to apply the acquired knowledge to maintain the project I am working on as a modern and successful one.

For my hobbies, I like to learn new things, but also to dive deeper into already known topics.
How does our culture get in line with your personal success/ goals?
At Cegeka I found the perfect balance between personal and professional life and a supportive, friendly environment that stimulates your desire to progress and develop your skills.
What do you love about your job at Cegeka?
In my current position, I have the opportunity to work with the latest cloud technologies. I consider this field to be fascinating, a turning point in the IT industry and I am happy to be one of the pioneers who implement cloud automation solutions successfully.