Proudly representing on SysAdmin Day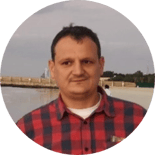 In 2017, I made a change in my professional life, and I started to work for Cegeka as a Senior Storage Engineer. As any other beginnings, it came together with new challenges but also with new satisfactions.
Besides a lot of fun and great people, I found here, something very unique… It's very common to have new joiners in Software Development teams where the juniors can put their code in the test environment first, but in infrastructure it's different: you run commands directly on the customer's environment. It was actually amazing that Cegeka allowed me to add in our team people with no storage knowledge, but with a strong willingness to learn. This is one of the greatest rewards I have: the people who grew within the team with my support. They develop within a similar mindset and apply the same approaches, in accordance to what they learned from you. What could a Senior and a Mentor wish more in a company? 😊
Here in Cegeka, I can also apply 2 of my life mottos: "Impossible is just an opinion" and "At the end of the day it's not about what you have or even what you've accomplished,it's about who you've lifted up, who you've made better. It's about what you've given back."
Another cool thing in Cegeka is the work/life balance. Well, when I don't work, I love to travel with my wife and I also play bass-flugelhorn in a brass-band.
What inspires you to become better in what you are doing?
Some time ago, Einstein said "Everyone knew it was impossible, until a fool, who didn't know that, came along and did it." Besides the technical fulfilment I have every time I finish a complicated case or complex project, I also have sometimes the satisfaction to be a "fool" person who made the impossible possible. This is pumping up energy and enthusiasm to get even more "impossible" things done.
How does our culture get in line with your personal success/ goals?
One of the things which make Cegeka different from other companies is the way you get the liberty to do what you want. Of course, there are limits (set by the business, like in any other companies), but within these limits you can express yourself. The most beautiful part is that new ideas are not accepted the very first time but neither rejected, therefore you must "fight" a bit and identify the advantages of your ideas which can best serve as the most convincing arguments. In the end, you are proud twice: because your ideas are integrated in the daily work and because you succeeded with something which wasn't easy to implement. This way (or process) is meant to develop a positive and ambitious persistence, so you cannot take this freedom for granted.
What do you love about your job at Cegeka?
Although there is no such thing as the "perfect job" (workplace), I found at Cegeka a lot of components for a great environment where everyone would like to work. From complex technical infrastructure and challenging customers with challenging projects, to complete teams with both juniors and seniors. There are a lot of possibilities to "give back" (help juniors) and also to learn more (if you are the smartest person in a room, you are in the wrong room).