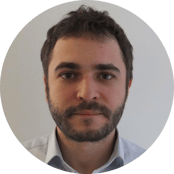 When I accepted the role at Cegeka, almost 3 years ago, I had no clear expectations for the company I was about to join. One can argue that this is not the ideal plan😅, but I was willing to give it a go and decide for myself who is right in the dispute 'good place/bad place'. Not disappointed, not in the slightest.
From the first day, I learned about the company values, the principles guiding the teams or the willingness of the company to support individuals; somehow the 'standard corporate speech', but what surprised me the most is that the people were actually guided and seemed to care about this code! At that moment I knew that I made the right decision to join the team.
What inspires you to become better in what you are doing?
The desire to learn new things, to attain new skills or to explore and to try to do *something* better than the last time. Not necessarily in the professional area, but every day I go to bed and knowing that I achieved +one 'something' is a good day, and recently I became a father, so yeah, not a single day looks like the previous one 😊
How does our culture get in line with your personal success/ goals?
Even if Cegeka is growing into a big corporation, I still feel that I, as an individual, am still important. Whether a personal or professional goal I have the environment to achieve it; for me, this positive and supportive attitude towards the employee triggers the will to evolve.
And time. This is the most valuable resource and I find that the life-work balance is highly encouraged.
What do you love about your job at Cegeka?
That there are no imposed rules to make it work; of course, the opinion must be valid and accepted, but the number of restraints is minimum (ofc., compared to other companies for my current role).