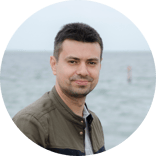 I've joined Cegeka two and a half years ago, at that time I was looking for a job that suited me from various perspectives. The Romanian IT market offers many opportunities, but there are few companies in which you really enjoy doing your job. I'm glad that the experience in Cegeka, so far, turned out to be what I was looking for.
I always liked to combine technical tasks with people management, and at Cegeka I felt that I could have a balance between them. Also, I'm grateful that I was able to get involved, along with my team, in people development initiatives, such as the Java Academy.
During my time in Cegeka, I felt that me and my team enhanced our development, and by team, I mean the entire Professional Services department. I got the chance to meet many professional people and also reconnect with former colleagues that are now also working in Cegeka.
I am convinced that I will continue to have new challenges in Cegeka, but also great times with my colleagues, outside work. It is quite clear to me that Cegeka is an important chapter in my career, which will influence my further professional development.
•What inspires you to become better in what you are doing?
What drives my motivation is that I have the chance to inspire more junior colleagues who are at the beginning of their careers. In this industry, every year new colleagues are joining, fresh graduates, or maybe even students. It is very motivating to see that for some of them I am a role model, and they try to leverage as much as possible from my experience.
•How does Cegeka encourage you to achieve your personal/professional success/goals?
One thing I really like about Cegeka is flexibility, it encourages you to make your own decisions and choose how you want things to be done.
•What does it mean to you to be a consultant for Cegeka?
Being a consultant at Cegeka brings me responsibility in delivering the best results for the client, trying to fit as much as possible in our partners' organisation and to enlarge Cegeka's team throughout the recruitment process I'm involved in with the top specialists from the IT market.