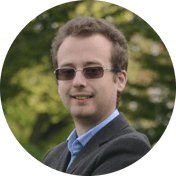 When I joined Cegeka nearly two years ago, I would have never imagined that an employer can be so flexible and employee-centered; moreover, this company finds tailored solutions for each one of us.

I am proud to be a member of this community of professionals that strive, in close cooperation, to make the world a better place.

About me, as an individual, I am passionate about technology and unusual start-ups and I'm passionate about extreme sports like bouldering or mountain biking. I also relax with an occasional jog and read voraciously both technical and fiction literature.


What inspires you to become better in what you are doing?
For me personally, there are two main drivers for becoming better: first, my way of being, always striving to be a better person and secondly, the chance to inspire and mentor more junior colleagues who are at the beginning of their careers or are experimenting career shifts in these interesting times.
How does Cegeka encourage you to achieve your personal/professional success/goals?
By granting me the freedom and independence to be who I am and allowing me to develop and grow in the directions that are important to me.
What does it mean to be a consultant at Cegeka?
Being a consultant for Cegeka is like having a big brother: always there if and when you need him, in a way that makes others feel "jealous", but never becoming a burden.