Ovidiu Pinghioiu started working in sales since high school, being very determined and motivated by the desire to succeed, to achieve performance in business. Thus, he put the faculty on a secondary plan, precisely to better identify the education he needs, coordinated with what he was already putting into practice in the workplace, trying at no less than 4 faculties and finally choosing the Faculty of Economics.
Currently, Ovidiu has a growing team of 200 people within Cegeka, in a division formed by him from scratch, where he works for clients in Romania and internationally in the area of ​​software development. This year, he was ranked by Ziarul Financiar as one of the top 100 young managers.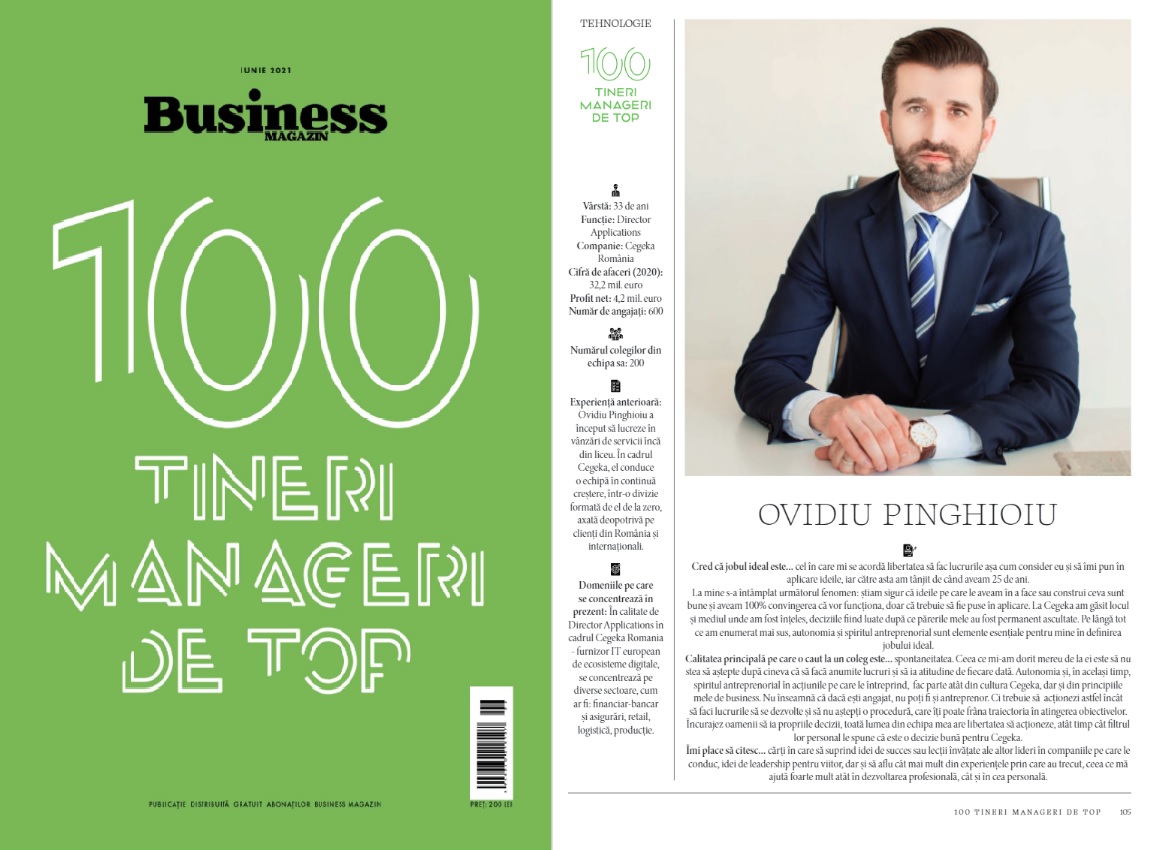 As Director of Applications at Cegeka Romania - European IT provider of digital ecosystems, he focuses on various sectors, such as: financial-banking and insurance, retail, logistics, production - wanting to continue to support our customers in 2021 with solutions end-to-end provided by the Business Line of Solutions, Applications and Data Infrastructure, but also by extension and integration services of the teams of IT specialists they own.
"The ideal job for me is the job in which I am given the freedom to do things as I see fit and to implement my ideas, and I have longed for this since I was 25 years old."
The following phenomenon happened to him: he knew for sure that the ideas that he had in making or building something were good and he was 100% convinced that they would work, only that they had to be implemented. At Cegeka he found the place and the environment where he was understood, the decisions being made after his opinions were permanently listened to. In addition to everything he listed above, autonomy and entrepreneurship are essential elements for Ovidiu in defining the ideal job.
Lessons learned
The most important things that he have learned so far are:
Discipline and perseverance are two conditions, which are not mutually exclusive and which, regardless of the situation, support you to achieve your goals, regardless of their nature, professional or personal.

The second thing that he learned, this time from his parents, is that you need to be able to filter out all the information you receive, both pleasant and unpleasant experiences. You have to take what is best for you, depending on the direction in which you want to develop. Negative opinions, although sometimes more difficult to accept, taught him how not to be or not to behave. Thus, he adapted and reinvented himself after each situation on all levels, putting this filter and trying to get the best version of him.

Failure should only be seen as a temporary, necessary and inevitable step to build the desired success. The most important thing is to have the ability to learn as quickly as possible from your own mistakes and to adapt your actions accordingly.
Spontaneity is the main asset of my colleagues
What he always wanted from them is not to wait for someone to do certain things and to take action every time. "Autonomy and, at the same time, the entrepreneurial spirit in the actions I undertake, are part both of the Cegeka culture, but also of my business principles. It does not mean that if you are employed, you cannot be an entrepreneur. But you need to take action so that you can make things develop and not wait for a procedure that can slow down your trajectory in achieving your goals. I encourage people to make their own decisions, everyone on my team is free to act, as long as their personal filter tells them it's a good decision for Cegeka," said Ovidiu.
Reading makes him feel fuller, and that's why he introduces it into his daily routine. If before he allocated time for reading in the evening, when he was not very tired, he found at one point that it was not very productive, the way he could not read, he was not consistent. Therefore, he changed his schedule, he wakes up early in the morning and reads about 45 minutes a day before going to the gym, just to maintain a regular reading rhythm.
"I like to read books that capture successful ideas or lessons learned from other leaders in the companies they run, leadership ideas for the future, but also to learn as much as possible from the experiences they have gone through, which helps me a lot. much in both professional and personal development. I read books in parallel, I want to absorb as much information as possible, and, therefore, I combine business reading with fiction, especially detective novels or action books."
"If I were to recommend one of the recently read books, it would be "No rules rules" - Reed Hastings and Erin Meyer - which showed me a revolutionary perspective of leading an organization in a constantly changing world and unpredictability at every step. , rejecting the beliefs accepted so far by classical management.
I spend most of my free time with me, but also with my family. I have a child and my wife and I take care of his development and education, I like to do a lot of activities with him, to be part of shaping his future.
The time dedicated exclusively to me - being a very organized and active person, I have a morning ritual that I do not deviate from: I wake up very early in the morning, and as long as I drink my coffee, I read every time between 30 and 45 minutes. I like to read several books at the same time and be exposed to new ideas. I especially like books that challenge me and offer me new perspectives and paradigms of thinking. I strongly believe that lifelong learning is the key to successfully leading a team and overcoming yourself professionally. Also part of my rigorous program is going to the gym 5 times a week, from Monday to Friday, because I am one of the promoters of the motto "mens sana in corpore sano". This helps me to be healthy, to disconnect from daily stress and to recharge with energy for the next day."