If you're relying on Microsoft Dynamics 365 to achieve your marketing goals, you're in for a treat with the improvements offered in 'Release Wave 1'. Eager to find out which updates will help you better reach new and existing customers, build meaningful relationships with them – and what AI has to do with all that? We've listed the best new features for marketers.
What's new for marketers?
With a new set of exciting updates for Microsoft Dynamics 365 coming up between April and September, marketers are sure to up their game. Since they are based on real customer feedback, the improvements announced in the Dynamics 365 Marketing 2021 Release Wave 1 Plan will definitely empower you in your achieving top-notch marketing results.
The new features in Microsoft Dynamics 365 Marketing will help you to:
build deep engagement through extensive personalization;
reach your customers via new channels;
and ultimately achieve your business goals.
Unleashing the power of AI
Everything marketers knew about their target audience has changed since COVID-19 decided to shake things up. All right, maybe not everything, but customer behavior, needs and expectations are evolving. Meaningful connections and a personal approach are key elements consumers are looking out for, now more than ever.
Artificial Intelligence can lend marketers a hand to break through the noise and foster long-lasting relationships with their customers. With AI-infused technology running on top of the new features in Microsoft Dynamics 365 Marketing, you'll be able to truly understand your audience and adapt your interactions to that newly gained knowledge.
From customers to fans in a heartbeat
If your goal is to build a strong relationship with your customers, highly personalized communication is the way to go. You want to adjust your messages to each individual customer's specific context so that they add real value to your customers' lives.
Learn more about the features that help you do exactly that:
AI-powered segmentation
Sometimes it's hard to decide which parameters are most relevant when segmenting your audience. What data should you consider? Where do you find that data? Here's where Dynamics 365 Marketing steps in.
A powerful AI-powered segmentation feature enables you to target the right people and companies every time. Dynamics 365 Customer Insights analyzes tons of data for you and even takes time, frequency and monetization into the equation.
New segmentation opportunities you haven't even thought about? AI detects them and suggests them to you.
Targeting throughout the entire customer journey
Up until now, the only customers you could target for your marketing activities in Microsoft Dynamics 365 were those defined as 'contacts'. This either leads to missed connections during the customer journey, or the hassle of creating a parent contact for each of them.
Finally, one of the most requested features will soon become reality: targeting customers and prospects that are defined as leads or opportunities.
User-friendly dynamic content
Adding dynamic content to your e-mail campaigns was such a drag in Microsoft Dynamics 365 Marketing before this update. Remember what it felt like? Trying your best to write a small chunk of code or asking your favorite web developer for help – again? Those days are over!
You'll be able to author your dynamic content in a point-and-click interface. Just like that. And what's even more exciting, is that you can include all sorts of information – any data you want. You're not restricted to choosing only the contact entity, but you can pick from all the entities in Dataverse and even add lists, such as purchased products or attendees to an event.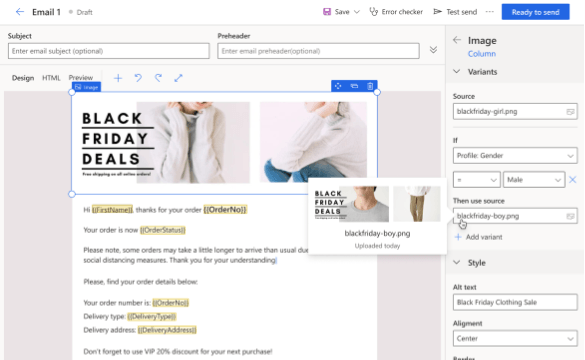 The right message, at the right time, on the right channel
Marketers are on a constant quest to find the best way to deliver messages their customers can identify with. Thanks to the latest Microsoft Dynamics 365 Marketing updates, you'll have easy access to all of the right digital assets to include in your messaging, and more channels to deliver them on.
AI-recommended assets
Struggling to find spot-on content for your campaigns in your vast asset library? Dynamics 365 Marketing assists you in getting it right every time. With AI-driven recommendations, you'll be able to quickly select the best image, video, document and more to drive engagement.
But how does it work? AI analyzes your new and improved asset library, which centralizes all of your digital assets in one location. Every piece of content is assigned a proper tag, enabling the feature to rate its usability for your campaigns and present only the best assets for your specific context.
Some other helpful features coming to the asset library:
versioning: create different versions for your assets or return to a previous version;
bulk import: feed your library with multiple assets at once;
smart content: avoid broken links for assets with active references.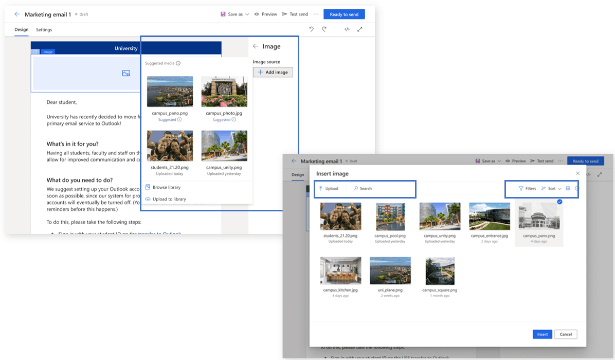 Low effort e-mailing
Get ready for a whole new e-mail editing experience in Microsoft Dynamics 365 Marketing. Next to a fresh look and feel, you will enjoy new features allowing you to create e-mail campaigns quickly and without compromises.
Get immediate access to important e-mail information such as sender, subject and preheader. Content fragments are made more powerful and easier to use and reuse. Errors are flagged right away instead of after a test is triggered.
SMS messaging to any mobile phone
Did anyone request more channels? Microsoft will be adding SMS messaging as an out-of-the-box channel inside the Marketing app. Moving forward, there's no need to integrate an online SMS provider like Twilio.
Include SMS messages in your automated customer journeys and marketing campaigns, add it to your customer service flow – even incorporate it into transactional scenarios. You can do it all right within Microsoft Dynamics 365!
Push notifications in mobile apps
Does your business have a mobile app? Drive higher engagement and retention with personalized push notifications orchestrated from within Microsoft Dynamics 365 Marketing.
Lead your customers to dedicated pages on your website or app, or help them take a preferred action with rich, customized messages that include images, videos and sound.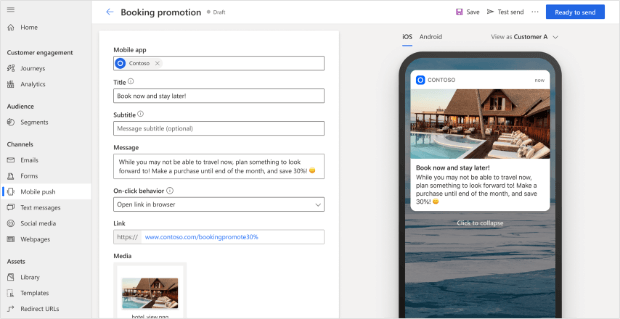 Want to learn more about Microsoft Dynamics 365 Release Wave 1?
Watch the recording of Microsoft's Business Application Launch Event that took place on April 6, 2021. James Phillips, President of Microsoft Business Applications, and other Microsoft leaders, have explained more about what this release wave means for you and your business.