If you're using Microsoft Dynamics 365 in your sales processes, you'll know major updates are coming up in April. Curious how Release Wave 1will help you understand customer needs even better, drive engagement and sell more efficiently? Discover the best new features and improvements for sales in our quick overview.
What's Release Wave 1 all about?
Microsoft has published a set of updates for Microsoft Dynamics 365 and Power Apps that will be released between April and September: the Dynamics 365 Sales 2021 Release Wave 1 Plan. These updates are based on client feedback and are designed to help you keep pace with technological changes.
Key improvements in Microsoft Dynamics 365 Sales will enable you to:
capture relevant data automatically;
work faster through process and task automation;
support digital and mobile interactions.
Data-driven insights, better sales decisions
Sellers take part in dozens of conversations each day, often using their mobile devices. With the Microsoft Dynamics 365 Sales update, you'll never miss out on important information ever again. Capture every detail of your customer interactions with features such as:
Automatic transcription
This feature comes in handy when you're in a situation where note-taking isn't possible. Each call and online meeting you have is automatically transcribed for future reference.
Automatic assignment to entities
Each phone call you make is automatically assigned to its relevant Microsoft Dynamics entity and the data is captured accordingly.
Conversation intelligence
Microsoft Dynamics 365 analyzes your conversations on different channels (phone calls, online meetings, etc.) and provides intelligent insights to assist you in your sales decisions.
Get real-time details such as talking speed, talk-to-listen ratio and more to better understand how the conversation is going.
Additional features that will help you accelerate sales based on data, include insights in seller KPIs and manager dashboards. Keep track of your progress and sales goals with a real-time overview of your KPIs (qualified leads, calls, meetings …). Managers can also access this information to view broader sales performance.
3 new timesavers in Microsoft Dynamics 365 Sales
The Microsoft Dynamics 365 Sales update comes with a collection of features to make life easier for sales personnel. Enhanced automation and customizable sequences will save you a significant amount of time, which you can then dedicate to what really matters: selling.
Some of the most interesting features:
Automate repetitive tasks
Whenever an important event takes place in a decision-making process, such as a new decision-maker or opportunity popping up, sellers act on it in very similar ways. What if you could automate some of those common tasks in order to provide your clients with a faster and more consistent service? The Dynamics 365 Sales update has your back.
With custom sales sequences, series of standard actions that are triggered by an event such as 'link clicked' or 'quote read', sales personnel can quickly respond to certain customer behaviors, with built-in conditional next steps.
Customizable work queue
As a sales person, you're constantly juggling between to-dos for customers, prospects and colleagues. The Dynamics 365 Sales update will allow you to easily manage your activities and keep a clear overview of your work.
Benefit from customizable filters and settings and an integrated Outlook calendar view in the Sales app.
Deal Manager Workspace
Are you managing your sales pipelines through dashboards, multiple views and business process flows? With the new Deal Manager Workspace, you'll get the right context for your deals more quickly, allowing you to take action in just one click.
This new workspace experience is directly accessible from the Sales hub and other custom apps, and makes managing deals more engaging, intuitive and successful. You can expect:
a new sitemap entry in the sales hub pointing you to the Deal Manager;
a workspace container with all components available out of the box;
support workspace for organizations using custom apps.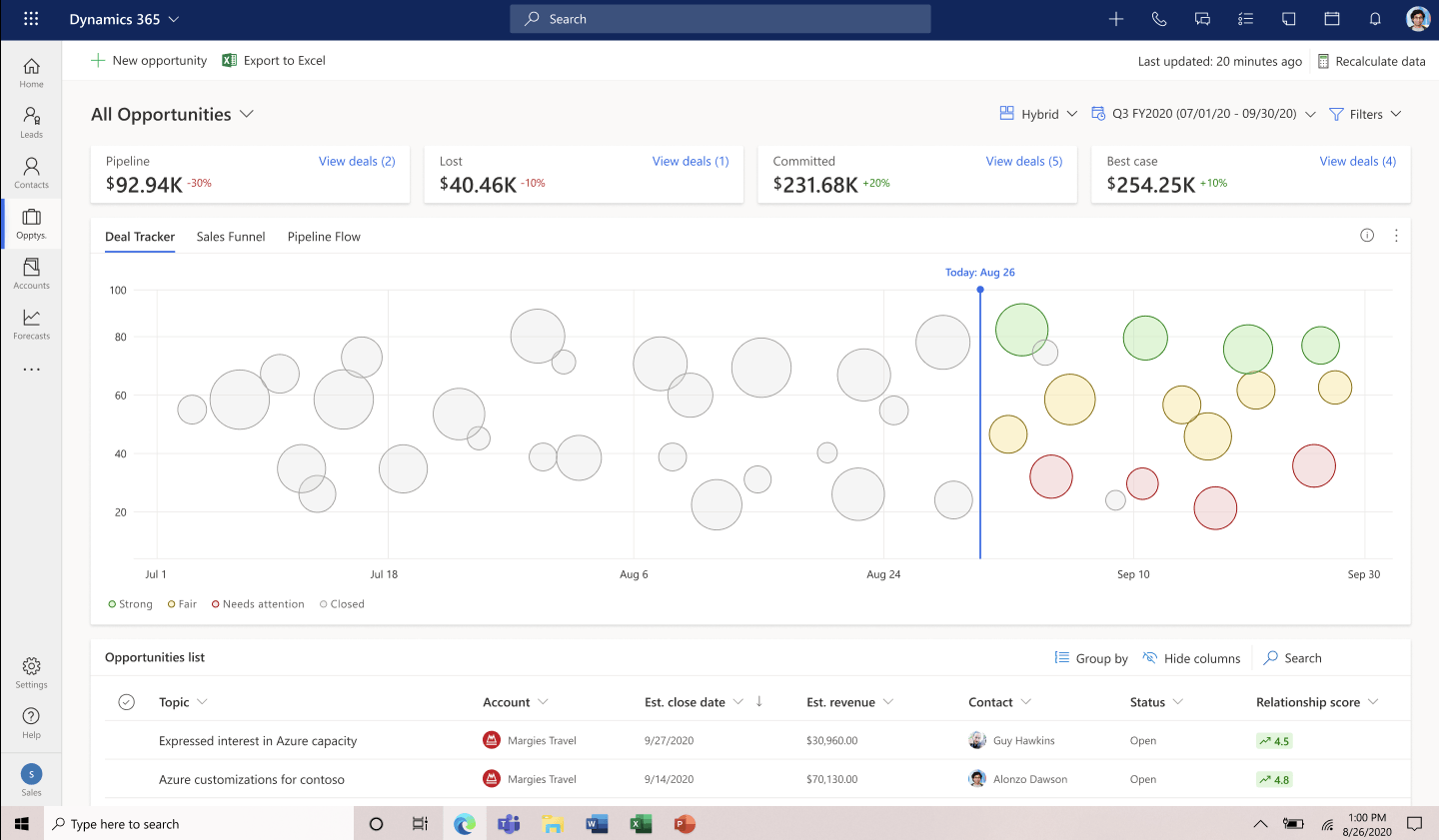 Digital collaboration made easy
The way we interact and collaborate with co-workers and customers has changed dramatically over the past year due to COVID-19. New features and extensions of existing features support digital interactions and make them easier. For example:
Further integration with telephony systems
It was already possible to integrate Microsoft Dynamics 365 with your telephony system, but current features have been extended and made more user friendly. Count on out-of-the-box functionalities (such as 'click to dial' via softphone) and VoIP system support, call recordings and video calls initiated directly within the platform.
What else is in store for you?
One feature that's not included in the current Microsoft Dynamics 365 Sales Release Wave, but that can be expected in one of the following releases, is the ability to add products to quotes, orders and invoices.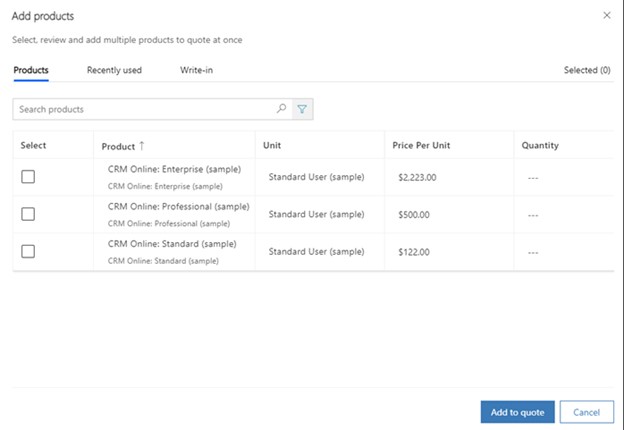 This new feature, now in preview, will accelerate your workflow. It's definitely worth the wait and will allow you to:
quickly find products from the catalog based on free-text search;
filter products based on product families and views;
view product details in line and compare products before selecting any;
select and add multiple products in one go;
add write-in products with just a few clicks.
Want to learn more about Microsoft Dynamics 365 Release Wave 1?
Watch the recording of Microsoft's Business Application Launch Event that took place on April 6, 2021. James Phillips, President of Microsoft Business Applications, and other Microsoft leaders, have explained more about what this release wave means for you and your business.