Free webinar
Take your service delivery to the next level
With an APTCO Group case story
Does personnel planning at your company sometimes run off the rails? Maybe you want to give your customers more insight into the status of work orders and support requests to be sure you are on the same page? Cegeka is here to help breathe new life into your service delivery approach.
We've created a helpful webinar on service delivery challenges and solutions in project and service-oriented companies, hosted by our industry manager Daan Danneels and our solution architect Bart Lemmens.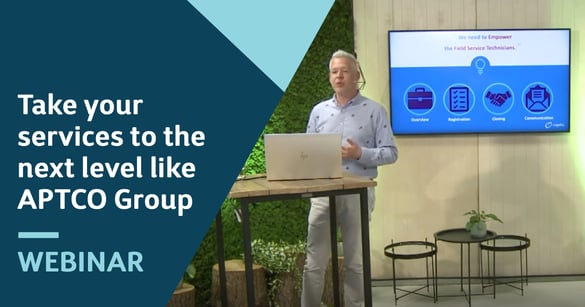 In this webinar, we will:
explore a number of specific service delivery challenges projects & services companies are facing today.
elaborate on how our service delivery solution helped APTCO Group.
delve into the main benefits of our service delivery solution for projects & services companies.
This webinar will give you an overview of how Microsoft Dynamics 365 can help you improve your service delivery processes and support you in becoming a connected company.
To help your projects and services company even more, we created four other on-demand webinars that offer an in-depth look at some of these challenges and our solutions.
Even more, each webinar also includes a hands-on customer case featuring a successful implementation of our Microsoft Dynamics 365 solutions.