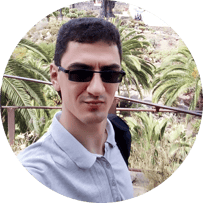 "I've been part of the Cegeka team for about 2 years now, but my tech journey started a bit earlier, in 2014. It was at the end of my final year of Master's studies.
My story comes with a bit of a twist. While I successfully finished my studies and became a certified Engineer, I wasn't actually a Software Engineer. I was a Construction Engineer.
I was forced to adapt to the jobs market at the time, so I used my raw tech skills and took an entry job in order to polish them. I knew that I had to be hungry for knowledge and focused on my new path. About 4 years later I was ready for the next change, ready for further improvement and joined Cegeka team.
I found a different culture here, a different way of working. Working on client's site was a new challenge, but given the quality of the people around me from both Cegeka and the client, I quickly found my place.
I still believe I have a lot more to learn and improve and Cegeka is the right place where I can do it.
So, this story is still "under construction" – pun intended. "
What inspires you to become better in what you are doing?
"I am driven by the ambition to push the limits of my knowledge and skills a little further every day. I've always been curious and perfectionist, two qualities that I believe are a must for any kind of progress."
How does Cegeka encourage you to achieve your personal/professional success/goals ?
"Cegeka provides the means for further development of one's skills, like support (both moral and material), constant check ups and talks about the current progress and what needs to be twitched in order to achieve the goal. Care for the constant improvement of their employees is what makes a company a success story. "
What does it mean to you to be a consultant for Cegeka ?
"To be a consultant for Cegeka means I have a partner that I can trust, a partner who can be there when I need it and with whom I can have a fruitful collaboration to find the best way to serve our clients."