It has been an exciting two months since the inauguration of our new European Delivery Center (EDC) office in Athens, Greece. Recently, we had the privilege of hosting a press conference with Greek journalists, who were eager to learn more about Cegeka, our mission, our choice of Greece and Athens, and our future plans. We were delighted to address every inquiry, and here is what we unveiled.


Who is Cegeka?

In a nutshell, Cegeka is a family-owned business that specializes in software development, hybrid cloud solutions, data analysis, AI, and digital platforms. Cegeka will develop operations in Greece as part of Cegeka's European Delivery Center. Greece will serve as Cegeka's fourth country of their European Delivery Center after Romania, Moldova, and the Czech Republic. In addition to Cegeka's European Delivery Center regions, from where customers are serviced, Cegeka operates in more than 10 European countries.
Within the Cegeka organization, we have distinct entities fulfilling specialized roles. Citymesh is our dedicated mobile connectivity specialist for the business-to-business market. Nexuzhealth develops tailor-made solutions for the healthcare sector, while Cegeka Business Solutions stands as the European Dynamics house—a trusted partner for Microsoft D365 solutions. Additionally, Smartschool is our digital school platform in Belgium, designed to foster collaboration among schools, teachers, students, and parents.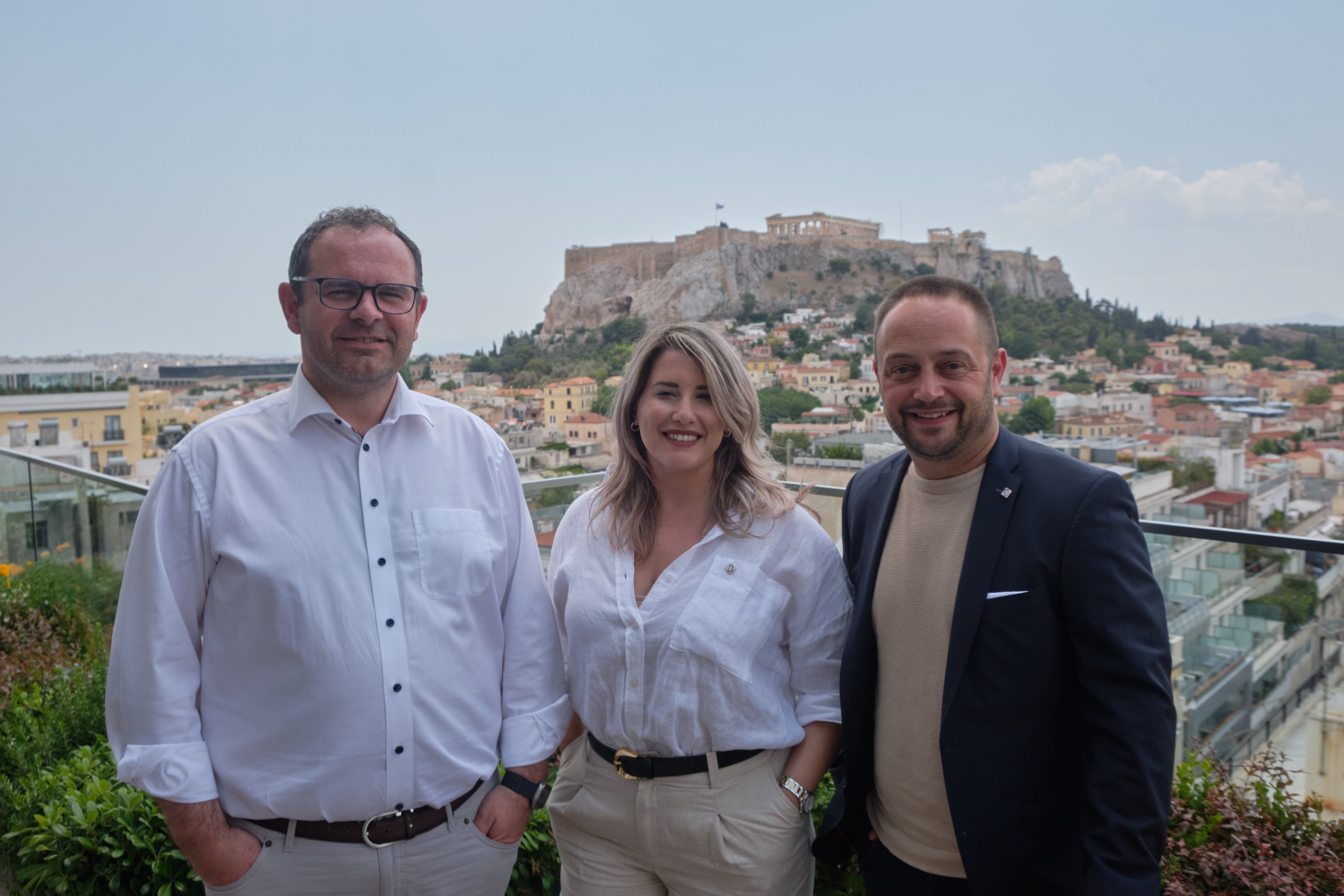 Tom De Vos, Director EDC, Xanthippi Kalakani, HR Business Partner and Sergio Destino, Global Operational Marketing Director
Why Greece and why Athens?
Greece, specifically Athens, offers several compelling reasons for various purposes, and here's why they stand out:

1. Young working population: Greece boasts a relatively young working population, which is advantageous for businesses seeking a dynamic workforce. Athens, as the capital and largest city of Greece, is a hub for young professionals, offering a pool of talented individuals to recruit from.

2. Office spaces: Athens provides a range of modern office spaces and commercial districts to accommodate businesses of all sizes. From coworking spaces to state-of-the-art business centers, Athens offers ample options for establishing or expanding business operations.

3. Connection to the airport: Athens benefits from excellent transportation infrastructure, including its connection to Athens International Airport. The airport serves as a major travel hub, providing convenient access to both domestic and international destinations. This connectivity facilitates business travel, trade, and the establishment of global connections.

4. Base for recruiting in another location: Athens serves as an ideal base for recruiting and expanding into other locations, both within Greece and beyond. Its strategic location in southeastern Europe enables easy access to neighboring countries, making it a gateway for businesses looking to tap into emerging markets in the region.

5. Universities & graduates: Athens hosts several renowned universities and educational institutions, attracting a diverse range of students and producing a talented pool of graduates. This academic environment offers businesses access to a skilled workforce and opportunities for collaboration with research institutions.

6. Public transport system: Athens has an extensive and efficient public transport system, which includes metro lines, buses, and trams. This reliable infrastructure enables convenient commuting for employees and facilitates the movement of goods and services throughout the city.

These factors collectively make Greece, particularly Athens, an appealing choice for businesses seeking a vibrant and accessible location with a young workforce, modern office spaces, connectivity, and opportunities for growth and collaboration.


What are the next steps?

Our immediate priority in our journey is to make strategic investments in talent acquisition and establish a highly skilled IT team. This strategic move is integral to our goal of solidifying our position as a prominent player in the industry. Looking ahead, we have set ambitious targets for ourselves, aiming to hire up to 300 talented individuals over the next three years and deliver quality services to clients.