Tom De Vos, director nearshore, Cegeka Romania: "We hope that immunization through mass vaccination will help revive and increase economic activity." Read the full interview bellow.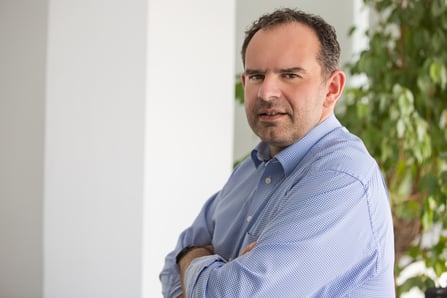 How do you think the COVID-19 vaccination will influence the activity in your sector?
"We at Cegeka believe that the vaccination is a very important measure in stopping the Covid-19 pandemic, at the moment we consider it to be the most effective solution to protect our employees against this virus. At the same time, we support this joint effort of immunization through vaccination, in the hope that it will help us a lot in returning to a normal life. We cannot be passive, especially now that the business environment needs as much support as possible. As the vaccine will get accepted and spread, confidence to meet again in the office will increase. Offices will become a meeting place to bond and to exchange information and knowledge, whereas focused work will be done from home."
How do you think the market on which your company operates in 2021 will evolve compared to the previous year?
"We were enabled to face the Pandemic that started in 2020 by having a secure digital workplace, which has set us on the trend of being able to deliver our services from anywhere without impact for our customers. Considering the development of last year, at the beginning of 2021, it is difficult to estimate for the time being how things will evolve on the IT market. The economy has not recovered and it will probably be a long time before it recovers, but there are still signs of stability. What we can be sure of is that digitization is more important than ever. There will be a significant increase in security. And not only on the new digital vulnerabilities and threats, but also in digital access, data security, digital continuity which had before the Pandemic still a more physical context. The industry has just come out of a chaotic year, from all points of view, a period of reconstruction will most likely begin. This reconstruction will be aligned for a new future, leaving behind old ways of working, especially in a society that is becoming increasingly digital. The market will evolve further by implementing digital workplaces, cloud infrastructures and applications. Legacy approaches related to business continuity, efficiency and effectiveness will be banned faster to history."
What forecasts do you have for the evolution of your company for 2021?

"Cegeka Romania ended 2020 with an increase of 15% compared to 2019, which makes us look optimistic towards 2021, being much more active on the banking and insurance market, where our customers felt that the digital transformation is very important for adapting to the new current requirements and conditions. We are confident in the potential of the outsourcing sector, especially in the context in which more and more industries have begun to realize that digital transformation means the future. We hope that immunization through mass vaccination will contribute to the revival and growth of economic activity, estimating a positive dynamics of our business in this industry of 15% until 2025. We will expand our business further in 2021 and have an outlook to increase our total headcount with 15%, spread over the locations in Bucharest, Iasi, Brasov and Chisinau (MD)."