Arvesta develops unique 'Agri Expert' together with Cegeka
Introducing the brand new Agri Expert app, Arvesta (formerly AVEVE Group) provides farmers and growers with a unique digital tool. The Agri Expert app, developed by Cegeka, is much more a service and advice tool rather than a sales platform. This app helps the farmer to protect crops and increase return. Digitization and data-driven management are gaining ground in the agricultural sector.
Arvesta, market leader in Belgium and full-service provider for farmers and growers, has 250 AVEVE stores, with branches in the Netherlands, France and Germany. Bart Van Nynatten, IT Manager Business Solutions at Arvesta: "As a leading player, we strive to be more than a supplier of seeds, crop protection products and animal nutrition. We really want to offer our customers added value and the best possible solutions. The Agri Expert app is our latest innovation, which we aim to make available to our customers in the course of 2019. For its development, we once again turned to Cegeka, our trusted strategic IT partner for years."
The Agri Expert app: all crop information at hand
Bart Van Nynatten: "Users of the Agri Expert app will proactively be informed and advised, in direct relation to their specific activity. For example, a warning tool will estimate possible quality or return losses, based on current weather data, prevailing crop diseases or insect pests and the history of the user. The farmer then receives a warning message, possibly with a photo of the problem and advice to solve the issue."
In addition, the farmer will be able to consult crop treatment schemes, allowing him to easily calculate the volume of products he will use for his crops per hectare. The icing on the cake is that the app also reduces his administrative workload, for instance by reporting used products to the relevant authorities or departments. In short, the Agri Expert app helps to work more efficiently and to optimize harvest management.
About the Agri Expert app
Rob Gielen at Cegeka: "The Agri Expert app is a PWA or Progressive Web App, meaning that it is suited for all devices. While developing, we focused on a user-friendly interface for entering or modifying data. The architecture is based on microservices (in Google Kubernetes). This is an easy way to expand the app in the future, both in width (adding Arvesta entities) and in depth, in order to integrate new services such as payment services. Finally, an excellent API management strategy makes the app futureproof."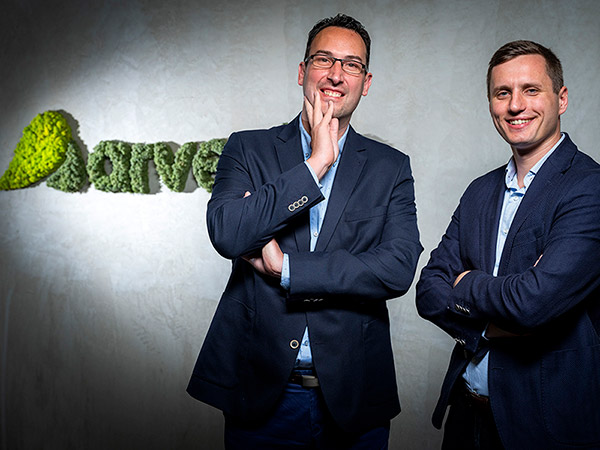 Arvesta and Cegeka: a fruitful collaboration
Since June 2018, Cegeka has been responsible for the complete management of Arvesta's IT infrastructure. Cegeka designed a multi-cloud concept for the back-end management. In addition to the IT infrastructure, Cegeka will be conducting the complete renewal of all websites of Arvesta and other innovative projects, such as the Agri Expert. For Cegeka, the partnership with Arvesta is not the first step in this sector. Cegeka specializes in projects in the agricultural and food industry, connecting various organizations to each other digitally.