Cegeka has grown for the twelfth year in a row. Including contracts in progress, Cegeka achieved a turnover of €368.32m in 2015. That's over 31% more than the €280.44m achieved in 2014, doubling the growth in turnover compared to the previous year (17%).
Cegeka Group has finished the 2015 financial year with an impressive 31% growth in turnover. The IT service provider's income totalled €369m, with gross profit growing almost in parallel at 23% or a healthy 6% of turnover. Cegeka is equally ambitious for 2016. The group wants to capitalise on its investments in its brand new data centre in Dutch Limburg and acquisitions in German-speaking countries. New group directors have been appointed in line with the new strategy.
"We're achieving very good results, and at this speed we're quickly evolving into a medium-sized European provider," says CEO André Knaepen. "But our continued growth doesn't mean we're abandoning our roots. We've always had the reputation of working closely with our customers, and we want to keep it that way.

We have broad shoulders for large projects and customers, but are still very agile so we can quickly switch to smaller projects too. Thinking proactively together with our customers in order to quickly come up with valuable solutions is a mainstay of our philosophy."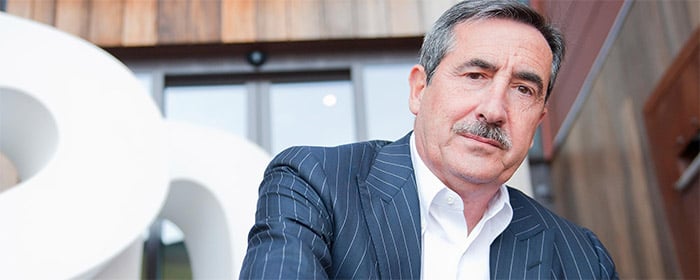 Combination of autonomous growth and acquisitions
The growth is largely (22%) thanks to the acquisition of BrainForce at the end of 2014. This takeover was only included for three months of the consolidated figures for 2014, but now counts for the whole calendar year. The acquisition of Edan Business Solutions in Ghent also boosted the turnover. This takeover was completed in July 2015 and so is included for six months.
The remaining 9% growth was achieved organically, nicely distributed over all the group's services: professional, infrastructure and software. The joint venture with cegeka-dsa in the Netherlands reaped the rewards of its investments and recorded an increase in profits of 55%. In French-speaking Belgium, subsidiary NSI Group confirmed its strong 2014 with a turnover of almost €42m and an increase in profits of 18%.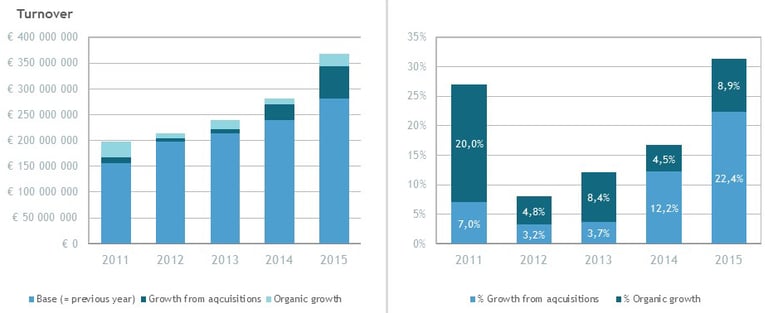 Growth in operating profits and good investments
The operating margin grew by 18% to €23m, but fell by 0.7% to 6.3% compared to 2014. Cegeka has invested heavily in innovation and further internationalisation. The new data centre in the Dutch city of Geleen accounted for an investment of almost €15m. On top of this, Cegeka also invested in Microsoft cloud infrastructure and the acquisition of ERP specialist Edan Business Solutions.

André Knaepen set out the strong European ambitions for 2016: "On one hand we're scouring the market for beneficial acquisitions in countries where we're already active, for instance taking over Austrian company DanubeIT at the beginning of March and strengthening our position in German-speaking countries. On the other hand we're also continuing to invest in niche solutions such as Blockchain, the financial solution of the future, and in our knowledge centre for the food industry. Alongside our existing portfolio, these solutions will enable us to keep growing," says CEO André Knaepen.
New country managers become the local face for customers
Cegeka is resolutely choosing to place its customers centrally. With strong country managers, Cegeka is creating a clear point of contact and a local face for customers in every country.

In its domestic market, Cegeka has appointed Marc De Groote as Managing Director for Belgium. De Groote has 20 years' experience in the IT sector. He was for example CEO of the financial software group Callataÿ & Wouters for five years, later taken over by French company Sopra, where he became Executive Vice President. He was chairman of Agoria ICT for almost two years, and still sits on the technology federation's board. His remit now is to extend Cegeka's strong position in Belgium, and he also becomes Operational Director of Cegeka Group's software cluster.
Erwin Nouwen, already responsible for professional services in Belgium, becomes Operational Director at group level for these same professional services and for shared delivery services, providing services to customers for other divisions. The COO of the infrastructure cluster, Zander Colaers, becomes the new Managing Director of Cegeka Netherlands. Colaers has been with Cegeka since 2008 and worked in the Netherlands for over ten years prior to that.

He replaces Marco Witteveen, who becomes Director Finance Solutions at group level. Witteveen, who comes from the banking sector, will work on the development and commercialisation of Cegeka's Blockchain services, among other things.

Two new division directors have also been appointed in the software cluster. Arno Visser has been recruited to direct Cegeka's ERP and CRM division, and Tom Knaepen will lead the digital & mobile division, which develops apps, websites and collaboration systems.