What's new for Finance & Operations in 2021 Microsoft Dynamics 365 Release Wave 1?

Stijn Geeroms
Mar 22, 2021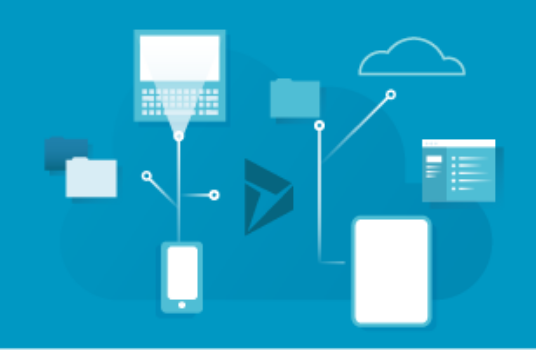 With Release Wave 1 coming up in April, Microsoft is raising the stakes for Dynamics 365. New features will add functionality and boost efficiency for your finance and operations processes.

Curious about what's in the pipeline? We've made an overview of the most notable updates and whether you should consider implementing them.
Product lifecycles
This entirely new module simplifies product master data and lifecycle management. When changing a component of a product – such as introducing new packaging or a different ingredient – you currently have to change the formula or create an entirely new article. The module offers three features that improve the efficiency and transparency of this process.
Product readiness checks
Install three types of product readiness checks (system checks, manual checks and checklists) to align each product with the required data before it is used in a transaction.
Example: if a product needs a barcode validation, you can set a validation check and link it to a person or team, and it will be automatically implemented in the product flow. When a product is on hold during one of these checks, the product status is automatically updated in the master data.
Change management on existing products
Engineering change management creates new versions of a product to track changes in its lifecycle. This will convert standard products into engineering products and enable an overview of every change made to any component.
Example: when changing a component used in an electrical device, such as a defective cable, you can create a new version of the same type of product and localize every device that contains the old component. With the click of a button, you can stop production or distribution of all products that contain a faulty component.
Lifecyle data/start and end validity date
Automate the transition between product versions by setting a start or end date on a product version. Alternatively, you can configure a product lifecycle status yourself.
Example: if there are two concurrent product versions, you can set the transition dates for both versions. For instance, after August 1st, you can indicate that version 1 will no longer be produced, but it can still be shipped to the warehouse and sold. You can configure any action allowed for every version of a product, thus automating the transition between versions.
These new features improve communication flows in your manufacturing process; no more bulk e-mails with requests to follow up on a product status. Even more, the latest version of Dynamics 365 increases product lifecycle transparency and reduces the risk of error in product transitions.
Finance
Microsoft Dynamics 365 Finance application brings intelligence and automation to your company's financial operations. Using a predictive model to estimate cashflow is a unique asset to get a better overview of expected income and your actual financial status. The new release will further enhance machine learning capabilities to forecast financial results, with these notable features:
Cash flow forecasting: project integration
Project costs (project management and accounting) have now been added to the cash flow forecast, allowing a more complete overview of cash flow.
Customer payment predictions
Harnessing the power of AI, the finance application will offer predictions to forecast your cash flow and proactive take necessary actions based on this information. One feature that will significantly improve the forecast accuracy is customer payment prediction. Based on historical data, Dynamics 365 Finance will be able to predict when a customer is likely to pay an invoice.
Intelligent budget proposal
Preparing budgets is a repetitive and time-consuming activity with low added value. Release Wave 1 features an intelligent budget proposal, allowing you to automatically create a draft budget based on historical data.
New AI-capabilities will enrich the finance application with even more predictive accuracy. This allows you to have a better overview of cash flow, financial status and budgeting for projects. By adding historical and external data on expected payments and costs, the application allows you to make better informed decisions.
Manufacturing
The Manufacturing application boasts a completely redesigned shop floor interface. The existing 'job card terminal' and 'job card device' functions are now clearly presented on one screen, which is optimized for touchscreen users. After a one-time configuration, your web browser will remember your settings.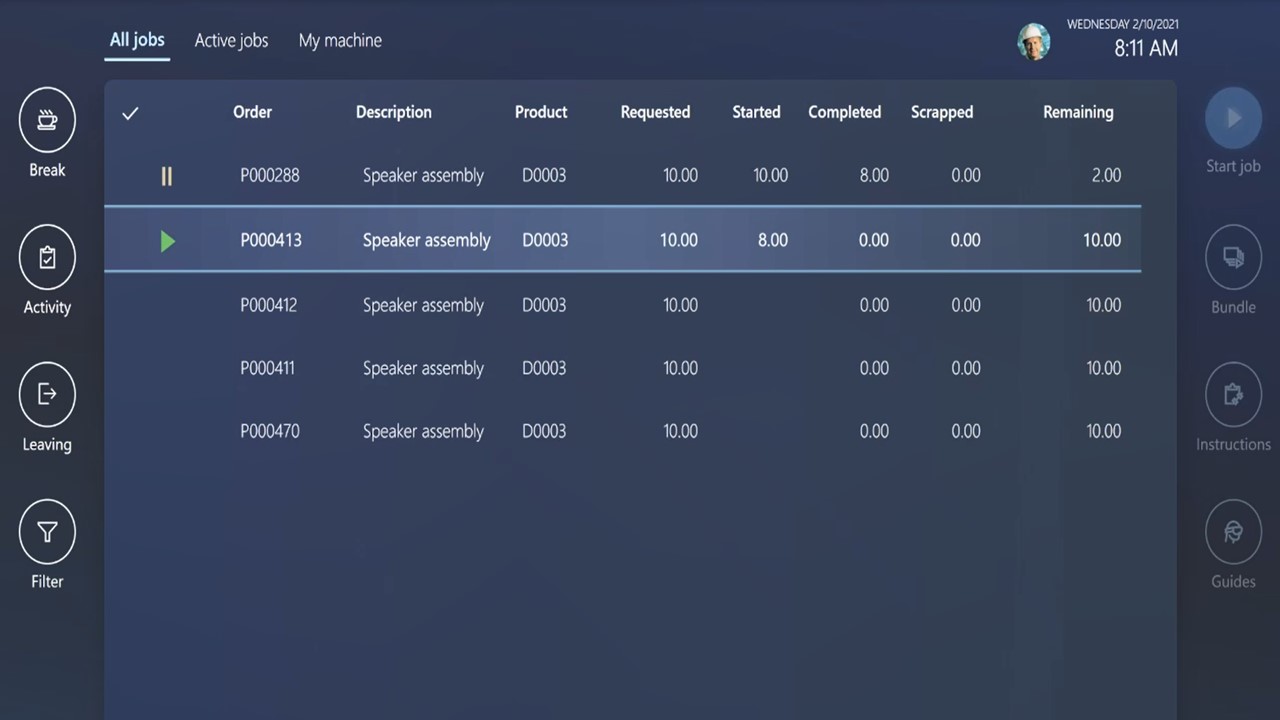 New functionalities include:
Easier parallel tasking
Machine information requests for maintenance and standstill registrations
Production order priority visualization
The updated Manufacturing application offers a better user experience. The improved interface is touchscreen friendly and gives a clear overview of production costs and machine issues.
B2B e-commerce
When Microsoft released the B2C e-commerce module for Dynamics 365, customers immediately demanded a similar module for B2B module. In the April update, B2B features will be added to the existing B2C module, ensuring easy integration within Dynamics 365 Finance and Operations. Any order originating from a call center, a physical store or e-commerce (B2B or B2C) website will be centralized in Dynamics 365. These are the features to look out for:
Business partner onboarding
Prospects can initiate a request to become a client on the B2B website. The request is automatically be added and approved in Dynamics 365 Finance and Operations. Upon approval, an onboarding confirmation e-mail is sent to the requester, including admin login credentials for the website. The admin can then add other users from the company to place orders.
Ordering capabilities
A grid-based quick order entry system simplifies the order flow for customers who know exactly what they want to order. The quick entry system allows multiple order lines or order templates to be entered. Billing is added as a payment method to swiftly finalize the order.
Self service and Dynamics 365 Sales integration
On the B2B website, admins can consult the order history for any user from their company, request copies of a bill or account statement, request an overview of unpaid bills and pay these directly. This feature is fully integrated into the lead/opportunity management and quote functionality in Dynamics 365 Sales.
This module offers unique functionalities adapted to the needs of B2B clients while retaining the robust foundation of the B2C features. The integration between B2B and B2C functionalities and Dynamics 365 Finance and Operations ensure an end-to-end experience.
Supply chain management
Microsoft Dynamics 365 Supply Chain Management users are familiar with its end-to-end supply chain functionalities. Release Wave 1 comes with a notable new feature for international supply chains.
Landed cost
When ordering products from overseas, extra fees are common but hard to predict. With the landed cost feature, an estimate – including product, shipping, import, handling and clearance costs – are added to the total product cost. This improves the transparency of the actual price of a product or material. The estimate is then updated based on actual billing, continuously improving the estimate for future orders.
This new feature enhances price setting for a finished product and improves profit margin and profitability for trading and manufacturing companies with international supply chains.
Project operations
Dynamics 365 Project Operations connects sales, resourcing, project management, and finance teams. The April update introduces new features that enrich the overall experience of the Project Operations module, with two features especially worth exploring:
Non-stocked material for projects
Estimate and track the use and consumption of non-stocked materials for project-based work. In addition to existing service sales and organization tools, you can add materials and subcontractors to your project and financial planning processes.
Different contractual agreements for different phases of work
When different contractual agreements are made with clients, this often impacts the project delivery. A new project has to be created with a different plan, task definitions, timesheet agreements, etc. With this new feature, contractual agreements are adapted in the background, while the project team can keep working on the same project.

The new features in Project Operations connect the dots between Microsoft Projects, the CRM tool and the Project Operations module to form a powerful ERP for business services. This update further consolidates different business needs and operations in one central application, improving efficiency and transparency for all stakeholders.
Customer and Field Service
Release Wave 1 will add functionalities for end customers, bringing them closer to the field service team. The new features will allow end customers to schedule, track and provide feedback without the contact center as an intermediary.
Self-service scheduling for customers
Aligning operations planning with technician availability can be very time consuming, while clients should face as little interruption as possible due to service, maintenance and inspection. This new feature allows a more structured approach, enabling customers to plan the work of technicians themselves.
Bill customers for maintenance work
In addition to existing functionalities to offer recurring or IoT-based services, maintenance and inspections to clients, this new feature enables complex maintenance schedules on your customers assets. This feature will allow you to create, bill, and process maintenance work done for your customers on their own assets. This is truly 'asset management as a service'.
The new features of both the Customer Services and Field Services applications benefit both your company and your customers, offering time advantages and a significantly improved customer experience.
Rebate management
The rebate management module is an update for Microsoft Dynamics 365 Supply Chain Management that facilitates the calculation of rebates, deductions and royalties. Create contracts, deals or agreements between your company and customers and vendors. The module tracks rebates and deductions in a central location.
Rebates, deductions and royalties can be defined and tracked throughout the deal process. Transactions are automatically generated and scheduled based on the defined calculation method. Additionally, the workflow is adapted to enable the management, review and approval of agreements.
Want to learn more about Microsoft Dynamics 365 Release Wave 1?
Watch the recording of Microsoft's Business Application Launch Event that took place on April 6, 2021. James Phillips, President of Microsoft Business Applications, and other Microsoft leaders, have explained more about what this release wave means for you and your business.

Written by
Stijn Geeroms
Sales Manager with over fifteen years' experience in business applications. Passioned about helping companies advance through software and technology so they can quickly respond to opportunities and the ever-changing market. Every company is unique, yet they are part of an industry. I believe that delivering an industry-specific solution with, on top of that, a focus on improving their unique strengths allows them to stay one step ahead of the competition.
Want to give feedback? Deliver it straight to the author