What's new for Finance & Operations in 2021 Microsoft Dynamics 365 Release Wave 2?

Stijn Geeroms
Sep 06, 2021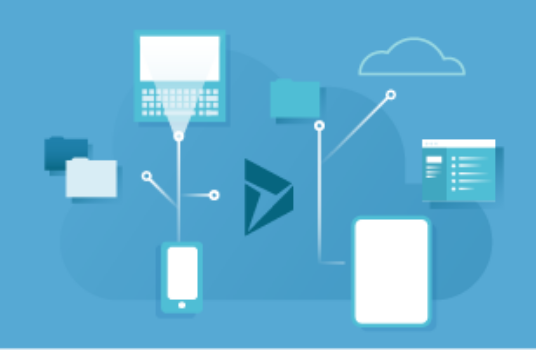 Microsoft's Release Wave 2 for Dynamics 365 is getting closer. Major updates and new features coming to the Finance & Operations suite in October 2021 promise to improve productivity, increase ROI, facilitate globalization and ensure business continuity. These are the key features that will transform your business for the better.
Finance
Microsoft Dynamics Finance helps increase profitability by automating accounting and financial tasks. In this release, performing financial operations on a global scale is made significantly easier with two new features which bring enhanced tax determination and calculation capabilities and inventory accounting automation.


Tax calculation service
Companies expanding their operations abroad typically also establish warehouses or branch offices in foreign countries to be close to their target markets. As a result, global enterprises often have multiple VAT IDs for different business locations. Determining the correct legal entity VAT ID on every transaction worldwide can be a real challenge.
The new, fully integrated, out-of-the-box tax calculation function helps you out by automatically linking the correct legal entity VAT ID to transactions such as purchases, sales and transfers between warehouses, and registering them accordingly.
In addition, the tax calculation service will also improve compliance with local tax regulations. You'll be able to choose from multiple tax registration numbers to deal with VAT Declarations, EU Sales Lists and Intrastat reporting and create country-specific tax report formats.
Global inventory accounting add-in
To unify financial reporting and facilitate comparisons between international business divisions, global enterprises prefer tracking inventory value by applying the same valuation method across all companies in a global group. That valuation method, however, doesn't always comply with local accounting regulations.
Standard cost valuation, for example, is the preferred valuation method for many multinationals, but it's still not accepted as a standard method in several countries. Thanks to the new financial add-in for Microsoft Dynamics 365 Supply Chain Management, you'll be able to track inventory value using multiple valuation methods at the same time. This means that you can keep applying the standard cost valuation method without having to worry about compliance with local and global standards.
The application offers easy reporting and automatic corrections between local and group inventory valuation. Even more, you'll be able to perform inventory accounting in as many cost ledgers as required, all configurable with their own accounting policies.
Supply Chain Management
Additional features in Microsoft Dynamics 365 Supply Chain Management enable your business to improve efficiency by optimizing its supply chain, resource planning, inventory management, among others. These two features are sure to boost your warehousing operations:
Barcode scanning with GS1 format standards
To simplify identification, goods, pallets and containers are usually labeled with GS1 barcodes, which contain information such as product code, batch number and expiration date. To extract all the information they need, warehouse workers often have to scan the same barcode multiple times or input information manually into Microsoft Dynamics 365 Supply Chain Management's previous versions.
With the new barcode scanning feature, this hassle becomes a thing of the past. It enables warehouse workers to collect the necessary data with just one scan. This will save them a lot of time and eliminate the risk of errors.
Fun fact: this feature was co-created by Cegeka!
Warehouse Management mobile app step-by-step instructions
Thanks to this new feature, you'll be able to configure custom instructions for every flow you set up in the Warehouse Management mobile app. By guiding your employees through the warehouse task flow and highlighting the most important information for each step, you'll increase productivity and help them avoid mistakes.
Want to know what else is new for warehouse management? Check out the additional features in this video:
Field service
The field service management application delivers customer-centric experiences by digitally transforming service operations and connecting them with employees and customers. Release Wave 2 adds two new features:
Engage end consumers
A brand-new customer portal will increase customer engagement by incorporating the existing 'track my technician' feature and a new self-scheduling service. This additional feature is customizable and enables customers to book their basic service appointments in available time slots themselves. You'll be able to configure the types of appointments, throughput time and maximum travel radius allowed.
This easy-to-use portal empowers customers to take control over their service appointments and limits the extra support needed from your back office. Automated notifications about an appointment status make this even easier.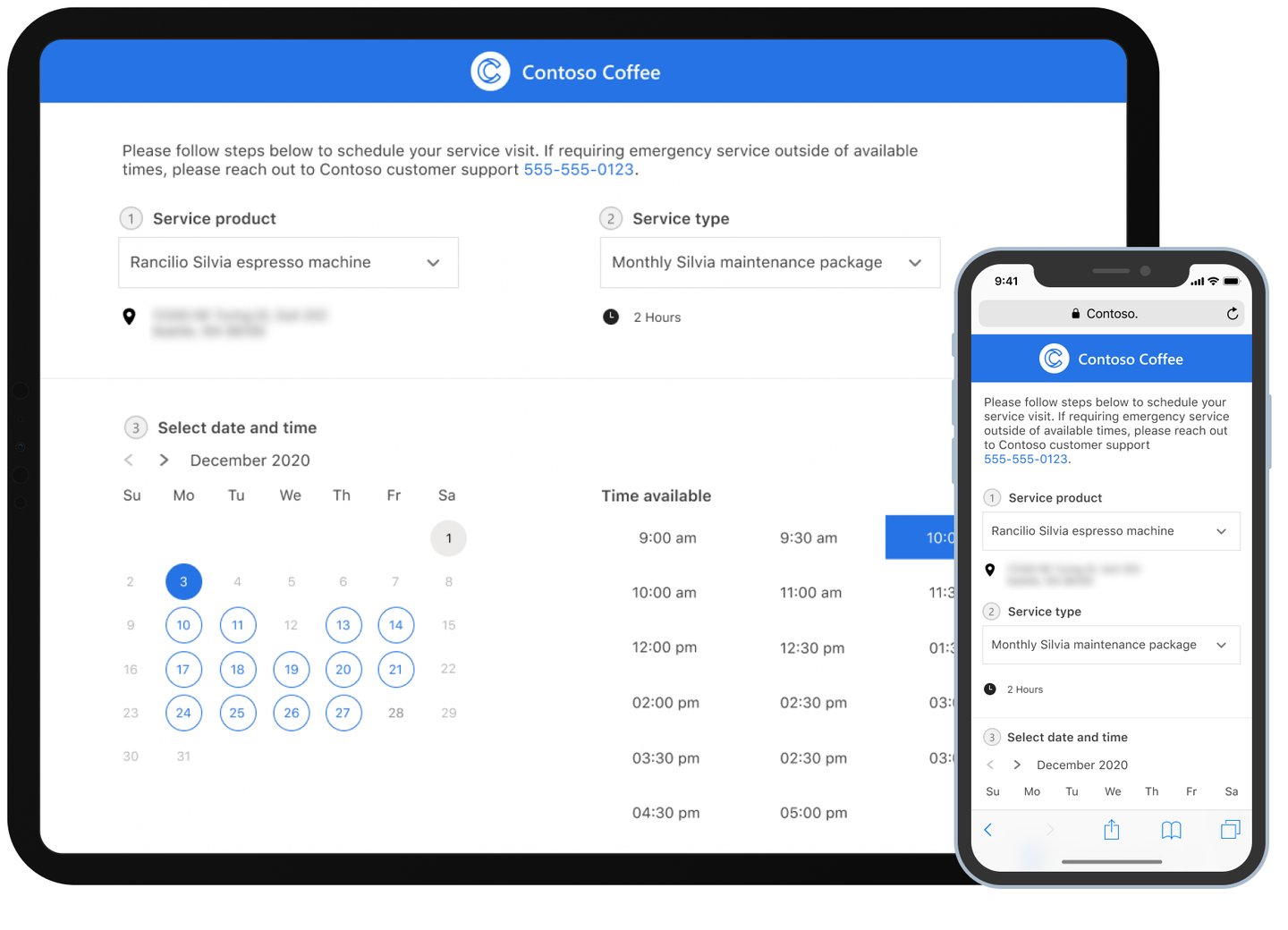 Resource scheduling
Resource scheduling is a useful tool enabling field service organizations to allocate work orders to technicians. Improvements to the schedule will allow board dispatchers, project managers and resource managers to add an unscheduled appointment to a technician's existing route straight from a clear map view.
The new release also offers an optional resource optimization add-in, which automatically suggests available resources that are the best fit for a particular work order. Dispatchers can review these suggestions and book appointments directly from the schedule board.
Major updates that ensure business continuity
Microsoft has invested greatly in new capabilities that ensure business continuity, safely and in a cost efficient manner. Release Wave 2 retains the benefits of Finance & Operations as a cloud-based ERP system, while reducing the dependence of your business-critical operations on a steady internet connection and vastly increasing its storage capacity.
Distributed hybrid topology
As a cloud solution, Finance & Operations is accessible anyplace, anywhere, anytime. There is, however, one condition: to process all the data you're adding, changing or browsing through in your ERP system, your company must make and maintain a steady connection with one of the central Microsoft data centers. But, especially when one of your business sites is located at the other side of the globe, connecting with the same data center as your headquarters can cause difficulties.
For your business-critical processes in warehousing and manufacturing, a faulty internet connection can lead to a standstill in your operations – costing time and money. To avoid that, Microsoft has transformed its ERP system to a hybrid model which no longer runs from only one source in the cloud.
After the release, you'll be able to add either an edge-scale unit (on-premise) or a cloud-scale unit (to connect with a Microsoft data center nearby), which synchronizes with the cloud hub, but will also continue to run its warehousing and/or production workloads even when disconnected from the internet.
These scale units will increase resilience of your operations, provide higher reliability and connection speed, enabling maximum business continuity.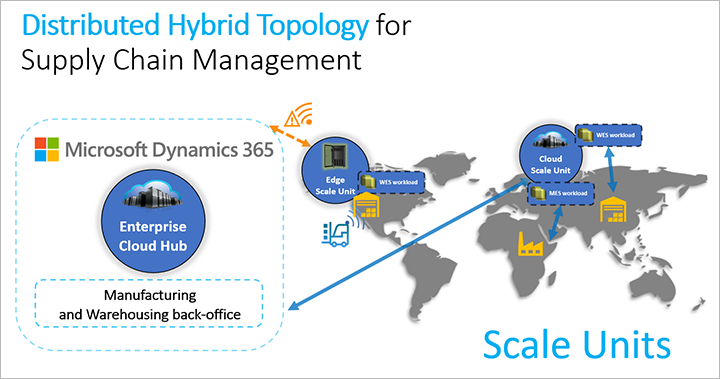 Azure Data Lake Storage integration
With Azure Data Lake Storage, Microsoft introduces major data-storage enhancements to all Finance & Operations apps. The massively scalable cloud storage service will replace the current 'bring your own database' feature (BYOD), eliminating the need for a separate SQL and multiple configurations.
Data Lake Storage Gen2 enables enterprises to store and manage huge amounts of data – petabytes instead of terabytes – in a cost-efficient way. Synchronizing data to the lake will only take minutes, facilitating near real-time reporting. This offers tremendous improvements for analytics workspaces that are still based on the Entity storage feature.
Power users can even get a 360-degree view of all their data directly via the tools they know and work with, without the need for costly custom development. Imagine the possibilities once you combine historical data from previous Dynamics AX installations with other Dynamics apps running on Dataverse (previously known as Common Data Service), or any other data source, and infuse it with artificial intelligence and machine learning.
Time to dive into the lake and go with the flow …
Want to learn more about Microsoft Dynamics 365 Release Wave 2?
Discover all new features in Microsoft's Release Wave 2 plan, or contact our experts to find out more about the opportunities these major updates bring for your business.

Written by
Stijn Geeroms
Sales Manager with over fifteen years' experience in business applications. Passioned about helping companies advance through software and technology so they can quickly respond to opportunities and the ever-changing market. Every company is unique, yet they are part of an industry. I believe that delivering an industry-specific solution with, on top of that, a focus on improving their unique strengths allows them to stay one step ahead of the competition.
Want to give feedback? Deliver it straight to the author