What's new for Finance & Operations in Microsoft Dynamics 365 Release Wave 1?

Stijn Geeroms
Mar 13, 2023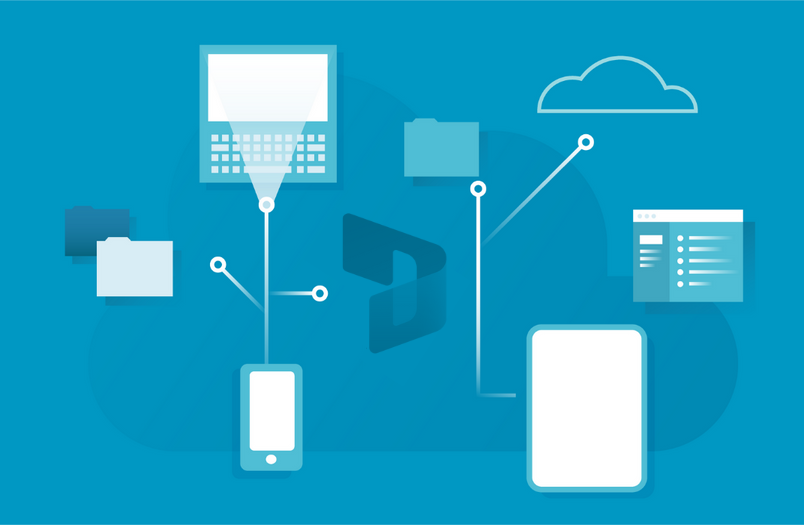 From April 2023 through September 2023, the first release wave for Microsoft Dynamics 365 Finance and Operations will bring many improvements to its Finance, Supply Chain Management, Field Service, Project Operations and HR systems. To save you the trouble of diving into the entirety of the notes, we've listed the most important additions up for you! Read them here or tune in on our webinars at the end of March.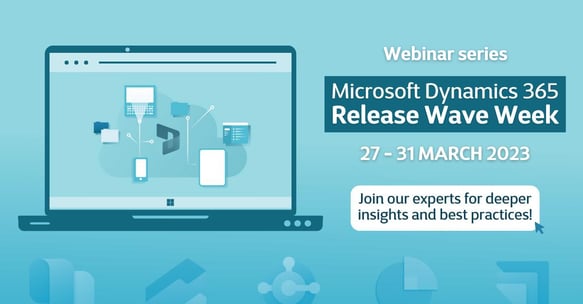 What's new for Dynamics 365 Finance?
Further support analytical reporting and business rule automation by defining financial tags
Financial tags offer a flexible way to track up to 20 user-defined text fields on accounting entries. They can replace financial dimensions and improve performance during the year-end close process when:
The financial dimension has a long list of values, such as marketing campaigns,
You want to be able to modify the dimension value after posting.


In addition, financial tag values can be used for ledger settlements to simplify the transaction matching process, for example when tracking payment references for ledger settlements.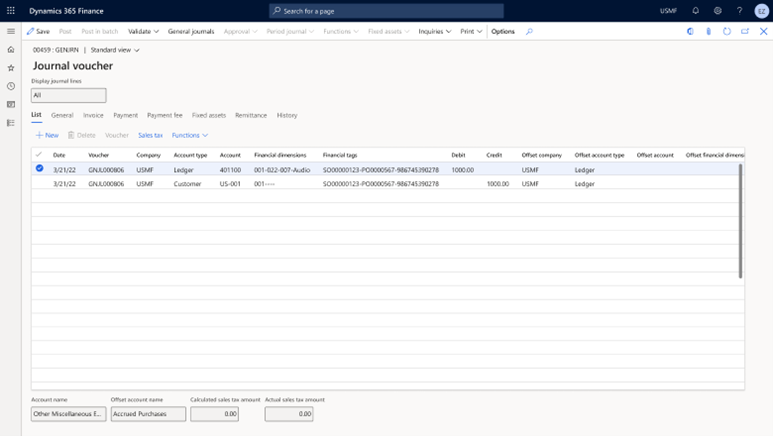 Approval flow for changing data on vendor bank accounts
By implementing the vendor bank account information approval workflow, your business can greatly reduce the risk of employee fraud and provide financial controllers and auditors with greater oversight into the accuracy of supplier bank account information.


The workflow ensures that any changes made to bank details are subjected to an approval process, allowing you to customize the approval triggers according to your needs. You can customize these triggers and decide whether to invoke the approval workflow when a supplier's bank details are created, changed, or both.


Define foreign currency revaluation posting profile
Accurately track changes to gain control and precision at a detailed level for each currency and module with the currency revaluation posting profile, including General Ledger, Accounts Payable, Accounts Receivable, and Bank.


Additionally, you will now have the flexibility to define the accounts across different groups, such as main account category, vendor group, customer group, and bank group, or specific accounts, such as ledger account, vendor, customer, and bank. By doing so, you can further streamline the currency revaluation process and improve your financial reporting accuracy.

Tax reporting – extending multiple tax ID reporting to more EU countries
The scope of supported countries and regions for registering Multiple Tax IDs will be expanded to the Czech Republic in June 2023, and in the next 2023 release wave, Italy, Hungary, Estonia, Latvia and Lithuania will be included.


This previously released feature allows for easy customization of your tax reports by selecting specific tax registration numbers and filtering transactions for country-specific tax formats and save time on tax reporting by activating the Tax Calculation service to determine exact tax numbers for each transaction.


Determining the correct legal entity VAT ID on every transaction worldwide can be a real challenge

. Find out the value of the Tax Calculation Service-module in Dynamics 365 Finance during our pre-recorded expert session with a couple of scenarios in a licensed environment! 
What's new for Dynamics 365 Supply Chain Management?
Manufacturing and asset management
Empower maintenance workers with a new mobile experience
Businesses using the Asset Management Add-in for Microsoft Dynamics 365 Supply Chain Management can now equip their workers with a versatile mobile app that supports most common platforms, devices, and form factors. More importantly, it is developed as a Power App, meaning its standard functionalities will be able to be expanded upon depending on your business needs.


With this app, workers can perform maintenance on equipment and machinery installed on their premises or at remote locations, improving operational efficiency and minimizing downtime. This translates to significant cost savings and increased productivity for the organization.


The Asset Management mobile app offers valuable capabilities for workers and organizations using the Asset Management Add-in for Microsoft Dynamics 365 Supply Chain Management:
Manage work orders: Maintenance workers can easily manage their daily to-do list by accessing work orders assigned to them and tracking progress using the app. By recording labor, materials, and services used, the system can accurately track work done. The app also enables workers to create new work orders, update checklist items, register time and materials, and add notes, all from their mobile device.
Create maintenance requests: Administrators can use the role-based security setup in Supply Chain Management to grant workers permission to create new maintenance requests, allowing for proactive maintenance of assets.


Check material availability for scheduled operations
To avoid disruptions in production, supervisors can now enable and open the Material availability check page from a menu item on the All production orders and Production order (details) pages to check for material availability before releasing production orders to the shop floor. By enabling this feature, organizations can minimize the risk of running out of materials while working on a production order, ensuring smooth operations and timely delivery.


This feature is especially useful for organizations that use the "Schedule operations" scheduling type, as it allows them to check for material availability before starting work. Previously, this feature was only available for organizations using the "Schedule jobs" scheduling type, but now it is accessible for a wider range of organizations, providing significant benefits in terms of efficiency and productivity.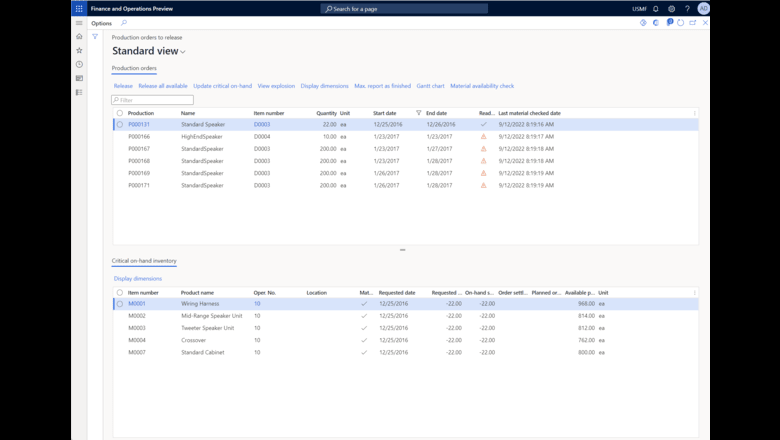 Inventory, Logistics and Sales
New Pricing Management solution
There is a need for B2B companies to be able to apply more complex pricing models and pricing rules than before because they are or have shifted to a more multichannel strategy.

Microsoft is introducing a new Pricing Management solution that will support them in the strategy, without the requirement to implement a B2C solution like Commerce. The core is the new attribute-based pricing engine which enables companies to:
Have one centralized pricing engine for all channels
Calculate prices quickly while considering a wide range of business factors, including the base price, sales trade agreement price, long-term discount deal, short-term promotional discounts, and retrospective rebate calculations for each sales order.
Create a price model based on customer, product, and order price attributes.
Apply margin adjustments, discounts, charges and rebates based on the same attributes.
Simulate prices and view detailed price calculations on ordering, which can provide a price component breakdown for future advanced analysis.
Leverage enhanced discount budget control to avoid margin leakage from fund consumption.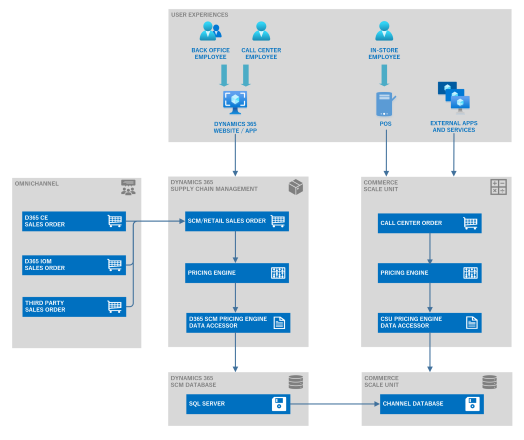 Archive inventory transactions and sales orders
Over time, businesses accumulate a lot of sales orders, sales order lines, and inventory data. Although these records may not be needed for daily operations, they are valuable for reporting, audits, legal claims, and other purposes. However, storing these records in your daily working environment can lead to increased storage costs and affect system performance.


Fortunately, with this new archival framework feature, you can easily archive historical sales orders and inventory transactions based on specific pre-defined rules. This helps to remove the records from your day-to-day working environment, resulting in improved system performance and lower operating costs. The archived records are stored in a Dataverse-managed data lake, making them readily available as read-only data whenever you need them for historical reporting or analysis.
Warehouse Management
Improve worker efficiency with optimized mobile device screen layout
In today's business landscape, labor and skills shortages are affecting warehouse operations across many industries. To address the increasing need to boost worker efficiency and productivity, Microsoft has come with enhancements to its Warehouse Management mobile app.
With optimized screen layouts and the use of product images, the app will now provide an intuitive and efficient way for workers to perform picking activities by providing the following usability enhancements:
More key fields can be highlighted on the screen to make the most important information clear more quickly.
Item images, which help workers identify items more quickly, can be displayed as thumbnails that workers can select to zoom in for more details when needed.


Optimize warehouse management implementation and maintenance
A successful warehouse management system depends on efficient implementation and maintenance experiences. Businesses need a reliable and effective system configuration tool that not only saves training costs but also provides accurate and optimal configuration.


Dynamics 365 Supply Chain Management now offers new tools for monitoring, troubleshooting and visualizing warehouse processes to set up warehouse management systems with ease and make confident adjustments as business needs change.


Improve efficiency and save time by enabling warehouse managers to:
Set up and configure Supply Chain Management through a business-focused user experience supported by guardrails to ensure a quality outcome.
Address and manage complex warehouse configurations using a simplified configuration and maintenance experience built for efficiency.
Verify their warehouse configuration using monitoring tools that ensure the smooth operation of business processes.
Make continuous or breakthrough warehouse configuration changes using change-management tools that help managers adjust the system to adapt quickly to changing business needs.


What's new for Dynamics 365 Field Service?
Manage work order costs using the not-to-exceed function
To help service providers stay within preapproved prices and costs, Dynamics 365 introduces a not-to-exceed capability for work orders. This feature allows companies to set up not-to-exceed values for cost and price, which can be automatically applied based on the customer, incident type, and work location.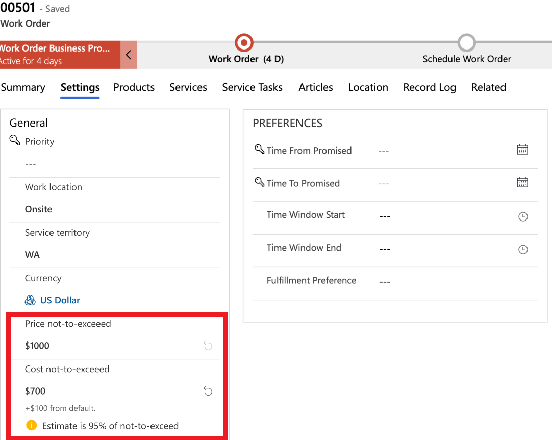 Service managers and frontline workers see warning icons when the not-to-exceed value is close to being reached or exceeds the limit, prompting quick action to be taken.


This feature is particularly beneficial for customers who have limits on what they can charge without approval, as well as for those who set limits on work order costs, especially when vendors are contracted to perform the work.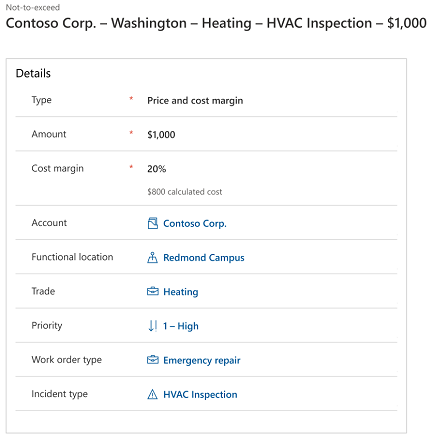 What's new for Dynamics 365 Project Operations?
Updates to subscription billing/deferrals with projects for stocked or production based scenarios
Dynamics 365 Finance has released new features that can greatly benefit companies offering subscription-based services. This update includes the ability to configure and use advanced cost and revenue deferrals, which will be supported by Microsoft Dynamics 365 Project Operations for production or stocked scenarios.


Companies can now configure cost and revenue deferrals for different project transaction types and record deferred cost and revenue to the project subledger. In addition, project transactions with cost and revenue deferrals can be adjusted. By providing these capabilities, companies can more effectively manage their subscription-based services, accurately track deferred costs and revenues, and make necessary adjustments to project transactions.
Recognize revenue for project contract line
Dynamics 365 introduces a powerful feature that allows users to model contractual agreements and recognize revenue using different methods for different portions of the project work. For instance, a project may involve multiple components that require different revenue recognition methods, such as percentage completion or straight-line recognition.


With this feature, companies can easily model these complex contractual agreements and ensure that revenue is recognized accurately for each portion of the project work, providing a more accurate representation of financial performance.



Support for transaction cost-based sales pricing methods for cataloged products on projects
This feature, already releasing in March 2023, is designed to simplify billing for catalog products used in projects, particularly for organizations that use non stocked materials or cataloged services. In such cases, the cost of the product may not be known precisely during the estimation phase.
The feature will enable the recording of the actual cost during the execution phase, which is then used to calculate the sales price for billing customers. Sales prices can then be set up for catalog products, allowing for accurate billing and leveraging of price defaulting functionality in Project Operations.
Expense mobile application for intuitive expense entry experience
The Expense mobile app allows users to itemize their expenses, such as hotel costs, and confirm their expenses while on the go. It can also provide a more accurate tracking of expenses and timely reimbursement:
When required by your expense policy, you can split the total expense amount into the required breakdown, such as hotel day rate, fees, meals, etc.,
Review and approve expense reports that are submitted to you.
Get notifications about the expense reports your manager has reviewed and require action from you.


What's new for Dynamics 365 Human Resources?
Enable resource management integration
Finding the right skills and availability of resources is essential to make sure projects can be successfully executed. Since the HR module is fully integrated in Dynamics Finance & Operations, resource managers within Project Operations can now quickly and easily find the right resources for projects via the worker personnel file that contains information about skills, certificates, time-off, and more.


This feature will enable resource managers to:
View workers available for projects from Human Resources as bookable resources.
Find or book resources by skills and certificates associated with the worker in Human Resources.
View the availability of the resources based on their time off in Human Resources.


Get single view of training and other employee data from learning management providers
With the continued globalization of workforces, the ability to assign, deliver, and track employee training is becoming more of a challenge for companies than ever before. This new capability will enhance employee, manager, and HR business partner experiences by bringing together all of the training data from partner learning management systems (LMS) in a single view in Dynamics 365, alongside all other employee data.
This feature includes:
Setting up virtual courses with links to course content.
Viewing courses by type and status in the employee self-service workspace.
Mass assignment of courses from multiple systems.
Purpose-built learning APIs for integration.


Want to learn more about Microsoft Dynamics 365 release wave 1? 



Discover all the new features included in Microsoft's release wave 1 plan, or contact our experts to find out more about the opportunities these updates can bring to your business. 

Written by
Stijn Geeroms
Sales Manager with over fifteen years' experience in business applications. Passioned about helping companies advance through software and technology so they can quickly respond to opportunities and the ever-changing market. Every company is unique, yet they are part of an industry. I believe that delivering an industry-specific solution with, on top of that, a focus on improving their unique strengths allows them to stay one step ahead of the competition.
Want to give feedback? Deliver it straight to the author