What's new for Business Central in Microsoft Dynamics 365 Release Wave 2 for 2023?
Thibaut Heeren
Oct 05, 2023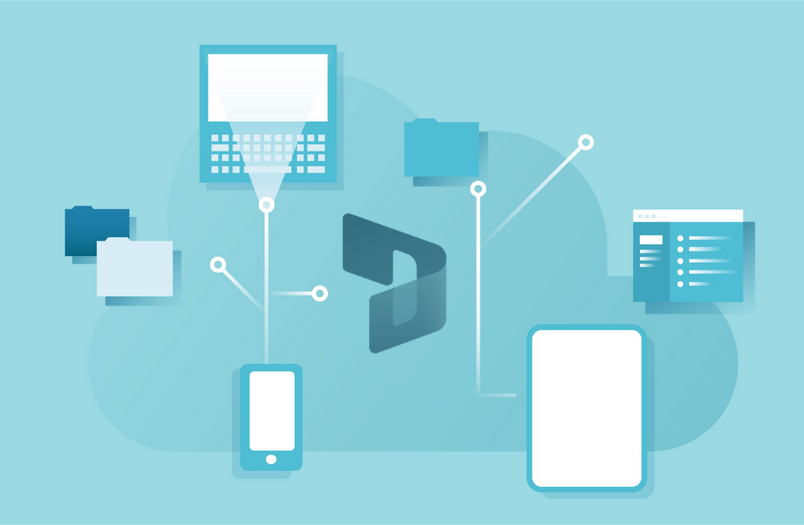 Prepare to Transform Your Business Operations with Microsoft Dynamics 365 Business Central's October 2023 Release Wave 2! 

Whether you're already a seasoned user of Dynamics 365 or exploring next-gen ERP solutions, this upcoming release is engineered to provide transformative features that promise to redefine how your business operates.
In this blog post we will highlight the following topics:


AI-Enhanced Copilot Features: Revolutionizing Marketing Text and Bank Reconciliation Processes
Complete bank account reconciliation faster with Copilot
Copilot's advanced AI capabilities offer a transformative solution for bookkeepers in SMB organizations dealing with bank reconciliation challenges.


By automating the import of bank statements and intelligently matching transactions with their corresponding bank ledger entries, Copilot minimizes manual interventions. This ensures that financial activities, such as customer payments, refunds, and purchases, are matched and accounted for accurately and efficiently. The AI-driven assistance reduces the margin for human error, enabling bookkeepers to maintain precise financial records and focus on other crucial tasks.
Get marketing text suggestions with Copilot
Bringing new products to market is now more streamlined and efficient with the general availability of the Marketing Text Suggestions feature in Business Central. As the platform's first copilot feature, it has evolved from its public preview phase, incorporating substantial quality enhancements based on user feedback.
This updated feature now supports multiple languages beyond just English, integrates marketing text into the Price List report, and offers better discoverability within the web client.
Additionally, there have been notable advances in content moderation, all designed to optimize the user experience.
Optimized Power Automate Approval Workflows for Enhanced Efficiency
The latest Business Central update simplifies Power Automate flow creation and approvals. Users can access all flow templates from one entry point, including new ones for automated tasks.
The approval process is refined with automatic environment settings and clear indications of change requests and approvals, enhancing automation and transparency in Business Central.
Advanced Business Central Connector for Seamless Integration
Users can now activate flows in Business Central based on both standard and custom events using the "When a business event occurs" trigger. This allows for instant reactions, enhancing integration between Business Central, apps like Dynamics 365 Sales, and even non-Dataverse systems.
Additionally, users can access a list of all Business Central companies in an environment, simplifying multi-company flow operations and addressing previous limitations.

Enhanced Power BI Embed Experience for Improved Data Analysis
The Power BI integration in the system has been enhanced for a dynamic user experience, emphasizing insights and analytics. The embedded experience offers improved navigation, viewing options, and a refreshed design for reports.
Additionally, the update emphasizes easy report discovery with features like the "Tell Me"-search and a new report explorer page, streamlining access to vital business data without changing applications.
Streamlined Data Integration with Virtual Table Enablement
This new feature allows for easier integration with Dataverse[1] by enabling specific virtual tables, therefore avoiding redundant data entry. It enhances data availability and integration between Business Central and Dataverse without the need for additional customizations.
[1] Dataverse, previously known as the Common Data Service (CDS), is a cloud-based platform provided by Microsoft as a part of its Power Platform services. It offers a secure and scalable data store for Microsoft's suite of applications and also for custom applications developed using Power Apps, Power Automate, Power BI, and other related tools.
Advanced Search and Mobile Optimizations
Analyze, group, and pivot data on queries using multiple tabs
End users and data analysts can now directly analyze data from queries within the platform, eliminating the need to switch to Excel or run a separate report. This enhancement stems from the introduction of "Analysis mode" in the 2023 release wave 1, allowing users to create tailored data views on list pages like "Sales statistics" or "Recently added vendors."
This feature has been expanded to encompass data from any query, empowering developers to merge data from various tables for a comprehensive view. Not only does this streamline data analysis, but it also upholds user-specific data security and offers real-time insights.
Get to data search from anywhere in Business Central
With the 'Tell Me dialog', a comprehensive search function, accessible via the Alt+Q shortcut, users can instantly search using keywords or directly from an editable page's context. The search prioritizes the most relevant results, accelerating data access and freeing up time for more significant tasks.
While the default search encompasses data from a user's Role Center and accessible tables, customization is available. Users can specify which tables and fields to include in the search, though for optimal performance, a default reset option is provided, ensuring streamlined access without system interference.
The 'Tell Me'-feature is also incorporated in the mobile app enhancing search capabilities on both iOS and Android devices.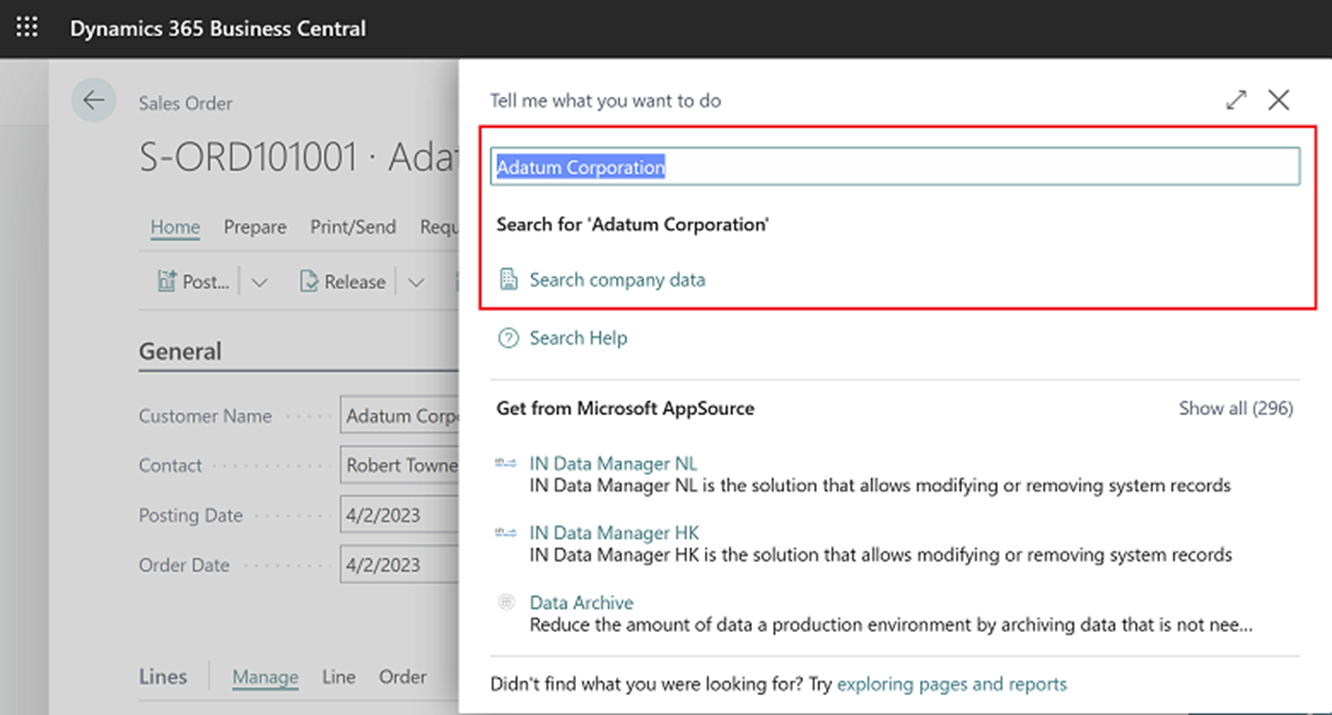 The search results include the top results in the tables you have access to.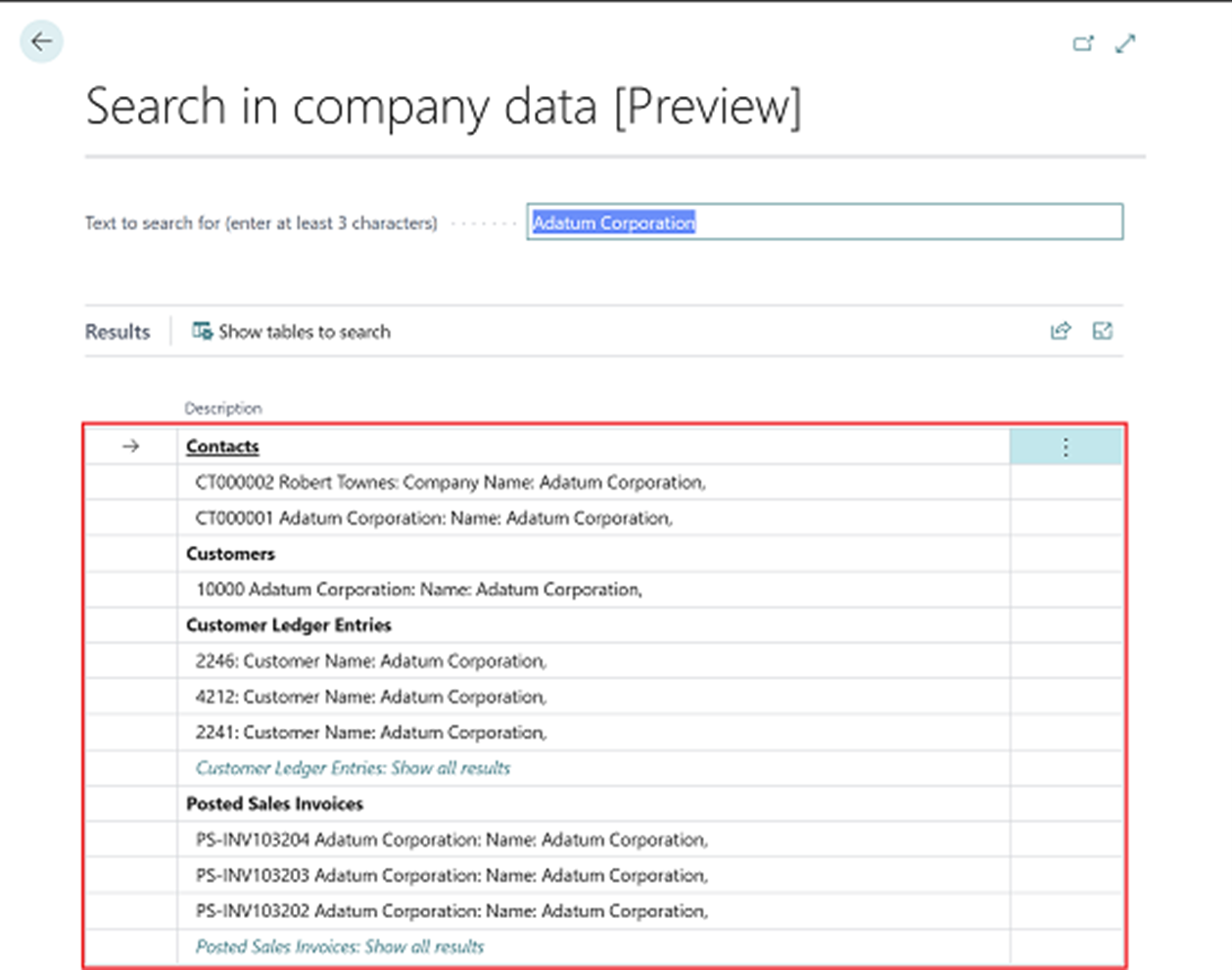 Scan barcodes with Business Central mobile app for iOS and Android
The new barcode scanner control is designed to enhance the productivity of warehouse users. By harnessing the device camera or a dedicated barcode scanner, this feature facilitates quicker and more efficient barcode scanning.
The feature encompasses three distinct scenarios. The first offers a user-friendly UI button for effortless scanning, while the second allows developers to initiate the scanner via AL-based actions. The third scenario, tailored for professional hardware devices like Zebra or Datalogic, offers advanced flexibility for developers.
This innovative feature, catering to various needs, is available on both iOS and Android platforms, ensuring comprehensive support.
Integrated Warehouse Management Solutions
Create custom configurations for different warehouse operations
Business Central's advanced features allow companies to customize warehouse processes to fit specific needs, from customer deliveries to restocking.
The system's Location Card provides detailed handling instructions, from optional to mandatory operations. Directed Put-away and Pick controls automate role assignments, ensuring smooth operations. These updates integrate with existing configurations, providing businesses an optimized and efficient warehouse management solution.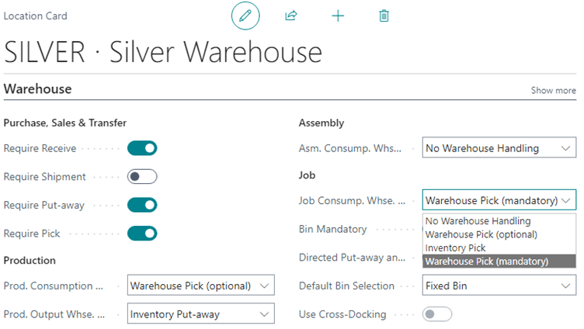 Improved processes in warehousing and inventory
Usability in inventory and warehouse management has been improved. Users now receive assistance in creating warehouse employee profiles, streamlining workflows. Business Central checks user designations during testing or pre-sales and either suggests profile creation or prompts users to contact administrators.
Other enhancements include accurate item journal lines based on bin contents and thorough conversion of catalogue items using templates, ensuring data accuracy and boosting productivity.
Use advanced pick and put-away features in basic warehouse configurations
Business Central can now suggest the optimal bin for items using parameters like put-away templates, bin rankings, and fixed bin quantities. The system chooses based on set criteria, with bin ranking and bin code as determiners. Users can opt for default bins or put-away templates, though certain features aren't supported without the 'Directed Put-away and Pick'. If no bin fits the criteria, users have an option for manual selection. The system also prioritizes top-ranked bins for picking items, optimizing warehouse efficiency.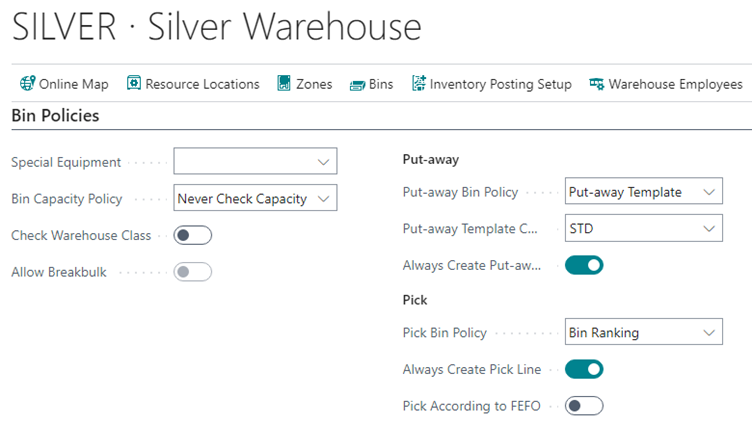 Availability overview helps you calculate quantities in your warehouse
Increase warehouse handling efficiency by having accurate and real-time information about inventory levels, locations in your warehouse, processing stage, and other factors that affect available quantities—for example, quarantine or reservations.
From source documents such as sales orders, production orders, assembly orders, or jobs, you can access information about the availability of items in your warehouse. The information is real-time, and respects factors that affect availability, such as dedicated bins, locked bins, and items that aren't available for picking. For example, items might be reserved, or pending put-away or shipment operations. The Pick Summary page lets you review the items that Business Central didn't include in pick documents and take the necessary actions.


Enhancing Data Accuracy, Customization, and User Experience
Share a data analysis with a co-worker
Data analysis mode in Business Central now empowers users to dissect and comprehend data directly from the list page, eliminating the need for separate report runs or external applications like Excel.
Furthermore, after crafting a detailed analysis on a tab, users can seamlessly share their insights with colleagues through a direct link to that specific tab.
This feature, introduced in the 2023 release wave 1, has been enhanced to offer even more: shared links not only facilitate easy communication but can also be utilized for swift out-of-the-box analysis installations.
Suggest the next step for sales and production orders
Business Central enhances customer satisfaction by optimizing sales and production order processing times. Its innovative reservation worksheet allows businesses to reserve and allocate incoming goods efficiently, ensuring item availability for orders.
This tool not only provides real-time status updates on documents, indicating readiness for shipping or production commencement but also reduces risks of partial shipments or stock shortages.
Additional features streamline document progression based on reservation status and facilitate bulk reservation or cancellation, ensuring a smooth and efficient inventory management experience.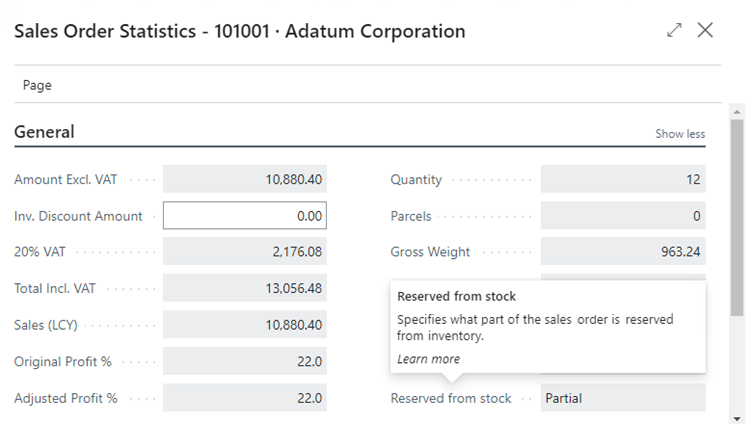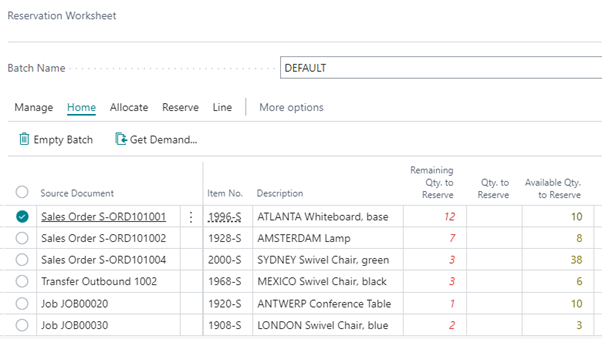 Navigate easier between order, receipt, and invoice documents
In Business Central, the seamless integration between sales, purchase, and service orders ensures users can effortlessly access related posted documents directly from an order or return. The enhanced system streamlines navigation between shipments, receipts, invoices, and credit memos.
Plus, even if an invoice or credit memo is created indirectly, users can still directly access them from the order or return.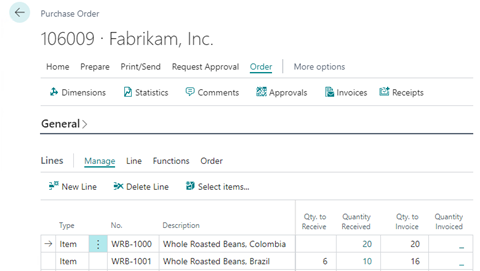 Use actions to navigate or fix errors from inline validation dialog
Data accuracy is being emphasized by proactively validating inputs. If an error arises, a validation dialog pinpoints the issue, guiding users directly to its source.
This recent enhancement not only offers solutions to navigate errors but, in many instances, allows Business Central to re-correct the problem automatically. This streamlined process ensures users can maintain the integrity of their data with ease and efficiency.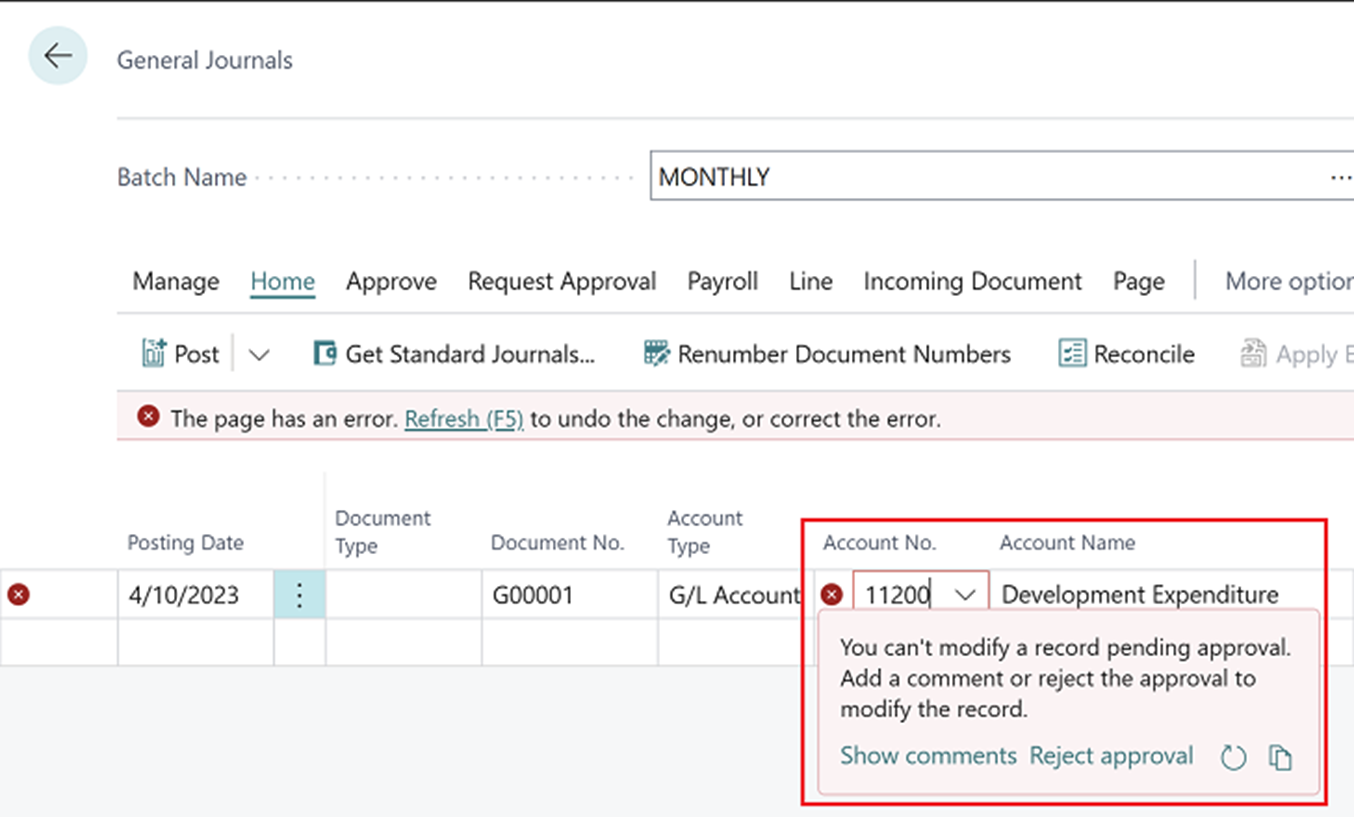 Add existing table fields to optimize your pages
Users are now able to seamlessly add existing table fields to their pages without the need for code extensions. This user-friendly approach not only accelerates adaptation by eliminating the need for pro developer interventions but also significantly cuts implementation costs. Administrators can intuitively drag, drop, and place fields where desired, with immediate effect on user profiles.
Additionally, there's a solid governance structure in place, with permissions to control field additions and developers maintaining the option to shield sensitive fields. Although still in preview, the feature promises to further streamline data interactions and empower users to mold Business Central according to their unique needs.
Show related record details from lookup
Enhancing efficiency in Business Central, the 'Show details' feature on lookup dialogs now grants users quick and direct access to details about related records.
This streamlined approach reduces the need for multiple clicks, ensuring users can swiftly gather information from related records on any page, aiding in informed decision-making.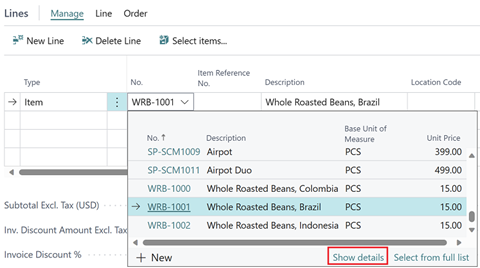 Block item variants
In Business Central, managing outdated item variants is now more streamlined. While you can't delete obsolete variants, you have the power to regulate their usage.
With the new toggles introduced on the Item Variant page, users can block specific variants from being chosen in sales or purchase lines, and prevent them from being included in transactions.
Notably, these restrictions don't apply to return orders or credit memos. Furthermore, any attempt to create new documents from existing ones will automatically notify users about any blocked items or variants.
Financial Consolidation Across Multiple Environments
Make intercompany transactions across Business Central environments
Using the Intercompany Partner Setup page, companies can easily link with partners in different Business Central tenant environments. This allows automatic transaction processing across these environments.
All intercompany features, from sales documents to intercompany journals, are supported, even when partners operate in separate Business Central setups. This streamlines accounting processes and reduces manual file management.
Consolidate financial data across environments in multicompany setups
Business Central now allows seamless financial data consolidation across various business units, legal entities, or subsidiaries, even if they operate in different Business Central environments. Whether these units are in different geographical locations or report under parent organizations, the Business Unit Card page provides the option to select the specific environment a unit functions in.
This advancement simplifies the accountant's task, eliminating the need to manually manage files and ensuring comprehensive financial consolidation across diverse Business Central setups.
Want to learn more about Microsoft Dynamics 365 release wave 2? 



Join our webinar on October 26th, or contact our experts to find out more about the opportunities these major updates can bring to your business.
Written by
Thibaut Heeren
Business Unit Manager for the Business Central Division with a long history in Microsoft Dynamics 365 and SME's. Committed by creating tangible results alongside a proven-and-tested team to create partnerships that aren't just there for the short haul. The icing on the cake: receiving positive stories that reflect the efforts made during project delivery and beyond.
Want to give feedback? Deliver it straight to the author