What's new for Finance & Operations in Microsoft Dynamics 365 Release Wave 2 in 2023?

Stijn Geeroms
Oct 05, 2023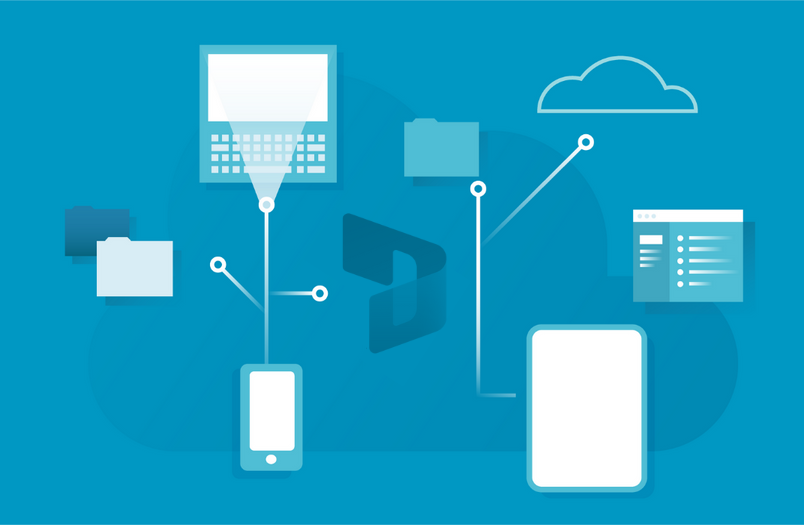 Discover the Next Evolution with Dynamics 365 Finance & Operations' 2023 Fall Release.

Dive into a suite tailored for today's agile businesses, from AI-driven finance innovations and robust supply chain management to seamless project operations. This release promises not just enhanced productivity and ROI but a redefined, unified approach to business processes.

Gear up to experience operations like never before!
In this blog post we will highlight the following topics:
Copilot as game-changer in Dynamics 365
The world of enterprise resource planning (ERP) is undergoing a transformative shift thanks to AI-driven technologies. Dynamics 365 Copilot harnesses the power of generative AI to automate routine tasks, enabling workforce creativity.
This automation extends across Microsoft Dynamics' ERP suite, including Dynamics 365 Finance, Project Operations and Supply Chain Management, aiming to modernize and streamline operations. The core benefit is an accelerated conversion of endless data into actionable insights, making tasks like financial planning, project management, and procurement more efficient.
Dynamics 365 Finance
Business performance analytics
Dynamics 365's Business Performance Analytics integrates the capabilities of Power BI with the extensive data from D365 Finance & Operations to offer a robust reporting tool required for informed decision-making.
By consolidating both financial and non-financial data into the Dataverse[1], the system creates analytical tables that clarify the relationships between ledgers, subledgers, and documents from various systems.
This streamlined approach provides a unified data source for reporting, ensuring reliable and scalable access. The data model, which is compatible with tools like Excel and Power BI, allows users to efficiently generate transaction-level reports without the need for developer assistance.
[1] Dataverse, previously known as the Common Data Service (CDS), is a cloud-based platform provided by Microsoft as a part of its Power Platform services. It offers a secure and scalable data store for Microsoft's suite of applications and also for custom applications developed using Power Apps, Power Automate, Power BI, and other related tools.
Reporting hub and base reports on data
Recognizing the pivotal role of data models in today's businesses, the reporting hub has been introduced as a one-stop repository for pre-configured reports, organized precisely by business processes.


This not only empowers a broader range of users to craft reports but also ensures streamlined data and report governance. Customers can now swiftly locate, edit, and share relevant reports, all while benefiting from robust row and role-level security features within the hub.
Enhancements in Vendor Invoice Processing
Dynamics 365 has introduced a workspace tailored for processing vendor invoices, serving as the central hub for accounting. This workspace provides insights into vendor invoice workflows, showcasing pending invoices and their stages. While automation handles most invoices, some require manual intervention.


The 2023 release highlights these exceptional invoices for easy adjustment. Additionally, the invoice capture solution now supports non-PO invoice processing in the invoice journal within Dynamics 365 Finance.
New Tools for Global Inventory and Strategic Planning
Facing evolving regulatory and economic challenges, international discrete manufacturing companies can now leverage the Global Inventory Accounting Add-in for Microsoft Dynamics 365 Supply Chain Management. This tool allows parallel inventory accounting across multiple currencies and compliance with varied financial reporting standards, all through a single standard cost document.


Simultaneously, Microsoft's extended planning and analytics solution (xP&A) for Dynamics 365 Finance is revolutionizing financial decision-making for CFOs. Addressing the limitations of traditional FP&A tools, xP&A combines real-time data, AI capabilities, and familiar Power BI and Excel interfaces. This united solution empowers CFOs to anticipate challenges, make informed decisions, and drive their organizations towards a sustainable future.
Stronger business insight for finance and procurement leaders
Microsoft has acquired Suplari, a renowned supplier spend insights provider, boosting its commitment to transform financial data management. With an increasing need for actionable insights during rising operational costs, the integration of Suplari with Microsoft Dynamics 365 aims to bridge the gap of data fragmented in silos.


With its union to Dynamics 365, users will gain rapid access to unified, cleaned data and predictive analyses, simplifying procurement decisions and fostering an insight-driven approach. Suplari's strength lies in its capability to transmute varied data, from contracts to invoices, into actionable insights.
Revolutionizing business functions with AI
Copilot, integrated into the M365 finance ecosystem, serves as a game-changer for various roles within a business.


For finance managers, it's an assistant that seamlessly generates complex reports through simple natural language commands. Project managers find an ally in Copilot, aiding them in swiftly crafting and fine-tuning project strategies. Collections managers are provided insights to strategically communicate with customers based on credit histories, while procurement experts are equipped to modify purchase orders with precision.
Dynamics 365 Supply Chain Management
Optimize the customer returns process
The customer return process within Supply Chain Management has undergone significant enhancements to boost business value and efficiency. Users can now seamlessly manage returns, with the option to print labels either automatically or on-demand.


The real game-changer is the Warehouse Management mobile app: when items are returned, workers can instantly process them by scanning the RMA number. The app automatically creates a return order and displays the returned items for verification.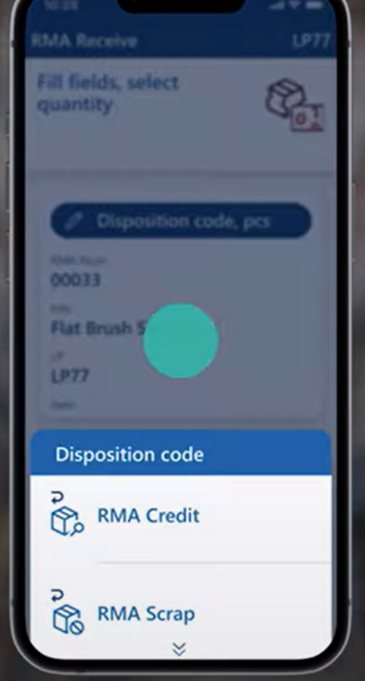 Manage prices with the pricing workspace
Dynamics 365 Supply Chain Management introduces a pricing management workspace tailored for sales managers. This innovative workspace not only offers managers a comprehensive overview of upcoming price rule changes but also empowers them to swiftly modify pricing policies.


With features such as tiles summarizing urgent price records and a tabbed list for detailed views on each price component, managers can easily enable or adjust pricing rules without any difficulties.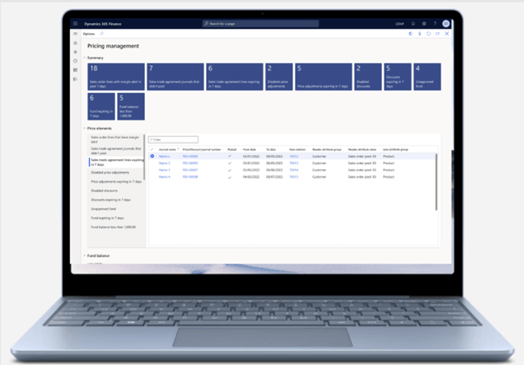 Make better purchasing decisions in procure-to-pay processes with the help of Copilot
Dynamics 365 Copilot transforms the daily struggle with updates and changes to purchase orders by offering a conversational experience designed to guide agents towards optimal purchasing decisions.


Instead of the tiresome task of screening through individual purchase orders, Copilot unites all changes, presenting a combined view for swift review. Copilot not only identifies the potential downstream impact of these changes on areas like production, sales, and service work orders but also provides actionable insights on how best to navigate these changes.


Dynamics 365 Field Service
Revolutionizing Work Order Management & Resource Scheduling with Copilot in Dynamics 365 Field Service
Copilot in Microsoft Dynamics 365 Field Service uses generative AI to enhance the efficiency of these tasks. In the area of work order creation, Copilot simplifies matters. Service managers can now easily draft work orders directly within Microsoft 365 applications, like Outlook and Microsoft Teams. This AI-driven assistant automatically extracts essential details from emails and conversations, completing work order forms effortlessly.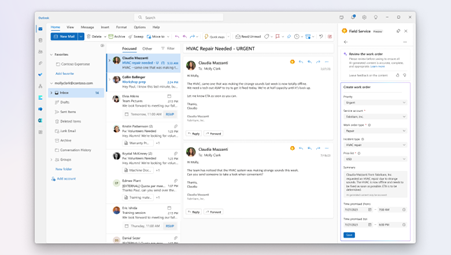 For service managers looking to swiftly comprehend a work order's essentials, Copilot provides invaluable AI-powered recaps. These summaries compile pivotal data about a work order, including notes, products, services, tasks, and other relevant activities. Users can request these comprehensive recaps on-demand without getting lost in extensive data.

Further, Copilot's AI capabilities shine in resource scheduling. Frontline managers and dispatchers, when faced with the challenge of finding the right worker for a job, can now receive AI-powered recommendations. Copilot suggests optimal technicians based on their availability, expertise, and skillset, streamlining the scheduling process within Microsoft Teams and Outlook.
In addition to these functionalities, the integration of Copilot in Microsoft 365 applications offers frontline managers AI-generated responses or summaries for sharing with clients, enhancing frontline productivity and stimulating improved customer interactions.
New and intuitive user experience for Field Service Mobile
The newly launched mobile app is tailored to boost efficiency and customer satisfaction, by equipping service technicians with essential job-related information, ensuring a seamless digital transition. Its modern user interface streamlines tasks, making data entry swift and reducing in-app time, letting technicians concentrate on their core tasks.


From a refreshed design to swipe gestures for easy booking status updates, large touch targets, and embedded guides with step-by-step instructions, the app promises an enhanced user experience. It also enables technicians to swiftly filter bookings, manage tasks, update product details, and attach notes in various formats, ensuring comprehensive job documentation and real-time updates.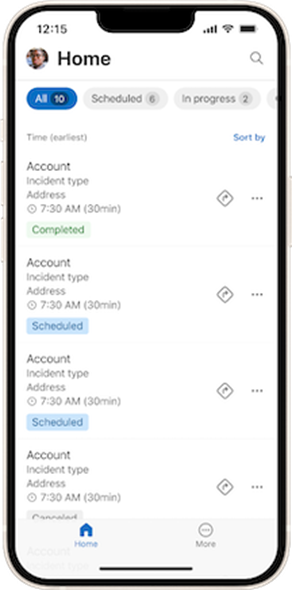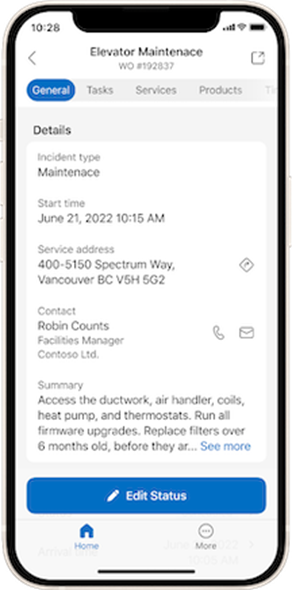 Streamlining Work Order Processes for Enhanced Efficiency
Accepting a customer's quote now automatically generates a work order, streamlining the transition from sales to service. This new approach accelerates service delivery, ensuring accuracy and improving the customer experience. Additionally, the revamped work order interface offers visual cues for prioritized tasks and introduces a dynamic card that adapts to the work order's lifecycle.


Combined with a unified product and service view and an enriched tasks experience, this upgrade optimizes daily operations and ensures frontline workers have all the information they need for efficient resolutions.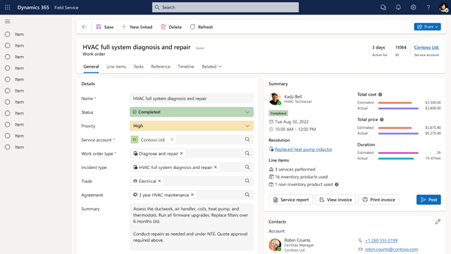 Dynamics 365 Project Operations
Get AI recommendations on best resources for your project
Navigating the complex world of project management becomes significantly easier with the new feature tailored to offer timely insights into project statuses and challenges. Project managers are now equipped with an advanced recommendation engine that, through a mix of AI and thorough analysis, suggests the optimal staffing choices considering factors like cost, availability, experience, skill alignment, and resource utilization.


This system uniquely factors in the experience levels of potential team members, weighing the benefits and challenges of choosing between internal employees and external resources. By understanding and learning from past project successes, the AI model continuously refines its suggestions, ensuring that teams are best matched for the specific nature of each project.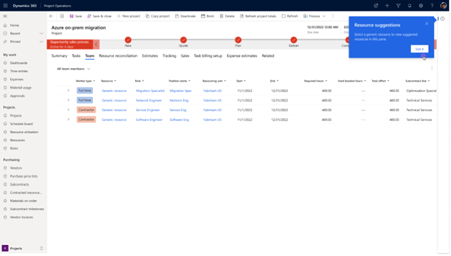 Project Management Copilot in Dynamics 365 Project Operations
At its core, the Copilot aims to significantly bolster the efficiency of roles like project managers and practice managers by offering four transformative capabilities:


1 Task Plan Generation: Based on the project's name and details, Copilot suggests realistic task plans, streamlining the process of project creation.
2 Risk Assessments: By analyzing a project's meta-data, the Copilot proactively identifies potential risks and suggests mitigation steps, ensuring projects remain on track.
3 Project Status Reports: Leveraging AI, project managers can receive summaries based on key performance indicators, making reporting more concise and focused.
4 Interactive Experience: With a chat-like interface, users can swiftly seek guidance on task plans, risk assessments, and status reports, making the process more intuitive.
It's essential to note that while this AI integration provides initial insights and suggestions, a thorough review by project managers is imperative to ensure accuracy. Before utilizing the Copilot, users need to upgrade to the latest version and enable the feature within Project Operations settings. This integration signifies a step towards a more AI-driven approach to project management, ensuring precision and productivity.
Bridging the Gap Between Procurement and Project Management
This new feature eliminates the barriers and streamlines collaboration between procurement, accounts payable and project managers. This enhanced integration seamlessly fuses procurement with project management, allowing for a holistic approach to acquiring goods and services for projects. No more switching between different systems or dealing with manual data entry. With this feature, you directly oversee your procurement tasks within the project plan, gaining insight into its influence on your budget, timeline, and deliverables.


The accounts payable department can perform a three-way match for incoming vendor invoices based on the input of procurement and the project manager using Dynamics 365 Finance.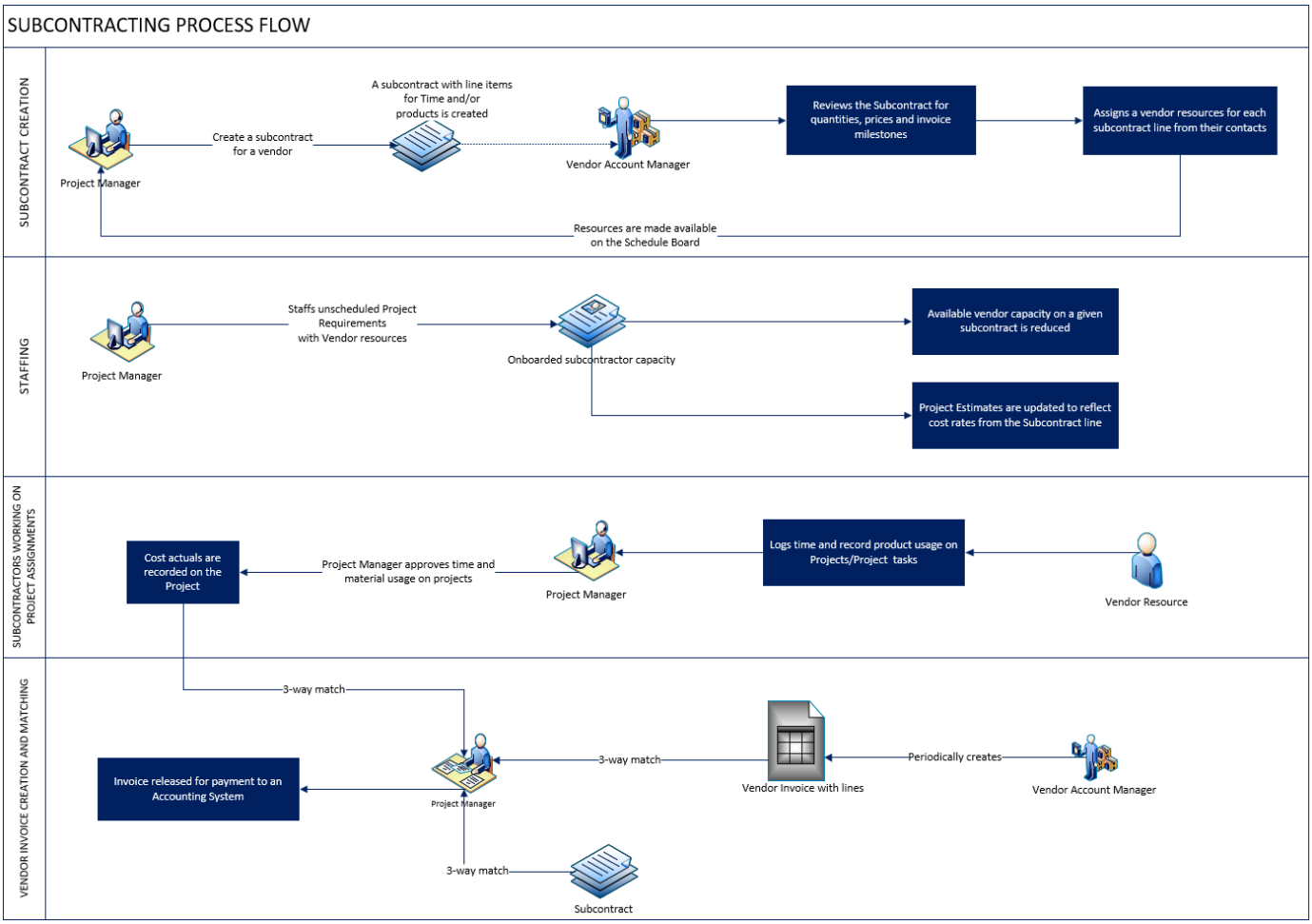 Integrated project budget management
End-to-end project budget management is here. The budget process to create, submit, and review budgets across different project phases is now incorporated in Dynamics 365 Project Operations. This includes importing sales budgets, tracking of actuals against budget lines, periodic reviews of variances, and even updating forecasts based on real-time consumption to publish a new version of the budget.


In the Spring 2023 Release of Microsoft Dynamics 365 Project Operations, the spotlight was on refining the project budget management journey. The aim was to enable users to effortlessly develop, present, and analyze budgets throughout diverse project stages.


Taking this a notch higher, the latest update enhances the budget creation process, allowing for a simplified import from estimates and with a level of detail of your choice. This results in automatically summarized budget lines, making it easier to track costs at levels like tasks or roles.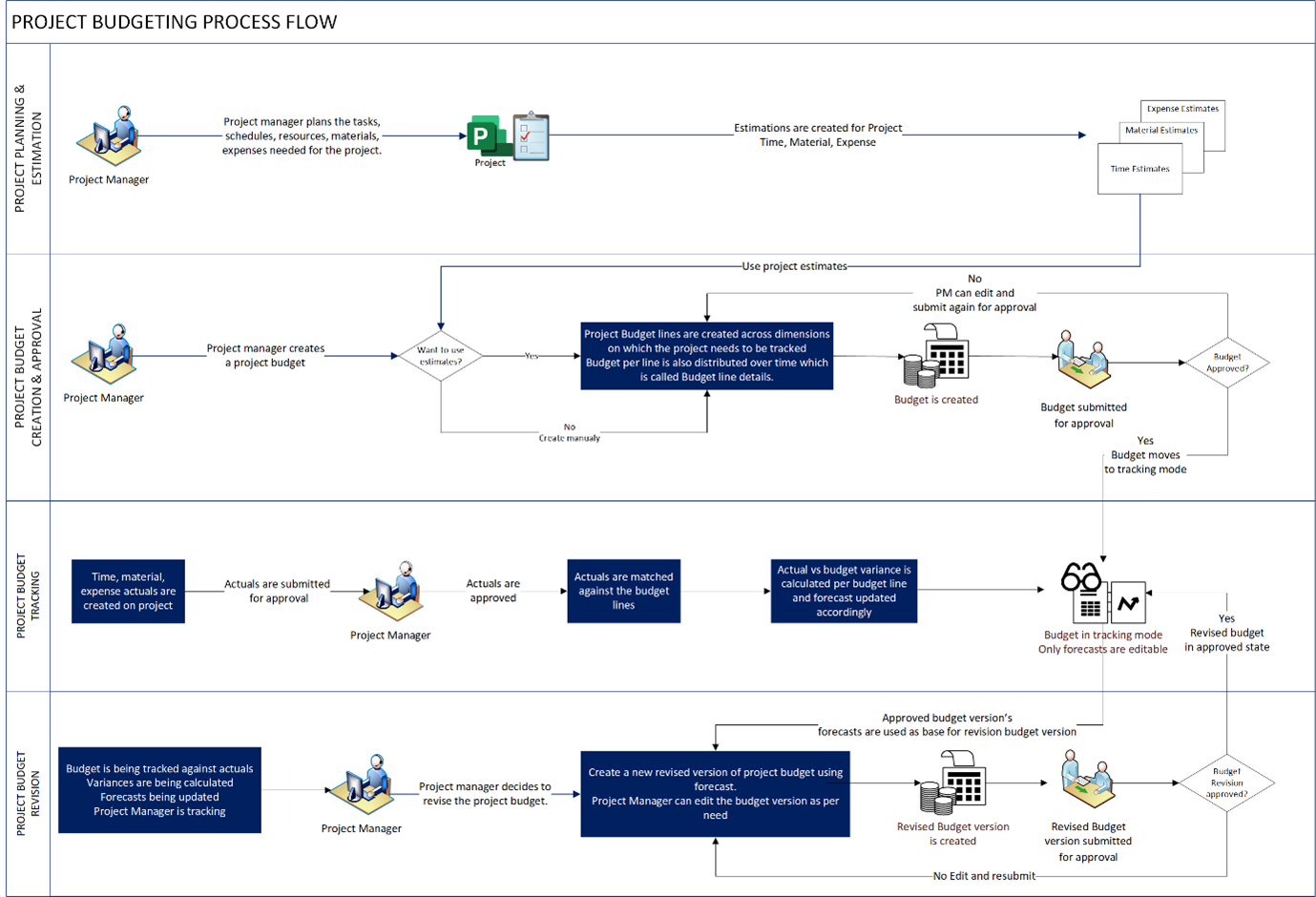 Dynamics 365 Human Resources
Access employee leave and absence in Teams
Dynamics 365 Human Resources now seamlessly integrates with Microsoft Teams, making it effortless for employees to view time-off balances and submit leave requests. This integrated approach eliminates the need for accessing separate systems or cumbersome paper forms, promoting transparency and efficiency. Additionally, managers have the added convenience of addressing leave requests directly within Teams, simplifying the overall leave management process.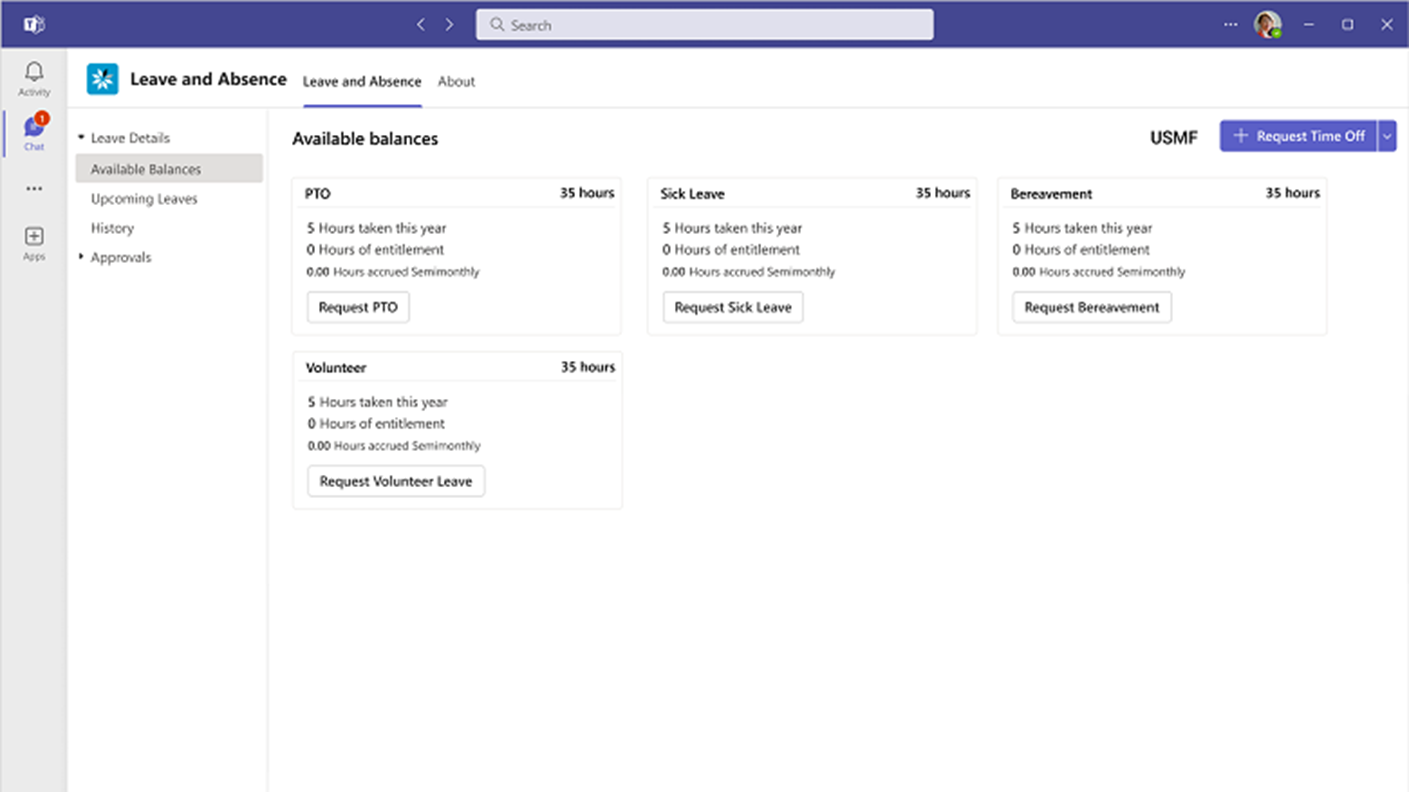 Time and calendar integration with Project Operations
The recent integration of Project Operations with Human Resources now allows workers to be seamlessly linked as bookable resources, bridging the process from onboarding to resource booking in service-centric organizations such as consulting and technical services.


This advancement ensures that any time-off activities recorded in Human Resources—be it vacation, sick leave, or holidays—are automatically synchronized to the resource's calendar in Universal Resource Scheduling. This results in an accurate representation of a resource's availability, granting both human resource managers and the resources themselves a unified view of capacity.
Want to learn more about Microsoft Dynamics 365 release wave 2 in 2023? 



Contact our experts to find out more about the opportunities these updates can bring to your business. 

Written by
Stijn Geeroms
Sales Manager with over fifteen years' experience in business applications. Passioned about helping companies advance through software and technology so they can quickly respond to opportunities and the ever-changing market. Every company is unique, yet they are part of an industry. I believe that delivering an industry-specific solution with, on top of that, a focus on improving their unique strengths allows them to stay one step ahead of the competition.
Want to give feedback? Deliver it straight to the author