What's new for Power Platform in Microsoft Dynamics 365 release wave 2 [Part 1: Business]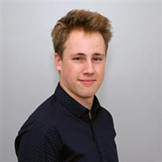 Jasper Callens
Nov 15, 2023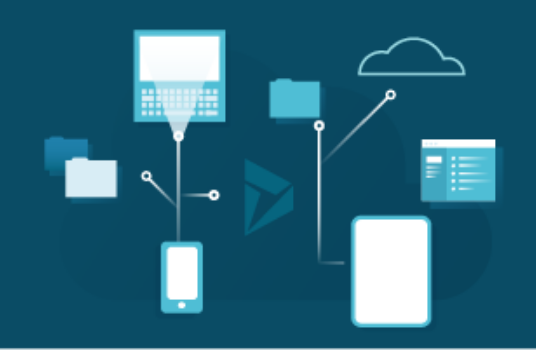 Welcome to the 2023 Fall Release Updates for Power Platform.

This release is all about empowering businesses with intelligent automation, simplifying the application development process, and providing deeper, data-driven insights. It's a suite of enhancements crafted to optimize your operational efficiencies and nurture a more connected digital ecosystem.

Embrace these advancements as you prepare to transform your workflow processes and elevate collaborative efforts within your organization.
In this blog post we will highlight the following topics:
Power Apps
Building modern apps
Quickly create data-connected apps with rich, responsive layout templates
Business value and feature details highlight the ease and versatility provided to makers. In just a few clicks, they can access captivating designs tailored for typical scenarios, enhanced with data-connected components. These designs intuitively adapt to different window dimensions, ensuring a consistent aesthetic experience across devices.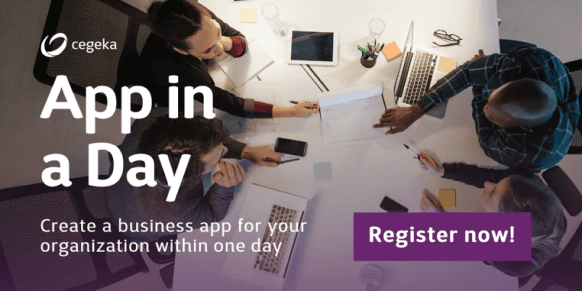 The update introduces screen layout templates with pre-set configurations for multiple devices, allowing swift app development. Makers can also preview how their apps will adjust across different screen sizes, ensuring optimal user experience.


Enjoy the new look and feel for model-driven Power Apps
In line with enhancing business value, model-driven Power Apps have been revamped to incorporate the Microsoft Fluent Design System, offering makers a visually appealing interface to captivate their users. By choosing the "Try the new look" option, users can explore modern layouts, themes, and colors embedded with the Fluent Design elements. Although this fresh design enhances the user experience with its cross-platform compatibility, internationalization, and performance features, users retain the flexibility to revert to the previous look if desired. The essence of Microsoft Fluent lies in its commitment to creating rich, accessible product experiences.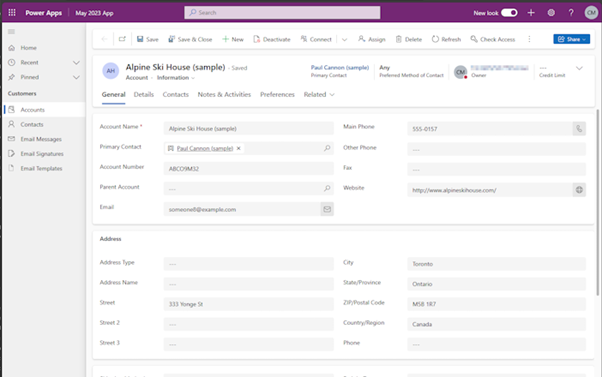 Copilot in Power Apps
Enhancing App Development: The Evolution of Copilot in Power Apps
Power Fx formulas, while powerful, can be intricate, prompting the introduction of Copilot—an AI-driven tool designed to assist makers. Copilot simplifies formula creation by allowing natural language inputs or examples, drawing from the strengths of Power Apps Ideas.


Due to the enthusiastic reception of Copilot, its capabilities have been expanded, enabling it to design apps based on natural language instructions, such as adding UI components or linking to data.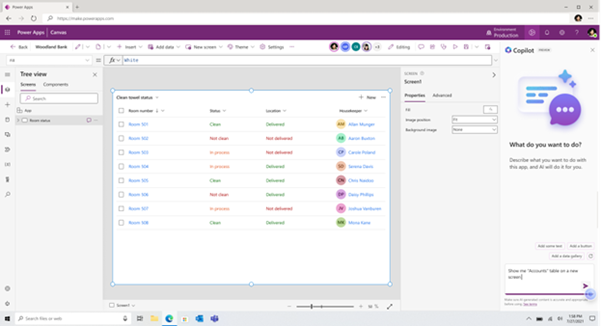 Moreover, newcomers to Power Apps now have an ally in the Q&A Copilot, a virtual consultant offering step-by-step guidance and directly linking to essential Microsoft documentation, ensuring a smoother learning curve and efficient app development.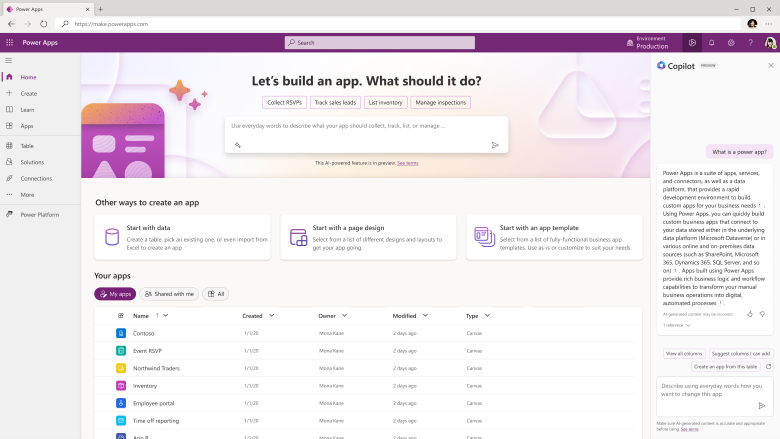 Power Pages
Administration and governance
Streamline digital agreement workflows with Microsoft Power Pages and DocuSign
Embracing the low-code revolution, Power Pages stands out as a trusted platform that fast-tracks digital transformation by offering various website development and governance tools, needing minimal to no traditional coding. The integration with DocuSign takes this a notch higher, offering built-in document and e-signature solutions.
DocuSign, a leader in e-signature solutions, when combined with Power Pages, provides a robust platform for creating, signing, and managing digital documents. It offers an intuitive workflow for adding e-signatures to multi-step forms through the low-code Studio.
Moreover, with the DocuSign connector in Microsoft Power Automate, documents are crafted for users to view and sign, all configured via the new 'Integrations > External Apps' tab. This integration significantly reduces the time it takes to capture digital signatures, allowing creators to seamlessly incorporate e-signatures into their forms.
Copilot in Power Pages
Revolutionizing User Experience with Power Pages Copilot
Power Pages Copilot has reshaped the way makers create and manage sites by introducing a unified platform for learning and troubleshooting. Makers can effortlessly access a wealth of information, previously scattered across various resources, via the Copilot Q&A capability. By utilizing advanced language models and comprehensive documentation, this feature provides concise and easy-to-follow instructions to address site-building challenges directly.


Moreover, the incorporation of a Copilot chatbot enhances the website users' experience. Through natural language queries, users can swiftly gather information and insights, ensuring a more efficient interaction with the website and eliminating the need for manual site searches. This not only elevates the user experience but also streamlines the information retrieval process.
Intuitive Website Creation with Power Pages Copilot
Power Pages Copilot has truly revolutionized website creation by harnessing the potential of generative AI. Makers can now simply envision a website concept, articulate it, and watch as Power Pages brings it to life. By providing a brief description from the starting point of the homepage, the platform determines the sitemap and offers diverse layout options and themes.
And the innovation doesn't stop there; within the design studio, Copilot remains a reliable assistant, aiding in further modifications and refinements, ensuring the final product aligns seamlessly with the maker's vision.
Power Automate
Copilot for Power Automate
Use Power Automate cloud flows designer with Copilot
Now, you can describe the automation you envision using everyday language, and Power Automate, leveraging cutting-edge AI models like Azure OpenAI, will craft it for you. This enhancement not only accelerates the flow building process but also makes it accessible to a wider range of business users without any coding. Dive deeper into its capabilities, and you'll find support for a broader array of connectors and actions like Dataverse, approvals, and Power Apps. Plus, Power Automate automatically fills in flow parameters and offers insights into how your description gets translated into actionable flow steps, complete with recommendations for refining them.
Power Virtual Agents
Copilot for Power Virtual Agents
Generative answers with GPT-powered generative AI
This feature allows bots to provide contextual answers directly sourced from your website, ensuring users receive relevant information even if a specific topic hasn't been predefined. Say goodbye to the exhaustive manual topic authoring process and swiftly deploy a versatile bot that anticipates and answers a broader range of user questions.


If a user poses a query beyond the bot's predefined topics, rather than merely prompting them to rephrase, the bot will now harness the combined power of Azure OpenAI, including the GPT technology, and Power Virtual Agents' AI to understand the user's intent, fetch relevant data from a given URL, and frame an appropriate response. This real-time response generation ensures users always receive value.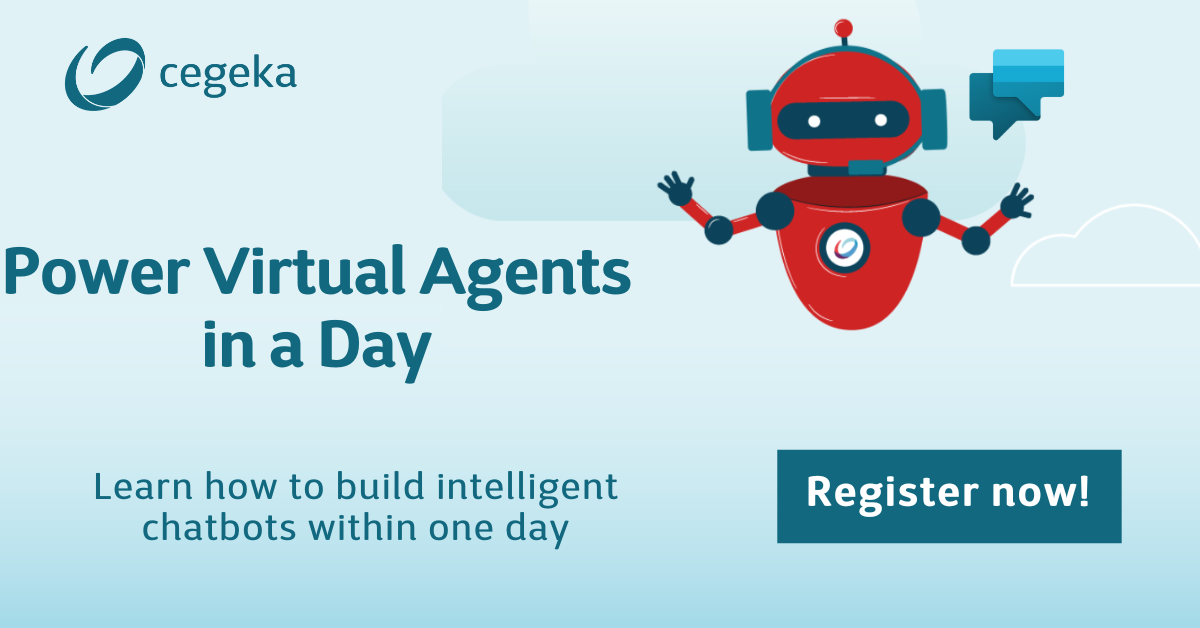 Speech and IVR
Integrate with the voice channel in Omnichannel for Customer Service
Introducing native voice integration in Power Virtual Agents, a game-changer for enhancing customer interactions via the voice channel in Omnichannel for Customer Service. This integration facilitates a more intuitive and efficient way for customers to engage with your business, promoting rapid resolutions to standard queries. By integrating voice responses and analysis, businesses can notably boost their deflection rates and elevate customer satisfaction levels.
Power BI

Cloud Flows
Create reports in the Power BI service with new data sources
Revolutionizing the Power BI service, the enhanced Create page now streamlines the report generation process, making it easier for users who don't require extensive data modeling via Power BI Desktop. Beyond the convenience of simply copying and pasting data, users can now directly select tables from various sources like Excel, CSV files, SharePoint, and even certain online services and databases. This advancement ensures that, with a single click, Power BI instantly crafts a basic report, paving the way for immediate analysis or report customization. By minimizing steps and maximizing efficiency, Power BI continues to redefine user-friendly data analysis and reporting.
Allow discovery of service content in Power BI Desktop
In an exciting step towards enhanced user experience, Power BI Desktop is unveiling a revamped homepage, aligning its look and feel with the cohesive design language of Microsoft 365. This renovation not only brings a refreshing interface but also empowers users to effortlessly discover and access reports built within the service. By bridging the gap between creation and consumption, the new homepage ensures that users can seamlessly transition from discovery to in-depth analysis, making data-driven insights more accessible than ever.
Use Loop to share Power BI charts into Microsoft 365 documents
Enhancing seamless integration and usability across Microsoft 365 platforms, Power BI now introduces the effortless chart-sharing feature. Users can conveniently copy their Power BI charts with straightforward gestures like right-click and paste them directly into Word or PowerPoint documents. Even after pasting, these charts retain their dynamic interactivity, empowering recipients to delve into the data complexities with ease. Underpinning this feature is 'Loop', a robust SDK component of Microsoft 365, ensuring that the interactive essence of Power BI transcends into your documents effortlessly.



Want to learn more about the Microsoft Power Platform release wave 2? 


Read the second (technical part) of this blog or contact our experts to find out more about the opportunities these updates can bring to your business.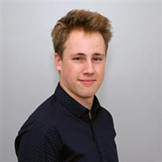 Written by
Jasper Callens
Technical Designer and Power Platform enthusiast
Want to give feedback? Deliver it straight to the author