In 

Part 1

 and 

Part 2

 of this series, we outlined the main challenges pharma and 

life

s

 science companies face today. 

But the question is now:

 

how do you keep up with all 

these transformations

? The good news: with the right approach, you can turn these challenges into 

opportunities. In part 3,

 you will

 discover how to get ahead in the pharma industry with 

digitalization

 and innovation. 

 
Part 3: Digitalization and innovation
Just as nerve cells control the body, innovative software connects the business processes within pharma & life sciences companies. That coherence breaks through the classic silo culture and allows you to work faster, more efficiently, more connected and safer. With the right ERP system, you're in it for the win.
Implementing a validated system
When building or customizing solutions to support your business processes, the validation of the software is a steep mountain to climb. It takes time and plenty of resources to get it validated. And by the time the system is validated, it may already be outdated. It's clear that this 'old way' of doing things is not adapted to the real needs of your company.
So what's the alternative? Implementing a validated system. Instead of building a system to reflect your processes, there are validated ERP systems such as Microsoft Dynamics 365 Finance & Operations that are already validated for the pharma and life sciences industry. But just as important as the ERP itself, is the implementation partner. Because the implementation methodology needs to be validated as well.
Implementing a validated ERP has many benefits:
Continuously compliant
Scalable
Agile
Connected
Data integrity and security


The need for an automated and continuous validation strategy
It's safe to say that pharma and life sciences is one of the world's most highly regulated sectors. Every step in the research and development process has to be heavily documented, from sample testing and clinical trials to product development and traceability. This surge of stringent regulatory compliance in all domains of manufacturing asks for a continuous validation strategy. To make matters worse, these regulatory requirements change constantly over time, so to keep track of things, old-school manual processes are no longer sufficient.
For that very reason, pharma and life sciences companies resort to an ERP platform that supports the business' need for innovation and meets regulatory requirements all at once. Software which helps them develop, document and test following good practices, as those specified by the current Good Manufacturing Practices (cGMP) and Good Automated Manufacturing Practice (GAMP). An ERP system like Microsoft Dynamics 365 Finance & Operations is designed to live up to the high demands of this diverse industry, with frequent software updates, configuration changes and so on.
Once the software is validated, you can rest assured that the system meets its purpose in line with the regulatory guidelines for the pharmaceutical industry. This includes all ERP modules from procurement, manufacturing, distribution, packaging, formula management to quality control.
Lara Moons: "Even with a validated system we still have to do a lot of work ourselves. But we want to go about it as pragmatic as possible: adapt ourselves to the system, not the other way around.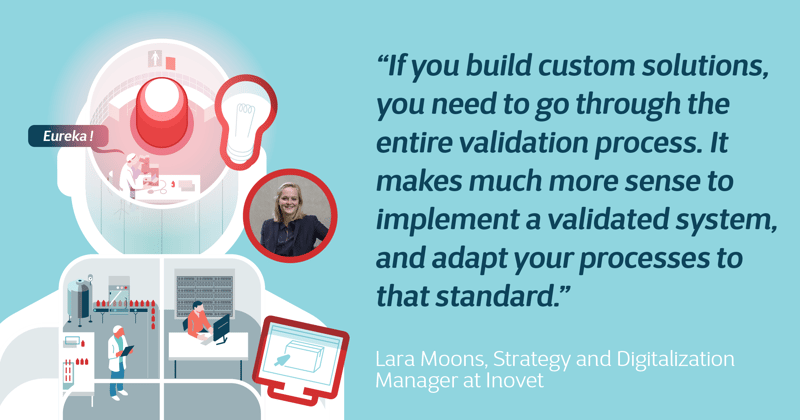 Which features should you look for in a pharmaceutical ERP?
Okay, granted, the pharmaceuticals industry is definitely the odd one out in terms of compliance, supplies or inventory. This is not least because of the specific business challenges that have to be met. Needless to say, if you want your manufacturing and distribution activities to run efficiently, you'll need to find an ERP system with all the right functionalities for the industry.

Key capabilities of our ERP solution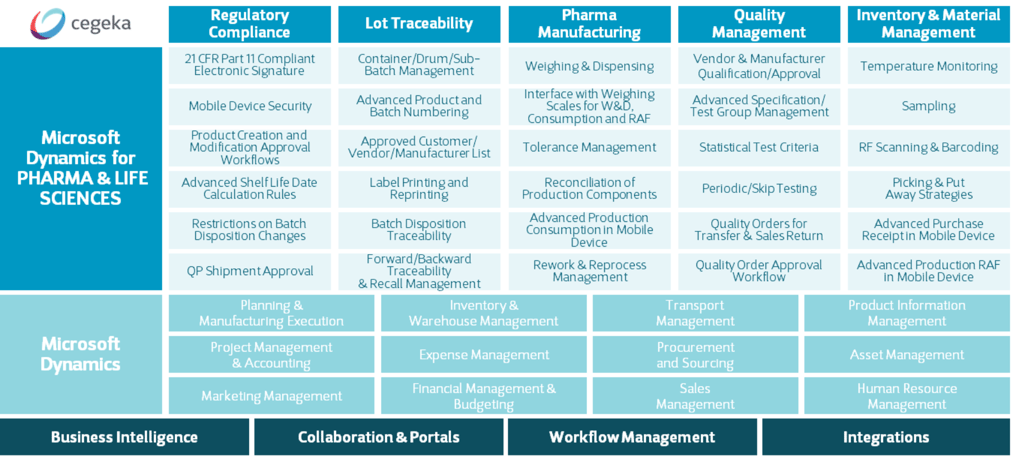 When selecting your ERP, it's important to map out your selection criteria and thoroughly assess each system's strengths and weaknesses.
How to implement a unified ERP platform?
Let's not beat about the bush: implementing an ERP strategy is an intensive and arduous process. So you'd better have all your priorities straight before you start. Our advice? Take the time to clearly define your business goals. Ask yourself this:
1. What business objectives should your ERP strategy help achieve?
Once that's clear, it will be easier to get everyone on board, from senior management to the employees on the floor who will have to change their way of working.


2. Which processes are essential to maintaining a competitive edge?
These should be your focus throughout the entire project. Then, you need to allocate the majority of your resources to it.


3. How can you keep your management excited about the project?
Want to know more about implementing an ERP? 

Check our 'Two to Tango' series!

 

 
In the beginning, their input is important to clearly define the business objectives and their long-term vision. Next, make sure that management is regularly informed.
By now it's clear that senior management plays a vital role in selecting and implementing the right ERP platform. With their support, you've already won half the battle. Linking the ERP project to clear business objectives, approved by everyone involved, makes it easier to monitor the scope and budget.
Another reason to involve management is that they ensure all different visions are aligned. That way, you will encounter less resistance during the process. Remember, you are asking people to change the way they work so the least you can do is tell them why this is necessary.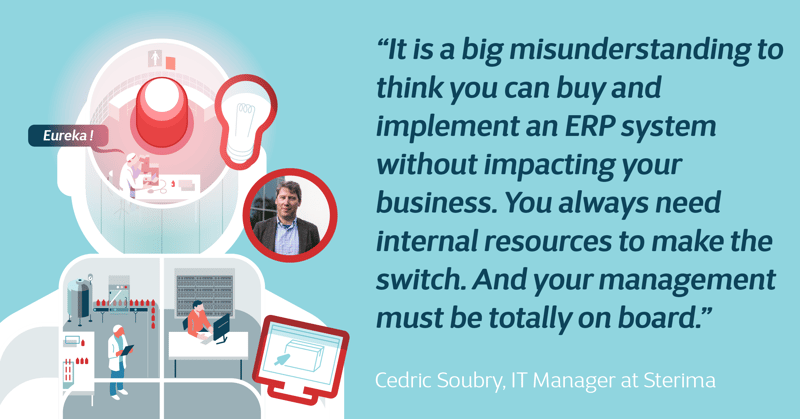 The importance of organization change management
With change comes resistance, that's a given. When implementing an ERP platform, it's no different. To be successful it's vital you have a change management strategy in place that will guarantee a smooth transition throughout the organization. As ERP changes the nature of their job and tasks, employees need to understand the reasons behind it and how the new system will benefit them. This is important to gain the confidence of employees and to avoid misunderstandings.
Sterima used the demand for greater regulatory compliance to establish a standardized approach when taking on new clients. "We've changed our ad hoc processes into a standardized onboarding process that allows us to onboard new customers more easily. But make no mistake: even if you standardize as much as possible, you still have to go through the change process. It's not going to be business as usual. Yet, if you make the effort, you'll be able to focus on those processes that really make a difference."
Another way to go about it, is to conduct a stakeholder analysis to define who will be affected by the ERP implementation. Once that's clear, you'll have a better understanding what kind of info each stakeholder needs, depending on the degree of involvement. Next, you can organize customized trainings for each group. Having an effective change management strategy in place will ensure employees accept the change more easily. And that's good news for you! The sooner everyone is on board with the transformation, the faster your organization can adopt the new ERP platform.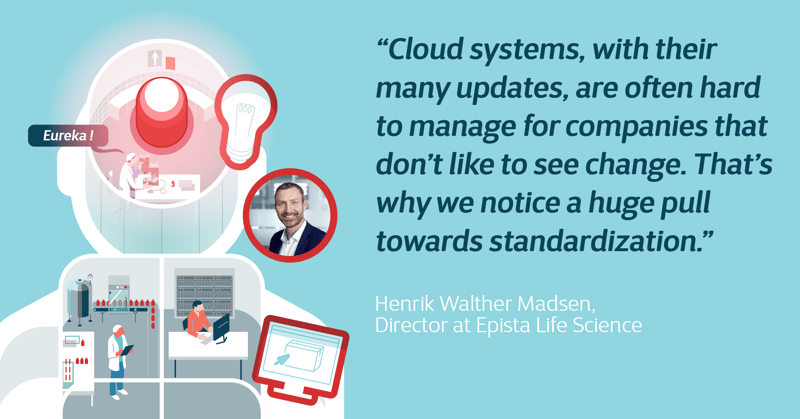 Lara Moons from Inovet shares this tip with you: "Find yourself a good project manager who has experience with ERP implementation: not IT-wise but in terms of motivating people, understanding and explaining processes. In the end, change management is very important."
Process library
So if you still have to validate your software and methodology, even with a validated system, what's the point? If you choose the right implementation partner, the methodology is well documented and is based upon the use of an 'industry-specific process library'. This is a library of processes for the pharma and life sciences industry, hundreds of which have been identified as being GxP critical.
Henrik Walther Madsen (Epista): "There are a few components you need to take into account when you want to differentiate with your ERP implementation. One key benefit is the process library. There are about 190+ business processes specific to the life sciences industry. With a partner like Cegeka, all these processes are documented in the process library, which is used as the standard or industry-specific best practice companies should adapt to. Once this library is implemented, you can add specific functionalities for your business, like track and trace."
In short, implementing a validated ERP system is not just an investment to increase efficiency or digitize. It's in fact a blueprint that covers all critical processes in your business. The process library is your guide to getting key processes in scope, and define the key requirements for each process.
Cedric Soubry (Sterima): "We are currently implementing Microsoft Dynamics 365 as a validated ERP system. To be clear: we are still responsible for going through the validation process. But the greatest benefit of having an implementation partner like Cegeka, is that the process library contains all documents needed for the validation. They match the requirements for the certification exactly, which greatly decreases our workload.
Another advantage: by documenting the processes, we now have a testing environment in place for all our systems. With each software release, we go through the user testing. It's a great method to tweak and document our processes. And we know for sure that every process is now tested and validated. This makes our IT landscape much more stable."
Turn industry challenges into opportunities
It's pretty clear that the old way of working – through manual processes, labor-intensive documentation, outdated systems … - is not equipped to deal with the challenges modern pharma and life sciences companies face. Throughout this series, we've laid out the main challenges. By implementing an ERP system that's validated for the life sciences industry, you can not only tackle these challenges, but turn them into differentiating opportunities.
Implementing an ERP system is not an easy feat. But the benefits are clear: you create an always compliant application landscape, adapt your business processes to the standard, and prepare for future growth and innovation. With the right implementation partner, you can count on industry-specific expertise, a process library that serves as a standard and manage the change within the company.
In the Pharma & Life Sciences industry, regulatory compliance  has become a prerequisite for doing business. If you're wondering how to keep the pressure on compliancy and validation, make sure to read the first part of our series: Managing regulatory compliance!

Pharma companies also need to be able to support quick growth – whether organic or through acquisitions – with scalable processes and systems, collaboration throughout the supply chain and an efficient time to market. Read all about it in the second part of this series: Growth and scalability. 

Curious to find out more about our validated Microsoft Dynamics 365 for Pharma solution? 

Get in touch and let's talk!  

Written by
Dominique De Vos
Solution Manager and Industry Expert with over 20 years' experience. Convinced that an industry-specific approach adds immeasurable added value to the customer, by talking the same language and sharing expertise gathered in similar types of industries. Experienced professionals benefiting from best practices, fully-documented business processes and an always (GxP) compliant solution, offer a scalable and agile technological business platform which is future-proof and innovative, allowing the customer to respond quickly and efficiently to ever-changing market conditions while gaining considerable competitive advantage.
Want to give feedback? Deliver it straight to the author