Emile works as a Technical Software Engineer within Cegeka's Business Central team. Here he combines the tasks of Software Developer and System Engineer. A varied job in which he wants to broaden his knowledge by focusing on continuous learning.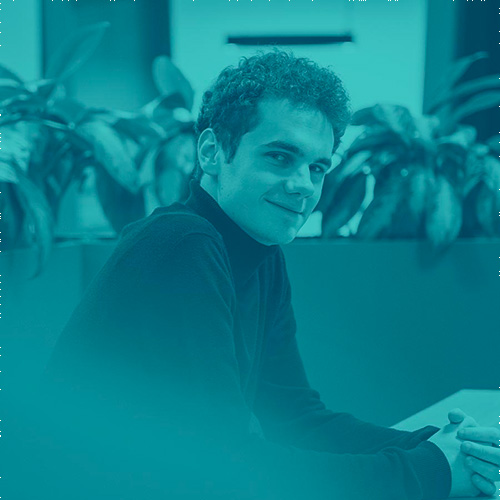 What technologies do you come into contact with?

"Besides the C/AL and AL code to write the customizations for Navision and Business Central, I also come into contact with several other technologies and tools. Along the System Engineer part, I think of SQL, Azure, etc., among others. While the Software Engineer part is more likely to work with various Add-Ons for Business Central such as Document Capture, for example.

Tasklet scanners are also very popular for order picking. These can be connected to Business Central to work with real-time information. Lately, Sana's webshops are becoming increasingly popular to have a dynamic webshop with connection to Business Central via Odata and APIs.

Finally, with the emergence of the Azure platform, integration with Power Apps is very important. With this we give customers the freedom to have a mobile app connected to Business Central to retrieve and modify real-time data without the user being at the computer."
Cegeka considers continuous learning very important, how do you experience this in your job?

"Every year I am encouraged to obtain relevant certificates, I myself am working on a certificate around the Azure platform. I also got the chance to follow an 'App in a day' session and set up my own power app with approval flow under the guidance of experts from Cegeka. This was very instructive especially with the increase in collaboration with our powerapp team."

How do you see your further career within Cegeka evolving, what are possible next steps?

"For now, the focus is still on learning the broad world of Business Central and coming into contact with all its facets. Once the knowledge of Business Central is broader, I want to move on to one position where I will have more responsibility to take control of more complex issues myself from A to Z and thus be employable on different projects."

What are important skills to have as a Technical Software Engineer? And what attitude?

"In my experience, the most important skills are a healthy balance of problem solving, perseverance and teamwork. It's good to be able to figure things out independently and still ask for timely help from someone with more experience. Also needed is an open mindset to readily adapt yourself to the specific flow and needs of the client/situation at the time."

What makes you consider a day or a project 'successful'?

"I am especially proud when the expectations of the client, myself and my colleagues can be achieved. Meeting the schedule set in advance is also something that plays a big factor in this."

What do you find important in team operation?

"The most important thing about working in team for me is having confidence and feeling good about yourself. If I didn't trust the knowledge of my colleagues and didn't feel comfortable addressing them for this I would have learned a lot less in the past year."

What are Cegeka's USPs for you, why do you like working here?

"I live in Hasselt so working for a large IT company with an office close to home is definitely a plus. Furthermore, the open culture at Cegeka makes office life very pleasant because we also come into contact with people from different divisions, ages and functions on a daily basis. Finally, there is a lot of attention to relaxation after work with the Happy hours, team buildings, etc."