What is Identity and Access Management?
Identity and Access Management (IAM) is the cornerstone of any organization's security infrastructure. It assigns a digital identity to each employee of the organization and authenticates, authorizes, monitors, and manages those identities throughout their lifecycle. This way you can ensure that users on your network are only able to access the resources that are necessary to perform their duties in your organization.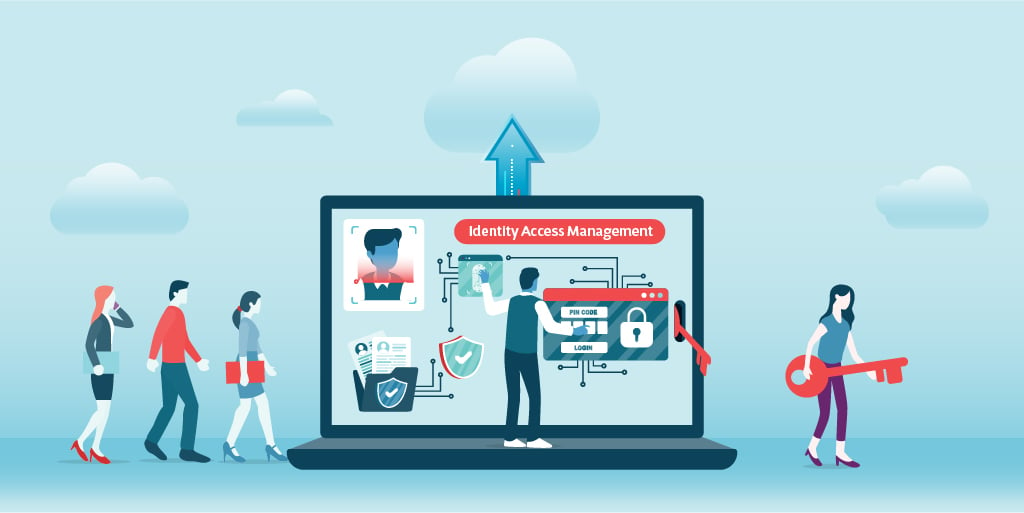 Prevent cyber attacks with IAM
These are the four primary ways in which IAM protects your organization from security threats and vulnerabilities: 
1. Automate provisioning of access privileges
Manually assigning access rights to new employees is a costly, inefficient, and error-prone practice. Identity and Access Management automates this process of assigning privileges to new employees, depending on their roles. And when an employee moves to another department or gets another job role, the automated enforcement stops the issuance of unnecessary privileges and limits the privileges to the ones needed for the new job. Finally, IAM ensures that employees who are leaving the organization have all their privileges revoked automatically.
2. Tighten privileged account security
Privileged accounts are especially interesting targets for cyber criminals. If they can compromise such an account, they get broad access rights. This gives them access to a lot of resources and data, potentially to almost every part of your organization's systems. Moreover, it can take months or even years before an account compromise is detected.
That's why you should prioritize privileged accounts as part of your IAM strategy. If you start implementing IAM with these users, your efforts immediately pay off the most because you lower the risks significantly. Passwords alone aren't enough to safeguard privileged accounts, as passwords can be stolen by social engineering or phishing. Multi-factor authentication is a must for these accounts.
3. Remove orphan accounts
Orphan accounts refer to inactive accounts: those that users are no longer using or actively managing. Every account on your systems is a possible security hole, so cyber criminals can compromise these for their fraudulent activities. That's why orphan accounts must be removed from your systems. Identity and Access Management services will routinely scan for idle accounts in your organization and notify you about their existence. This way you can limit the number of accounts, users, employees, and guests with access to your data, tools, and systems. 
4. Use multi-factor authentication
If your password is the only defense between cyber criminals and your crucial business data, then you've lost. Passwords can and will be guessed, cracked, intercepted, or stolen by social engineering or phishing. That's why we always recommend multi-factor authentication (MFA), regardless of your organization's size, industry, or data. With MFA you can stay in the fight.
Multi-factor authentication adds extra layers of security for users and their accounts. This means that your system will request another security credential every time a user wants to access it. This can be a code delivered as a text message to your phone or in an email, a code generated by a mobile app or a hardware security key, or it can be an extra biometric authentication step, for instance with a fingerprint scanner on your phone or laptop. This additional step significantly reduces the risks of unauthorized access to your systems, as the perpetrator now needs both your password and access to your email or mobile phone to continue.
Protect your data with Identity and Access Management
We already said it in the beginning, but it is worth repeating: Identity and Access Management is the cornerstone of any organization's security infrastructure. A sound IAM strategy, coupled with knowledgeable service team members, the right IAM solutions and dedicated management, will be able to reduce the chance of a data breach in your organization.