There are plenty of advantages to using the public cloud – but also certain challenges. Lots of companies circumvent the difficulties by also operating a private cloud – where legislation such as NIS-2 or GDPR, for example, is handled differently. Many businesses also see the private cloud as a comfort zone and are happier to remain there, as working with the public cloud demands a higher level of knowledge and skills.
Hence the demand for private clouds is currently on the rise across a number of sectors:
Financial institutions are currently jumping aboard the digitisation train and moving services online.

Production enterprises have been accelerating their digitisation roadmaps over the last couple of years due to the Covid-19 pandemic, geopolitical tensions and disruptions to supply chains.

Health sector organisations are wanting to jump on the bandwagon with new trends such as big data and AI, while remaining cost-effective and guaranteeing patient data confidentiality.
Often, organisations in these sectors already have experience with the public cloud, but now want to move some of their activities to a private cloud. This kind of hybrid model requires highly specific solutions.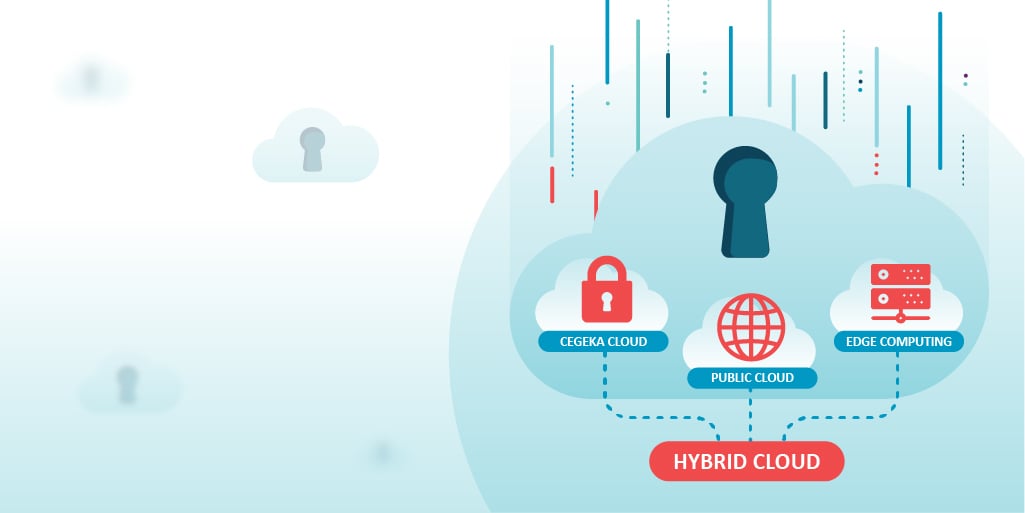 What does a hybrid cloud solution need to offer?
There are a few key challenges that any hybrid cloud solution needs to tackle.
Every sector and application domain is associated with a particular set of regulations. For example, the European NIS-2 directive (Network and Information Systems) establishes stringent cybersecurity regulations for companies representing critical infrastructure, such as telecommunications companies. The NIS-2 directive must be implemented in Belgian law by the end of 2024. Meanwhile the GDPR (General Data Protection Regulation) has been in effect since 2018, and applies to any organisation processing personal data. Any company that collects, processes, stores or sends data for payment card owners must comply with PCI DSS regulations (Payment Card Industry Data Security Standard). In short: if your data is spread across public and private cloud instances, it's important that you maintain a constant overview of the data movements so that you can guarantee that every data transfer is compliant with the relevant regulations.
Consistent management for distributed workloads
If you're using a hybrid cloud model, you'll have distributed workloads. Part of the workload is managed in the public cloud, perhaps distributed over a number of hyperscalers such as Microsoft Azure, Amazon Web Services and the Google Cloud Platform. Other workloads are managed in a centralised data centre; others again in local premises. To keep a clear overview of what's going on and ensure you're getting the most out of your different platforms, you need to be able to manage and monitor all these workloads with a single consistent model.
Taking a more advanced approach, such as using GitOps, paves the way for a more complex distributed cloud infrastructure. However, many businesses find this too big a leap. It's important to them that the software they are using to manage the diversity of their hybrid cloud comes with a familiar look and feel.
An end-to-end solution for managing your hybrid cloud
At Cegeka, we believe in a multi-cloud environment in a hybrid context. We help our clients to find solutions to their cloud challenges and manage their workloads more efficiently, regardless of where they are running. Our services range from consulting and advice to proof-of-concept, implementation and even the subsequent management.
Since our acquisition of Azure cloud specialist DexMach, we now have a Microsoft Azure Centre of Excellence within the Cegeka group. DexMach is an Azure Expert Managed Service Provider, which means that we can work very closely with Microsoft for their public cloud services. We also have our own data centres in Europe, so we can guarantee your data remains within the European Union end-to-end.
Microsoft's Azure Arc is a powerful tool delivering a consistent system for managing hybrid cloud applications. It includes integrated security and compliance tools to reduce your risks, and the dashboards offer a consistent overview of your entire cloud landscape. Azure Arc can be used with various systems, including Azure Stack HCI, a hyperconverged infrastructure solution for consolidating virtual workloads in hybrid environments.
The future for hybrid cloud solutions
The demand for end-to-end solutions delivering consistent management models for hybrid clouds is growing steadily, and this demand is set to continue. AI use cases, edge computing, applications for smart cities, and streaming platforms for games are all on the rise – and all require distributed workloads. And that means new approaches, on an organisational level as well as a technical one.
Are you facing the challenge of managing a hybrid cloud and needing to tackle compliance issues? Get in touch and together we can look at how you can implement and manage your workloads effectively.