In this blog post, we explore the implementation of GPT chatbots with knowledge of internal data, and how those chatbots can bring positive changes to your organization. Discover how these intelligent chatbots can revolutionize your organization and how you can unlock new levels of productivity.
Introduction to chatbots
The past few months have been a wild ride, with ChatGPT becoming our trusty sidekick in the world of virtual assistance. It's been there to answer a wide range of questions, becoming our go-to companion. However, it does not know about our HR policies or when the next after-work party will take place. Neither does it know how to connect to the company's VPN, or where employees should submit an expense claim. But what if we told you that we have been working on a chatbot that does know those things? A custom-built chatbot equipped with your organization's internal data. This insider chatbot will be a true game-changer in the corporate world!
Below some perfect examples of questions this type of chatbot can easily answer.

Boosting efficiency
Say goodbye to the days of drowning in lengthy documents! Just ask the chatbot a question, and within seconds, it will deliver relevant information and a source citation! No more time wasted searching for information on SharePoint, Teams channels, your OneDrive, … By just asking one simple question to the chatbot, all of these resources get consulted. This way, you can focus on what really matters.
The chatbot is a true linguist too, fluent in numerous languages. For a company like Cegeka, with employees all over Europe, this breaks down the language barrier. People can ask questions in any language and get answers in that same language, even if the data is written in another language.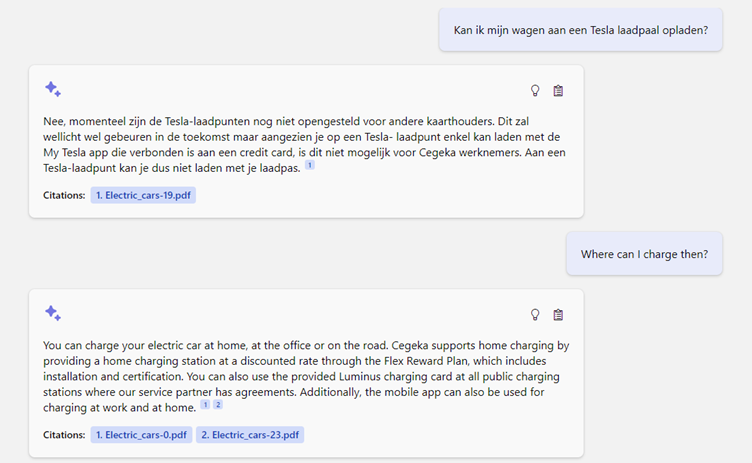 Enhancing data-driven decision-making

+ multiple data sources
Making data-driven decisions is crucial for achieving success. By leveraging the chatbot's knowledge of internal data, you gain a significant advantage. This assistant seamlessly accesses multiple data sources, integrating information from multiple places. It empowers you to make informed decisions quickly and confidently. Whether you need sales figures, feedback analysis or employee performance metrics, the chatbot becomes your reliable source of data-driven insights.
Data security and privacy
Security and privacy are critical concerns for any organization. Rest assured that the data used by the chatbot is not utilized for retraining purposes, ensuring its confidentiality. So, non-public information will not be used by ChatGPT. By leveraging the Azure OpenAI service, your data stays secure within the Azure environment. Additionally, you can establish policies and maintain control over the information provided. Do you want to know more about security and privacy for Azure OpenAI service, check out this Microsoft article.
Another way to keep control is with prompt engineering, which is the process of designing specific prompts to generate optimal responses from the language model like ChatGPT. This lets you change the bot's behavior according to your preferences. A typical example is ensuring the bot only answers to relevant questions, even though it also has the knowledge that ChatGPT has.

Other possibilities
The potential of these types of chatbots goes beyond answering questions. With the access to internal data, chatbots can also provide structured responses for specific use cases. This versatility opens up new avenues for using internal data to enhance productivity. The prompt could be edited to ensure that the bot always returns the response in a certain format, like JSON or HTML. This way, a web designer saves time by not having to manually re-write the text to HTML before publishing it on the website. Similarly, we could tell the bot what to expect from the users input. This can save time in certain business processes. A simple example would be as follows:
Simplified bot prompt: "Given a name of a city, return the upcoming events in the office in that City. Always return the response in HTML format."
User: "Ghent"
Response: <h3>Upcoming Events in Ghent Office</h3>
<ul>
<li>Networking Event - October 18, 2023</li>
<li>Product Launch Party - October 25, 2023</li>
<li>Team Building Workshop - November 2, 2023</li>
</ul>
Conclusion
We conclude that implementing a GPT chatbot with knowledge of internal data holds immense potential for organizations. The GPT chatbot boosts efficiency through quick access to relevant information, it empowers data-driven decision-making and even breaks down the language barrier between countries. These chatbots can really revolutionize the way your organization operates! Embrace the power of conversational AI, leverage your data effectively, and unlock new levels of productivity and success in your business.
* Fun fact: The chatbot images at the top of this page were made by Craiyon.com, DALL.E and Microsoft Bing image creator using this prompt: "smiling robot chatbot having conversations with knowledge of your own data".