"Just like 2020, 2021 was a challenging year. COVID-19 has had a major impact on the healthcare sector, the global economy and the way many companies do their business. These were uncertain times, and keeping the war in Ukraine in mind, they still are. First, I would like to express our condolences to everyone who has been directly or indirectly affected by the invasion", André Knaepen, Chairman of Cegeka's Board of Directors says. "Despite the instabilities in Europe at the moment, we have once again succeeded in achieving excellent results across the entire Cegeka organization over the past few months", he adds.
In 2021 the Cegeka Group's turnover amounted to 744 million euro. This is an increase of 16% compared to 2020. Operating profits rose by 20% to 66.4 million euro compared to the previous year. Recurring EBITDA increased to 83.2 million euro (an increase of 18% compared to 2020).
"In 2021 we were able to further strengthen the financial position of the Cegeka Group. At the same time we invested heavily in strategically important sectors such as education by taking a majority stake in Smartschool. We also made a conscious choice to further strengthen our cybersecurity division with the takeover of SecurIT, an identity and access management specialist based in Amsterdam in the Netherlands," says Stephan Daems, CFO at Cegeka.
In 2022 Cegeka will continue to expand their cybersecurity division. The importance of cyber resilience can no longer be ignored, and this is true for small and large companies alike. "That is why we have expressed a clear ambition to become a top 3 player in cybersecurity this year", says Stijn Bijnens, Cegeka's CEO.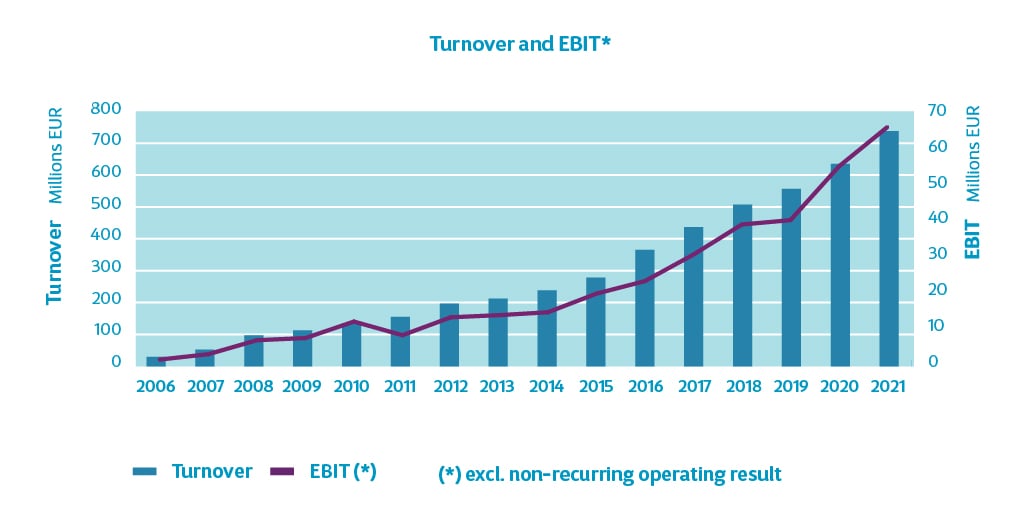 Growth with a focus on 5G, AI and the hybrid cloud
Cegeka's ambition is to continue to grow, both through acquisitions and organically. "To continue to realize this progress in 2022, we are firmly committed to new technologies," Stijn Bijnens says. "We strongly believe in what we call the trinity of innovation: 5G, artificial intelligence and the hybrid cloud. Each one is a pioneering technology in its own right, but the real potential lies in the synergy that they create. Investing in a combination of these creates a multiplier effect in terms of actionable intelligence, productivity gains and automation. I am convinced that these three technologies, just like the Internet was 30 years ago, will be the game-changer of this decade."
What are the next steps in corporate social responsibility?
Cegeka are stepping up efforts to increase the company's social relevance. Our CSR policy is based on three pillars: reducing the impact on the environment, fostering inclusion and diversity in the workplace, and engaging in socially relevant projects.
Cegeka are committed to being fully CO² neutral by 2030, and aim to achieve this through investing in our vehicle fleet and data centres in both Flanders and the Netherlands. Employees working in Flanders will no longer be able to order cars running on fossil fuel as of July next year.
Cegeka also aim to set an example in order to convince even more women to work in IT. For this reason, we have set ourselves the goal of ensuring that women make up 30% of our leadership team by 2026. Moreover, in 2030, we aim for at least 30% of Cegeka's entire staff to be women.
'In close cooperation' every day, for 30 years
In 2022 we will celebrate our 30th anniversary. A lot has changed since the early years, but one thing remains the same: our motto 'in close cooperation'. That is the modus operandi and the credo of our founder, André Knaepen. It is no secret that Cegeka are a growing company with sky-high ambitions, but no matter how fast and big we grow, we are and always will be close, easy to get in touch with, easy to talk to and easy to do business with.
We are a European company with headquarters in Belgium, a second home base in the Netherlands and offices in 11 European countries, driven by strong local leadership and teams. We are an IT company first and foremost, but we are equally committed to 'people business'. That is why we invest – non-stop – in our people, bringing in the very best talent to strengthen our team.