Andrei Pavel, Director of Engineering for Cegeka Romania is part of the Top 100 Young Managers according to Business Magazin. Read more about his motivations, mentor, and nowadays challenges from the interview below.
1. Ambition or talent - what matters more for success?
Creating impact at the executive level through an entrepreneurial approach and outstanding results, by always having a win-win objective, stepping out of the comfort zone, and an attitude of continuous development.
2. What would you like to have that you don't currently own?
A crystal ball, although it would most likely remove that something that makes life beautiful and worth living.
3. Where do you feel happiest?
Being back with family after an energetic day at work, full of challenges, demanding projects, and beautiful results - fulfills me completely.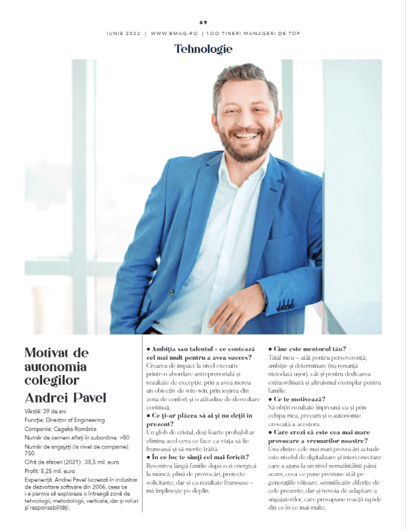 4. Who is your mentor?
My father - both for his perseverance, ambition, and determination (he never gives up easily), and for his extraordinary dedication and exemplary selflessness to his family.
5. What motivates you?
To achieve results with and for my team, as well as increased team autonomy.
6. What do you think is the biggest challenge of our times?
One of today's biggest challenges is the level of digitization and interconnection that has reached a level never seen before, which puts pressure on both the future generations, significantly different from the present ones and the need for employers to adapt, which requires increasingly quick reactions.