"There are several aspects that can contribute to attracting more women to the tech field. Firstly, it is important to provide quality education and accessible resources for everyone. This involves creating favorable learning environments, offering mentorship programs, and promoting equal opportunities for women in tech fields. Additionally, highlighting the diversity of careers and success stories of women in the industry can inspire and motivate other women to choose a career in tech," said Elena Enache in an interview with BUSINESS Magazin. She is the Director of Applications - European Delivery Center at Cegeka Romania, a company with a business volume of 47 million euros in 2022, a 30% increase compared to 2021, and a member of the board of Women in Tech (a non-governmental organization that promotes inclusion, diversity, and equity in STEAM industries - science, technology, engineering, agriculture, and mathematics).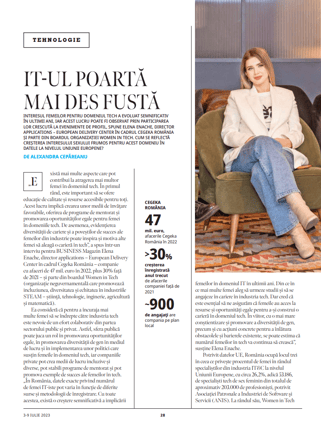 She believes that encouraging more women to enter the tech industry requires collaborative efforts from both the public and private sectors. In this regard, the public sphere can play a role in promoting equal opportunities, gender diversity in the workplace, and implementing policies that support women in tech, while private companies can create inclusive and diverse work environments, establish mentorship programs, and promote successful examples of women in tech. "In Romania, the exact data regarding the number of women in IT can vary depending on different sources and registration methodologies. However, there has been a significant increase in women's involvement in the IT field in recent years. More and more women are choosing to pursue studies and careers in the tech industry. But I believe it is essential to ensure that women have access to resources and equal opportunities to build a career in tech. In the future, with greater awareness and promotion of gender diversity, as well as concrete actions to remove existing obstacles and barriers, it can be estimated that the number of women in tech will continue to grow," says Elena Enache.
According to EU data, Romania ranks third in terms of the percentage of women among IT&C specialists in the European Union, with around 26.2%, which means 53,186 female tech specialists out of a total of approximately 203,000 professionals, according to the Employers' Association of the Software and Services Industry (ANIS). Women in Tech, on the other hand, has over 250,000 members worldwide. With its headquarters in Paris, the organization currently has divisions in 45 countries, including Romania. "In recent years, the local IT&C industry has recorded significant growth compared to other European countries. It is a vibrant industry with a development rate three times faster than the national average, according to data provided by the Employers' Association of the Software and Services Industry (ANIS) at the end of 2022. Romania ranks third in Central and Eastern Europe in terms of the IT&C specialist base, with approximately 203,000 specialists, according to ANIS (data from January 2023). However, despite the enormous growth potential, we still face difficulties related to the lack of qualified human resources in this field," added the representative of Cegeka Romania, stating that if she could change something, she would pay more attention to diversity and inclusion.
Romania, an important "slice"
Cegeka has been present in the Romanian market since 2011 and currently has approximately 900 employees. For the current year, the company representatives aim to continue expanding their team and business in Romania. Nationally, the company has three large offices - two in Bucharest and one in Iasi. In 2021, Cegeka Romania decided to open several satellite offices (co-working spaces for employees, clients, and partners) in various cities in the country, such as Brasov, Timisoara, and Cluj-Napoca.
"It is anticipated that during 2023, approximately 75 new professionals will be hired in the Moldova region, and the satellite offices in Romania will welcome around 200 new colleagues. Our human resources strategy for this year focuses primarily on employee well-being and maintaining motivation at a high level. Especially during difficult and uncertain times, we have a clear priority to care for and support our team members. We invest significantly in skills development and employee training, having a well-structured integration and mentoring program,"

said Elena Enache, Director of Applications - European Delivery Center at Cegeka Romania
Regarding the working regime, the company has implemented a hybrid model that combines office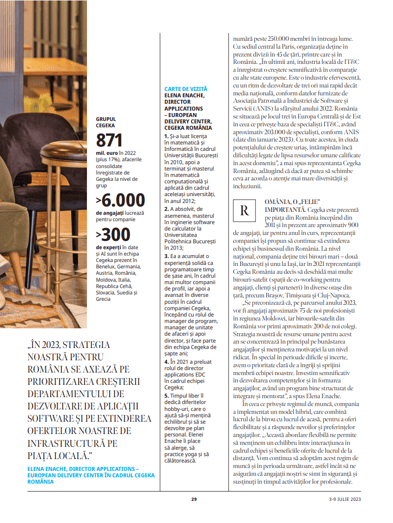 work with remote work to provide flexibility and meet the needs and preferences of employees. "This flexible approach allows us to maintain a balance between team interaction and the benefits of remote work. We will continue to adopt this working regime in the foreseeable future to ensure that our employees feel safe and supported during their professional activities. We continue to invest in our growth and development in Romania, consolidating our presence in the most important technology hubs and contributing to the development of the IT industry in the country."
The Belgian IT&C solutions provider, Cegeka, has over 6,000 employees worldwide and is present in several countries, including Benelux, Germany, Austria, Romania, Moldova, Italy, the Czech Republic, Slovakia, Sweden, and Greece. At the group level, Cegeka recorded a consolidated business of 871 million euros at the end of last year, a 17% increase compared to 2021.
"In terms of the Romanian market, it occupies a significant proportion, representing over 30% of Cegeka's total turnover. This highlights the importance and considerable weight of Romania in the company's activities," added Elena Enache. In 2022, Cegeka Romania experienced significant growth, achieving a turnover of 47 million euros, a 30% increase compared to the previous year. This growth was achieved in a highly competitive market, demonstrating the company's commitment to providing high-quality services.
"We have adopted a strategic approach focused on the professional development of our colleagues and expanding the service portfolio. A key factor in achieving this growth was the acquisition of new high-quality clients. We managed to win eight new clients, including five local companies and three international businesses, thus surpassing the industry's growth rate. We have also expanded our service portfolio by offering innovative application services through the team-as-a-service model, which provides unparalleled agility and scalability, adapting to the needs of businesses of any size."
Elena Enache's advice for women pursuing a career in IT
1. Discover your passion
: Identify areas of interest in tech and find the aspect that fascinates you the most.

2. Invest in continuous learning: Technology evolves rapidly, so it's important to always be open to learning and keep your skills and knowledge up to date. Participate in courses, webinars, conferences, and other relevant events to develop your tech skills.

3. Seek successful role models and mentors: Learn about women who have succeeded in the tech industry and draw inspiration from their stories and experiences. Look for mentors in the tech industry who can guide you and provide career advice. Encourage and support other women who want to pursue their passion in tech by offering them advice and mentorship.
4. Build a network of contacts
: Be proactive in connecting with professionals in the tech industry, either through attending events or through online platforms. A strong network of contacts can bring you job opportunities, mentorship, and collaboration.
5. Create a portfolio and personal projects: Showcase your skills and passion by creating personal projects or contributing to open-source projects. A solid portfolio can make a difference in the recruitment process.
From programming to management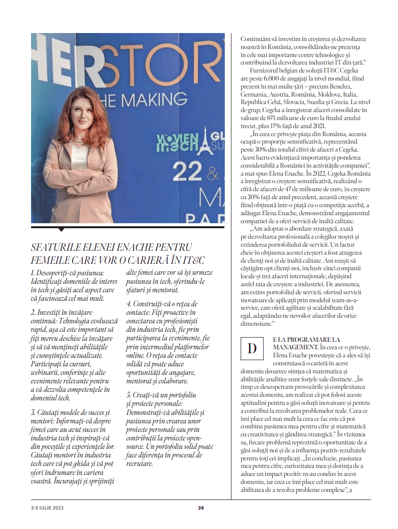 As for Elena Enache, she shares that she chose to build her career in this field because she felt that mathematics and analytical skills were her distinct strengths. "While discovering the challenges and complexity of this field, I realized that I could use these aptitudes to find innovative solutions and contribute to solving real problems. What I love most about what I do is that I can combine my passion for numbers and mathematics with creativity and strategic thinking." In her view, every problem represents an opportunity to find new solutions and positively influence outcomes for everyone involved. "In conclusion, my passion for numbers, my curiosity, and my desire to make a positive impact have led me to this field, and what I love most is the ability to solve complex problems," Elena Enache shared.
She "grew" within the math and computer science faculties, earning a bachelor's degree in mathematics and computer science from the University of Bucharest in 2010. She then diversified her student portfolio by completing several master's degrees at technical universities. Elena gained solid experience as a programmer for six years in various companies before advancing to different positions within Cegeka, starting with the role of Program Manager, then Business Unit Manager, and finally Director. Furthermore, to keep up with the field's evolution, tech professionals need to constantly prepare and invest in their knowledge, which is why she never stopped learning and studying.
"I am an avid learner, always seeking to stay up-to-date with everything happening in the market and the industry's evolution. I invest a lot of time in reading and learning in various domains, such as business, economics, personal development, psychology, and technology. Indeed, I suffer from FOMO (fear of missing out) when it comes to information because I believe I can never learn enough. As for courses, this summer I will complete an Executive MBA at the Central European University in Vienna. This learning experience over the past two years has significantly enriched my knowledge and kept me informed about everything happening globally in the IT industry and other relevant fields."

said Elena Enache, Director of Applications - European Delivery Center at Cegeka Romania
One of Elena's biggest values is that she puts an accent on education. Thus, Cegeka Romania's representative invests considerable resources in continuous learning because she believes it is the key to success in an ever-evolving industry. "It is important to stay updated, adapt to new technologies, and acquire relevant skills to remain competitive and bring value to our team and organization," said Elena Enache.
Moreover, Elena views education not only as a means to achieve professional goals but also as a way to foster personal growth and fulfillment. She believes that learning is a lifelong journey that opens doors to new opportunities and expands one's horizons. By placing a strong emphasis on education, Elena cultivates a culture of curiosity, innovation, and excellence within her team and organization.
She considers an important moment that had a major impact on her career was when she made the transition from programming to management. "This change was a turning point in my career, bringing with it diverse opportunities, interactions with new people, a different work environment, and complex challenges. At that moment, I realized that my actions have a significant impact on the careers of many people, including those in my teams and beyond. It was a moment of awareness that I had entered a new stage where I needed to develop skills that I now consider essential for a successful leader but hadn't noticed before."
Currently, as the Director of Applications - European Delivery Center at Cegeka Romania, Elena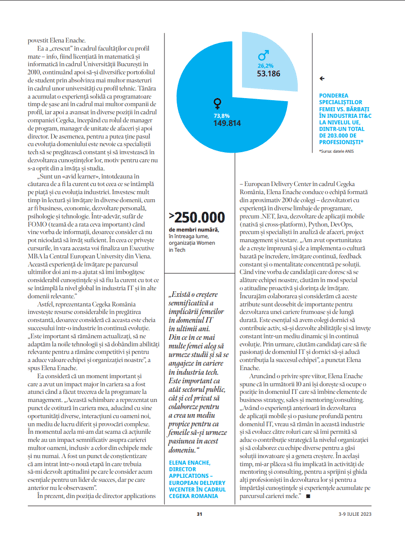 Enache leads a team of approximately 200 colleagues, including experienced developers in various programming languages such as .NET, Java, mobile app development (native and cross-platform), Python, DevOps, as well as specialists in business analysis, project management, and testing. "We had the opportunity to grow together and implement a culture based on trust, continuous learning, constant feedback, and a solution-oriented mindset. When it comes to candidates who want to join our team, we specifically look for a proactive attitude and a desire for learning. We encourage collaboration and consider these attributes particularly important for developing a successful and long-lasting career. It is essential to have colleagues willing to actively contribute, develop their skills, and constantly learn in a dynamic and evolving environment. Therefore, we seek candidates who are passionate about the IT field and eager to contribute to the team's success," emphasized Elena Enache.
Looking to the future, Elena Enache says that in the next 10 years, she desires to hold a position in the IT field that combines elements of business strategy, sales, and mentoring/consulting. "Having previous experience in mobile app development and a profound passion for the IT field, I want to stay in this industry and evolve towards roles that allow me to make a strategic contribution to the organization and collaborate with diverse teams to find innovative solutions and drive growth. At the same time, I would like to be involved in mentoring and consulting activities to support and guide other professionals in their development and share the knowledge and experiences accumulated throughout my career."
Looking to dive into Elena's interview from Business Magazin in Romanian? Don't miss out! Simply click here and navigate directly to page 28 and enjoy the insightful read.