Cegeka's Growth Strategy in Romania
"We are currently in a growth phase and in the process of establishing the team. Essentially, the group has decided on the business strategy and the growth of Cegeka Business Solutions division. The decision to grow in Romania was simple because we already have colleagues here who are part of EDC, and based on their experience and the quality of work delivered so far, it was a natural choice to continue the growth in Romania. Romania is a good IT services provider due to the quality and work delivered by our colleagues in the other EDC divisions. The growth strategy aims to reach a team of 50 colleagues in the next three years. The growth will be primarily based on business needs. We will try to synchronize our growth based on the business demand to ensure organic growth for our future colleagues, a stable growth that provides us with security," said Mirela Popescu.
Currently, in Romania, within the new division dedicated to Microsoft D365 Finance & Operations, there are eight specialized individuals working in technical architecture and software development for the finance and operations area. They are accompanied by a team of another eight specialists from the Czech Republic.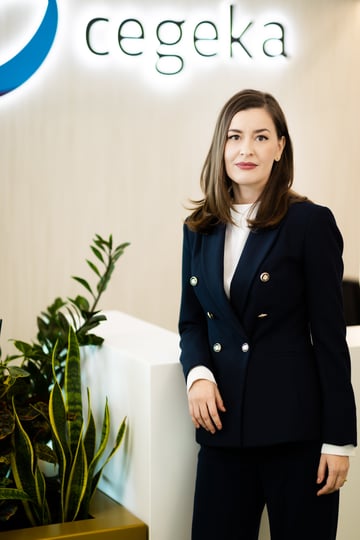 "We also have individuals specialized in .NET technology because we have products developed within Cegeka that come as 'plug & play' additions to the standard Microsoft Dynamics product," she added, mentioning that there is a limited number of software development specialists for Microsoft Dynamics technologies on the local market.
Microsoft Dynamics includes business software solutions such as ERP (Enterprise Resource Planning) and CRM (Customer Relationship Management), and the Microsoft Dynamics D365 Finance and Operations solution targets large companies with over 200 employees, including the enterprise sector. In addition to the standard Microsoft solution, Cegeka provides customization solutions tailored to industries and the specific needs of clients' businesses.
"We have several in-house developed products, especially products developed for specific industries such as the food, agriculture, or pharmaceutical industry. We have this product part that is commercialized to clients in addition to the standard solution. Additionally, like any Microsoft partner in this industry, we also handle customization based on the client's needs and project specifics. Basically, what sets us apart is the aspect of already developed products that we can use 'plug & play' for the mentioned industries, and this reduces the implementation time of the solution compared to developing those products from scratch, solutions that companies would need additionally," explained Mirela Popescu.
Seeking Experienced Professionals and Future Talent Development
The implementation of a Microsoft ERP solution takes on average one to one and a half years, depending on the client's size and industry complexity.
"Compared to other Microsoft partners on the market, we differentiate ourselves by having an in-house developed working methodology called Cegeka Sure Value, and all our projects follow this implementation methodology that we have improved over the years. It addresses specific areas where problems have been identified, with the aim of minimizing the implementation time as much as possible," she emphasized.
The demand for ERP solutions is constant because the need for such software arises when businesses grow, develop, or when the implemented ERP becomes technologically outdated. Therefore, Cegeka will expand its team in this domain to support project demands.
"This year, due to the fact that we are trying to establish a solid foundation for the team, we are looking for experienced individuals with a high level of seniority. We are searching for people with experience in finance and operations development and we also have an open position for a Finance and Operations Consultant. However, in the future, we are even planning to organize academies for the development of new talents because in this industry, speaking of a niche industry, where we don't have a very large pool of colleagues, the growth plans will clearly take into account the organization of academies, but not this year," mentioned Mirela Popescu.