At the 16th of November 2018, esteemed author and speaker Christopher Avery kicked off the first Cegeka Agility Day. Mr. Avery gave our participants an inspiring 'RESPONSIBILITY PROCESS® Leading and Coaching' workshop.
A stepwise process towards responsibility

The key focus of Mr. Avery's story? The four phases we all pass through before taking up real responsibility. With every problem we encounter, everyone does the same thing: first lay blame, then justify, then shame and finally there's obligation. These four phases are helping us cope with a problem. Some of us stay in one of these mental states all the time - consider it as their preferred coping state - while others get over to the next.
With the first two mental states, we put the cause outside ourselves. In society they are considered as non responsible behavior. With the last two we place the cause with ourselves. In society those are acceptable behaviors and even regarded as taking up responsibility. However, Mr. Avery postulates real responsibility is a mental state of freedom. It means you are aware that you are always at choice, you will respond and are willing to take the consequences of those choices.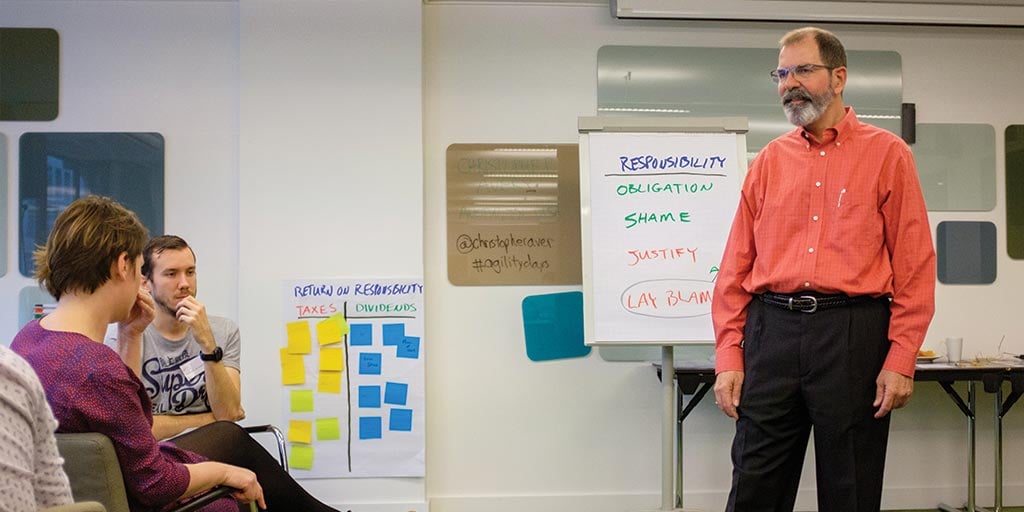 Three keys to a mental state of responsibility
Mr. Avery let experience our participants the different steps towards real responsibility and gave us all three keys to achieve that mental state a lot faster:
Intention: the intention to own your life and practice your wanting muscle


Awareness: get to know yourself, keep in mind that everyone always passes the different stages in the process and be honest with yourself when you are stuck in one


Confront: show willingness to be uncomfortable and to overcome uncertainty and fear
By presenting examples and giving exercises, Mr. Avery taught us how to start working on ourselves and how to teach the model to others. It was an intense day for our participants that left with lots to ponder in the next days and weeks.
Finally, for those participants who are looking to structurally follow-up on the path of true responsibility, Mr. Avery introduced The Leadership Gift Program® and the possibilities to become an accredited practitioner, coach, mentor or master.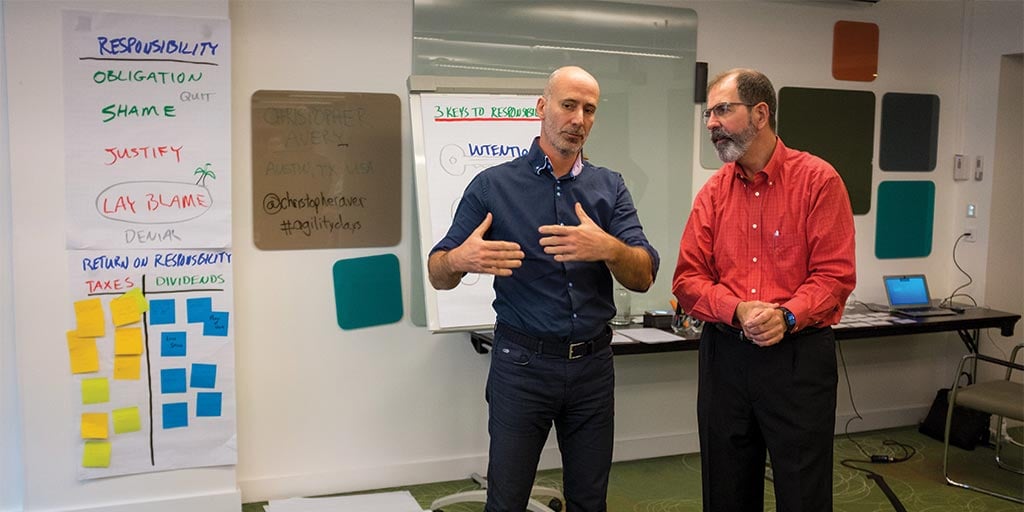 Real responsibility
Real responsibility is what we want in our lives, in our jobs and with our colleagues at work. Within teams, when individual responsibility start surpassing the formal accountability, true shared responsibility begins to emerge. It is what we need to achieve real self-organizing teams and business agility. By taking responsibility ourselves, others will become conscious of what it exactly is and develop it as well.
Christopher Avery gave the perfect starting shot to the Cegeka Agility Days. We hope one of our next sessions will trigger you as well to broaden your agile knowledge and help your organization to achieve business agility. We are looking forward to meeting you!