Valentino Chocolatier is a family business through and through. The chocolatier has been producing Belgian chocolate for more than 40 years and distributes its sweet creations all over the world. Now that brothers Jan and Rob Roelandts have taken over the torch from their parents, they wanted to support their growth trajectory with a modern ERP system. Cegeka is putting the company on the digital map with Business Central.
Family-run business at its best
From pralines with experimental fillings to truffles, Easter eggs and Santa Claus figurines: the Valentino Chocolatier headquarters in Schepdaal, Belgium makes traditional chocolates with the freshest ingredients. With seven company-owned shops, some 50 independent distributors, and shipments exported to destinations as far away as Madagascar, Valentino is a major player in our beloved Belgian chocolate market.
Yet, until recently, all recipes, inventory and pricing information were carefully hidden away in the minds of the Roelandts family – a secret recipe, just as one would expect of a truly family-run business.
'We managed to stay on top of things with paper notes and Excel sheets, but as our company grew, this became more and more difficult,' says Jan Roelandts, Managing Director of Valentino Chocolatier. 'We relied on a small-sized ERP system for our accounting and sales, but after five years without any updates, the software was seriously outdated. On top of that, we were unable to link it to a production and inventory system – which we really needed to keep up with our growth.'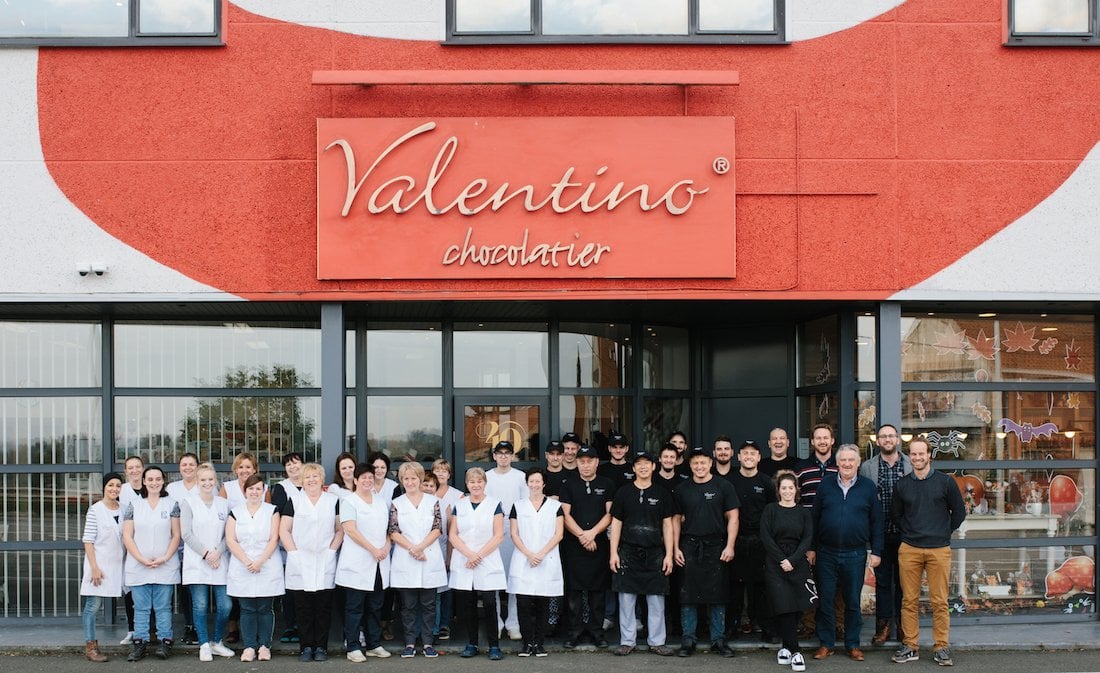 Requirement #1: the cloud
Jan knew exactly what he wanted from the ERP software: 'I wanted to get rid of our small system, which was quickly reaching its limits. We want to expand our business further, so our ERP system must be able to grow with the company. A modern cloud solution that would always be up to date, that would be easily expanded and that would require nothing more than an internet connection – that's what we were looking for.'
Jan's suppliers recommended Business Central. After thoroughly studying the Microsoft documentation, he too was convinced. He had chosen their ERP system – now he just had to find an IT partner. 'We compared several candidates before reaching a decision, and Cegeka emerged as the winner. As it happens, they supported my preference for a cloud solution, and I could tell their consultants had the necessary expertise from the very first meeting. We felt very confident about our partnership.'
Elke Roels, Business Development Manager at Cegeka: 'One of our focus sectors is Food and Nutrition. This means our consultants understand the business processes, legislation and the best practices associated with this sector inside out. This enabled us to help Valentino optimise their process flow. What's more, one of our solution architects actually used to work in a chocolate company. You can't get much closer to the industry than that!'
"Valentino has very ambitious growth plans. Our ERP system must be able to grow along with our business. A cloud solution was the only logical choice for me."

– Jan Roelandts, Managing Director of Valentino Chocolatier
Manageable, not a big bang
To make optimum use of an ERP system, you have to continuously feed it data relating to products, raw materials, prices, customers, vendors, etc. Since Valentino Chocolatier is working with different cost prices per distribution point and with hundreds of products in their range – and just as many paper notes lying around to document everything – this was going to be quite the challenge. Cegeka implemented the solution in different phases to keep both the transition and the workflow manageable.
Elke: 'We deliberately did not go for a big bang approach where all Business Central's functionalities were launched simultaneously. Based on Valentino's objectives, we offered advice on which steps to implement first. This ensured that employees were not overwhelmed and that they learnt to use each functionality properly before moving on to the next step.'
"At Cegeka, we recommended starting with finance and sales. By tackling the implementation in phases, the project remained manageable."

– Elke Roels, Business Development Manager at Cegeka
Finance first
Jan: 'Getting all the data digitized was our main priority. This allowed us to launch the finance and sales modules as soon as phase one was complete. We collected the data and Cegeka uploaded it to Business Central. We started this project in March 2020, and the system went live in July – just in time for the chocolate season, which starts in September.'
Jan does most of the Valentino Chocolatier accounting himself. So he was one of the first people to test Business Central. 'In the beginning, it takes some searching to find your ledger accounts and learn the new rules, but now I have an instant view of our financial figures. Our shops' accounting systems are linked to Business Central, which makes ordering and reporting much easier.'


'Our external accountant can log in remotely, and I can work on VAT returns and invoices myself. These documents are now sent automatically via e-mail, which means improved service for our customers and lower overheads for us.
Production and inventory were merged
In April 2021, it was time for phase two: Cegeka linked the modules for production and warehousing to each other. Production staff has since seen a considerable efficiency increase. In addition, they can check Business Central at any time to check if raw materials and products are in stock.
Jan: 'We can now match our production to our stock. The system automatically creates planning proposals: based on the available raw materials it draws up production orders for the products which we can manufacture using these materials. If a large order comes in, Business Central shows which raw materials need to be ordered if there is not enough inventory.'
'The ERP system also shows us all the steps we need to take: from collecting the ingredients to spreading chocolate flakes over our truffles, for example. It's not just a useful tool for our employees, as we can also use it to determine the actual cost of a product and to keep track of which raw materials were used.'
Operational excellence
Now that Business Central is taking care of Valentino, the chocolate company can start looking to the future. Elke: 'The entire company and all its activities and employees are better coordinated. The ERP offers clear insight into processes and figures, less manual work, an integrated stock overview and seamless integration with Office 365 – all of which strengthen Valentino's growth ambitions.'
Jan: 'We work more professionally in all areas, provide better service to our customers and ultimately save a lot of time and money. Moreover, our data is secure and available in the cloud at any time. A faulty ERP system can paralyse an entire organisation. But now that Cegeka has put our company on the digital map, we can further extend our growth.'
"A faulty ERP system can paralyse an entire organisation. Thanks to Business Central, we can further extend our growth."

– Jan Roelandts, Managing Director of Valentino Chocolatier
Fewer customisations, higher budget
Because of the pandemic, all communication between Valentino and Cegeka had to go through Teams, but this did not slow down the implementation at all. Jan: 'Cegeka was happy to assist us with any questions or customisation requests we had. Their interventions were quick and problem-free. It was a speedy implementation, and the cost was also correctly estimated. Cegeka gave us tailored advice for our company – even though they could have made more money with other solutions.'
Elke: 'We always implement as many standard applications as possible. We only develop custom-made products if they offer high added value for the customer. Jan: 'If Business Central is working for thousands of other companies, why not for us?'
Endlessly expandable
Valentino Chocolatier is planning to add additional functionalities to its ERP system soon. Jan: 'That's the great thing about Business Central: you can always add extra modules or apps. For example, we are currently investigating how Power BI can improve our reporting system.'
Next we want to increase the traceability of our products with a scanning system. Having barcodes on our products could also improve our 'first in, first out' policy: pralines with the oldest production date have to be sold first. We're excited to see how Cegeka's extensive industry knowledge will benefit us during this next phase.'
Do you have a question about this customer story or are you wondering what Microsoft Dynamics 365 Business Central can bring your company?

Let us know. We are happy to think along with you.