Data is growing. Everywhere and within every organization. That's why Artificial Intelligence (AI) and Microsoft Copilot are on the rise. But how do you handle the processing of this ever-growing data stream? And how do you translate it into your business? How do you enable your organization to fully embrace data-driven work and how exactly do you focus on AI? Discover our key insights on the possibilities of Microsoft Copilot combined with Dynamics 365.
Your AI-Copilot in Microsoft
The world is changing and we need to innovate and move forward for various reasons such as resource efficiency and continuous improvement resulting in growth and competitive advantages. Remember when the cloud was a buzzword?

It still is in certain regions or in specific contexts, but two 'hot terms' have recently been added, namely Artificial Intelligence (AI) and Copilot. Moving to AI and Copilot is similar to moving to the cloud. But beware, its success is determined by the right strategy and objectives. Microsoft has to move with the market, but can also steer it somewhat. And where Microsoft had to follow for years, it has now become the leader in AI. Thanks to the investment in OpenAI, Microsoft has received a license for the next 10 years to deploy the underlying technology in its own stack. For example, they are now integrating the technology within Azure systems.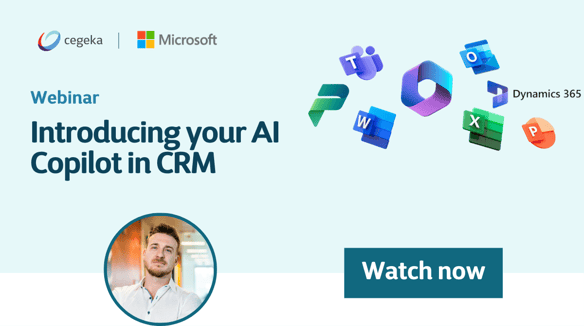 As a result, various Microsoft applications and data can be made 'intelligent', and ideas become reality based on that data. As a result, work can be carried out faster or can even be fully automated. Different teams such as sales and marketing within your organization can benefit from this. This doesn't mean that work disappears or is taken over, but rather being supported by your co-pilot, giving employees more time for tasks that are really important and cannot be taken over by technology, such as networking and building trusting relationships with customers. That is why it is important to embrace AI as soon as possible - and in a correct way.
What exactly can you do with Microsoft Copilot?
Dynamics 365 Copilot combines advanced, computer-driven language models (LLMs) such as GPT with the data within your organization from Microsoft 365 and Microsoft Dynamics 365 apps. In this way, Copilot ensures a true efficiency transformation of business processes throughout the organization. Microsoft Dynamics 365 Copilot provides interactive, AI-driven support for all business functions, from sales and service to marketing and supply chain. It is the world's first AI copilot natively built into both CRM and ERP applications. As a result, your teams actively benefit from automated meeting summaries, customer communication suggestions, supply chain forecasts, and product descriptions.
Transform your organization with AI and the Power Platform
AI is also applied in low-code platforms, which have experienced strong growth since 2019. For example, look at Power Apps, a low-code platform within the Power Platform stack that offers the combination of Excel and PowerPoint. Copilot brings the power of Generative Pretrained Transformer (GPT) based natural language exploration to all end users of your apps. With 'Formula generation', natural language expressions are effortlessly translated into Power Fx (programming language for expressing logic within the Microsoft Power Platform). Copilot generates apps and associated data through a multi-step natural language conversation. While you are chatting, the app is created and the command prompts are also linked.


But be aware, results may vary based on roles. This means that if two colleagues ask the same question and still get a different answer. This has to do with the rights and access to specific data and data associated with these roles. It is therefore important to focus on the security model with roles. This way you stick to the foundation of data, namely accessing data in the right way using applications. Thanks to Microsoft Copilot, your organization benefits from the added value of AI, while at the same time keeping your data safe within Azure.
Getting Started with Copilot and AI
Do you want to take full advantage of AI and Microsoft Copilot? Then take a critical look at what comes your way and form an opinion about this together with your security officer and CTO. When implementing new technology, it is always essential to properly set up the role definition and security policy.

By clarifying together what you will do with data, AI and Copilot and which integrations and tools you will use, you are really taking steps in the field of innovation and you can turn your organization into a connected company.

Written by
Yannick Noens
Business Development Manager, supporting organizations in becoming a connected company through Dynamics 365 & Power Platform
Want to give feedback? Deliver it straight to the author