Adriaan is Technical Designer ERP. He is responsible for the development of customizations within the Microsoft Dynamics ERP package (Dynamics 365 Finance & Operations). According to him, the attitude you have is more important than your technical skills. As a developer, you can only achieve success when you communicate openly, when you dare to question yourself openly and when you challenge your colleagues.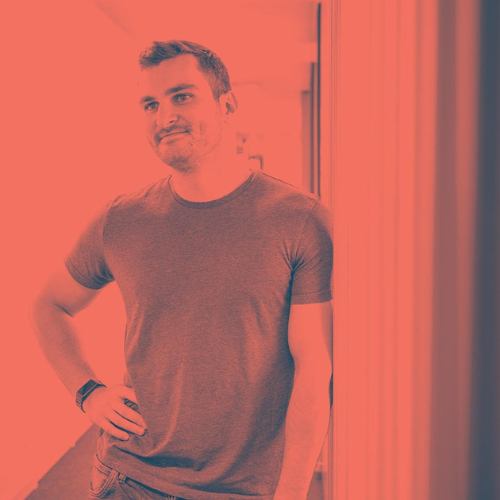 What technologies do you come into contact with?
"Within Dynamics 365 Finance & Operations you mainly program in X++ (a bit similar to C#) and you need knowledge of relational databases (MSSQL). Dynamics 365 Finance & Operations meanwhile runs on the MS Cloud (Azure) and Microsoft is increasingly breaking Dynamics 365 Finance & Operations open to other cloud applications. As a result, as a Dynamics 365 Finance & Operations developer you will come into contact with the full Azure stack, the Microsoft Power platform etc."
Cegeka considers continuous learning very important, how do you experience this in your job?
"As a developer, it is important that you are willing to keep learning. Cegeka does not steer in this direction, but it does facilitate it. It is up to you as an employee to say what you would like to work on, what experience you want to gain, where you want to grow, which certificates you want to obtain, etc. If you indicate this, Cegeka will ensure that you are given opportunities to achieve this."
Could you outline a "day in the life" of a Technical Designer?
"In terms of development tasks, I receive assignments from colleagues in the role of functional consultant. It is important that I coordinate with these individuals so that we both understand exactly what is needed and what will be developed.

In addition, during development you often come across things that were not foreseen in the initial design. To bring this to a good end, it is necessary that you build up a good interaction with the functional consultant.

It is often the case that when you encounter technical challenges, a similar scenario has already been experienced by another colleague. It is therefore important to consult the Technical Lead of the project you are working on and/or other colleagues.

In addition to development tasks, I am also the Technical Lead on a project. Here my responsibilities become a bit broader and I have to make sure that development tasks are identified, budgeted, developed, tested and available to the customer."
What key skills & attitude are essential for this role?
"In my opinion attitude is much more important than skills. You can always learn skills and Cegeka will always facilitate this.

As a developer, you can only be successful when you communicate openly, when you dare to question others, but certainly also yourself, when you are not only executive but also willing to think along with the customer and colleagues. In short, when you can use your analytical thinking skills outside the context of your computer."
What makes you consider a day or a project successful?
"Without satisfaction, nobody likes doing their job. So for me, a day/project is only successful when I myself get satisfaction from it. I achieve this satisfaction when I myself am amazed by the way in which I have been able to implement/solve matters that I initially saw as a challenge. The added value this provides for the customer as well as the recognition and appreciation from the customer but also from colleagues etc. also helps."
What are Cegeka's USPs for you, why do you like working here?
"The flexibility, professionalism, openness and appreciation of colleagues ensure that I can do my job stress-free. Cegeka has succeeded in developing talent and experience among its employees. This ensures that you can always rely on someone for every challenge. This puts me in a position where I dare to try things out and am not afraid to fail, which in turn has a positive influence on my own experience & knowledge."