All your sales data automatically in one CRM system thanks to Microsoft Viva Sales

Eline Schoonen
Feb 15, 2023 7:48:00 AM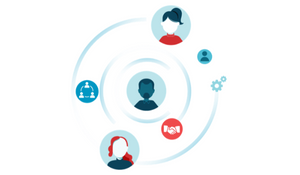 Employees are demanding more and more flexibility – from how they work to the systems they use. This results in an overload of information and data in various applications, collaboration and productivity tools. Therefore the time is now for sales people to have the right tools and streamlined workflows. Only then they can truly be successful.

Prevent your sales from being stuck in video conferences, customer meetings, discussions or having to sift through a large bucket of emails to get the information they need. Switching between these systems and time-consuming administrative tasks leads to frustration and takes up valuable time, preventing your sales from reaching its full potential. Enable engagement with your customers and therefore allow your sales to close deals more easily. How? By implementing Microsoft Viva Sales.

Bringing together customer data from different applications
Microsoft Viva Sales is a recently launched platform specifically for employees in a sales role. This solution brings together data from Office 365 and Microsoft Teams, allowing sales people to optimize their workflow. This integration allows them to update your CRM system directly from the productivity tools. They can also transcribe customer conversations, providing AI-generated meeting summaries and action items. This allows them to focus on what matters most: the customer.

Scalability, personalization and collaboration
Do your sales teams have specific needs for personalization and scalability? Cegeka Business Solutions can use Microsoft Viva Sales and your wishes to personalize the platform so that it can fully meet the specific needs of the client! This allows your sales reps to quickly and easily access important information and data. In addition, the platform also improves collaboration and communication between different teams. After all, your sales teams are obviously not isolated but work intensively with other departments.

Data-driven work
With Microsoft Viva Sales, sales teams have easy access to key information and data. Your sales teams gain insight into their performance and can easily analyze this data, allowing them to make better decisions. The tagging options and suggestions provided by Viva Sales make this more easy. A clear view of customer status helps them get the most out of conversations with customers. Let your sales easily identify trends and patterns and act on them so they get better performance and results.

Closing the deal
Viva Sales can help your company respond to various challenges and benefit from solutions within the entire sales process. Employee productivity goes up and collaboration between teams improves. The overview that this solution creates also ensures that your sales can make real strides. All by collecting data in the right place in one CRM system. They maintain their momentum thanks to AI-powered completion suggestions and reminders designed specifically to close the deal. This also allows them to make better decisions.
Take advantage of all the benefits of Viva Sales
Is your company looking for a more efficient solution for your sales process? Then we definitely recommend an implementation of Microsoft Viva Sales. This powerful and effective solution can tackle a variety of challenges and delivers efficiency and productivity gains. Are you curious about the possibilities for your organization and what Cegeka Business Solutions can do for you in this regard? Get in contact with us.

We are ready to help you and explore the possibilities together. Want to learn more about what Microsoft Dynamics 365 can do for your organization? Read more about this solution on our website.
Want to give feedback? Deliver it straight to the author