What's new for Sales, Marketing and Customer Service in Microsoft Dynamics 365 release wave 1?

Maarten Bekaert
Mar 13, 2023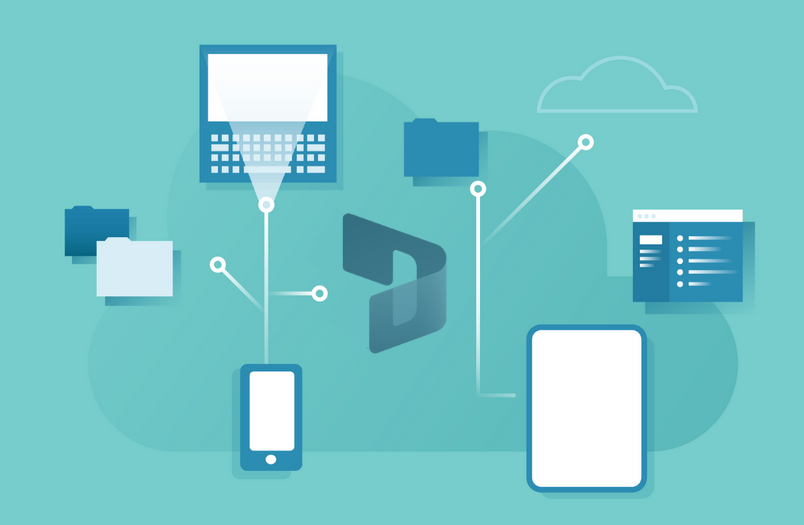 With general availability starting from April 2023 and running till September 2023, the first release wave of the year will expand Dynamics 365 Sales, Marketing and Customer Service with many optimizations and smart additions to improve the general experience of the platform. Read further for a list of the most interesting changes and additions for your sales and marketing teams! Or tune in on our webinars at the end of March.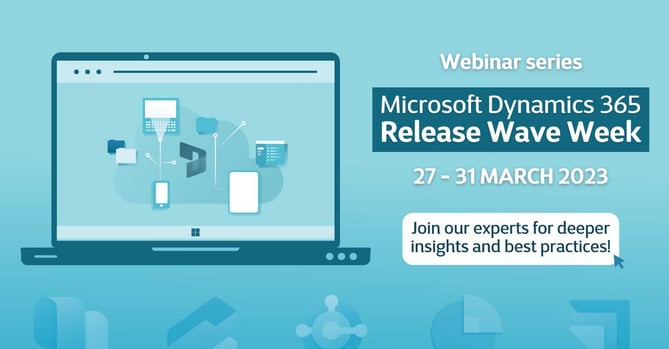 What's new for Dynamics 365 Sales?
Enhanced revenue intelligence
Manage opportunities more effectively using the new pipeline view
The new opportunity view gives sellers a bird's-eye view of the pipeline to manage opportunities more easily and intuitively than ever before. Designed with sellers in mind, this new experience will save time by removing unnecessary steps and processes that sellers would normally need to do, streamlining everything into one single workspace. Above all, using the opportunity view allows sellers to uncover deals that need attention and act on the spot, also including the ability to customize the view to one's liking.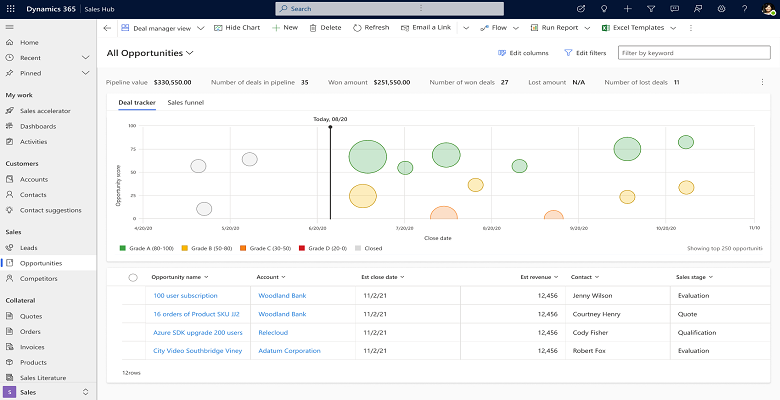 Enhanced forecasting capabilities
Adjust forecast values for drill-down entities
While managers can adjust forecast values directly for the top-level record, they also need the ability to adjust the forecast values at the drill-down level. For example, adjusting values for specific accounts or products under a user's forecast. With this enhancement, you can easily adjust forecast values for drill-down entities directly in the forecast grid.
With this enhancement;
You'll be able to edit the values of drill-down entities in the forecast grid, provided you have the manual adjustment privileges.
You'll see the edit icon next to drill-down entities that allows you to edit the values of the drilled-down entity.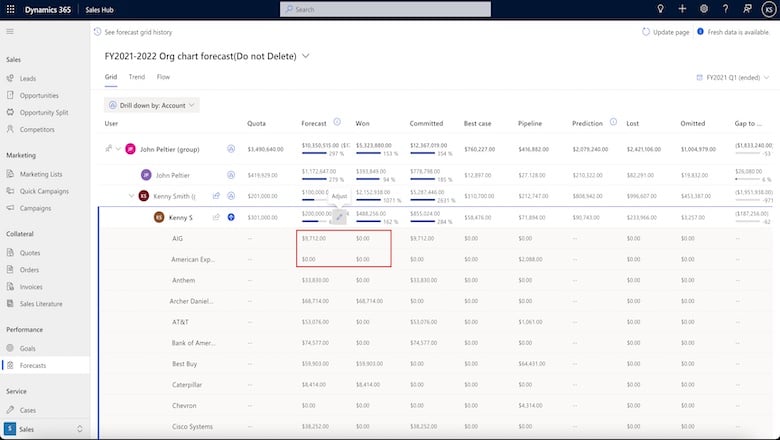 Improve forecast accuracy with yearly and weekly forecasts
Organizations track their sales objectives at varying intervals and want the ability to forecast accordingly. Sellers can now supplement their quarterly and monthly forecasts with a yearly forecast that surfaces the progress and projections for the entire year. In addition, weekly recurrences can be configured for sales organizations with short sales cycles to measure weekly sales goal progress.
As an administrator or forecast manager, you can:
Configure forecasts with a yearly recurrence.
Configure forecasts with a weekly recurrence.
As a seller or sales manager, you can:
Track your yearly and weekly forecasts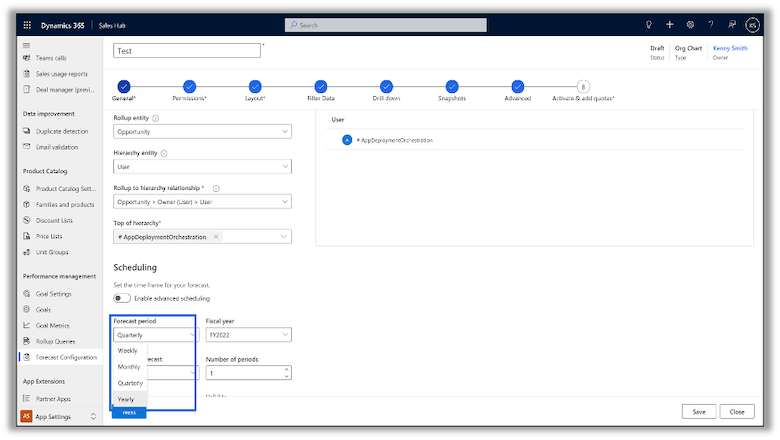 Actionable Al-powered suggestions in workflows to improve seller effectiveness
This new functionality will provide your sales team with AI-powered suggestions that include the necessary insights and tools to optimize interactions with accounts and decrease the time searching for information.
The easy-to-use solution includes:
A curated list of account-based suggestions for targeting the prioritized list of accounts.
Precise workflows to guide sellers to perform the right tasks to improve sales effectiveness.
Seamless collaboration with the team to collectively work on improved outcomes.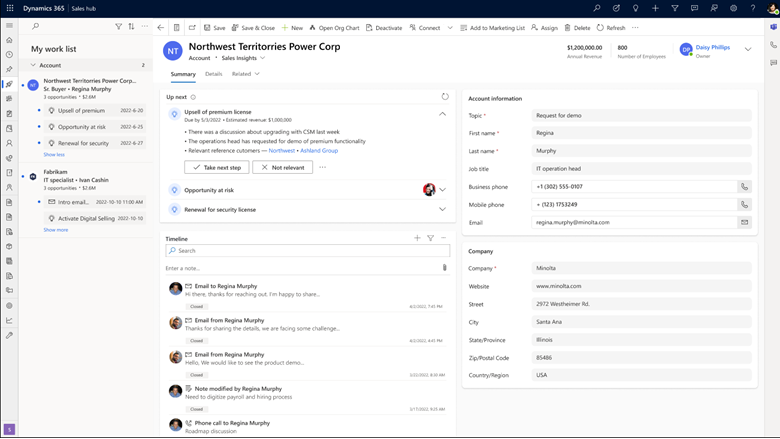 Viva Sales for seamless Microsoft 365 integration
Viva Sales empowers sellers with access to customer information and relevant insights at their fingertips, allowing them to save time and focus on what matters most - building connections with customers and closing deals.


In the upcoming 2023 release wave 1, Microsoft is further enhancing the seller experience in Teams and Outlook with the help of data and AI. Bringing together productivity tools and the system of record will enable sellers to work seamlessly and stay in their workflow. This will create collaboration experiences within the context of a situation or task at hand to improve customer engagement, allowing sellers to regain time to concentrate on building meaningful connections with customers.
Enhanced Sales Sequence capabilities and templates
Selling is not always straightforward, and interactions with customers can take unexpected turns. In some cases, a potential customer may ask for information that wasn't scheduled for discussion or provide new information that requires a shift in the sales process.


With sequences, sellers currently follow a defined path template, but with this change, sellers can adapt a sequence and execute steps aligned more to the signals of the customer and their preferred working style. Sellers can personalize a sequence with their activities and adjust the order. This helps the seasoned sellers be independent of managers and have the flexibility to adapt to different customer conversations to help close deals faster.
With this update, sellers sequency capabilities are enhanced:
Adjust the order of sequence steps and complete future activities
Add your activities or removing certain activities.
Assign future sequence activities to a team member.
Easily find which team members completed different steps and who would work on future steps.
Typically, managers have to create sequences from scratch or rely on out-of-the-box templates provided by the system. While this works well, creating and customizing templates can be time-consuming.
With this enhancement, you can now create your own sequence templates:
Create your own sequence template or convert a sequence into a template.
As you create a new sequence, use your own template or out-of-the-box system-provided template.
Share your sequence templates with team members.


Capture crucial details of a sales call
Ensure that you never miss the most crucial sales call details, such as budget, authority, need, and timeline (BANT). In this release, conversation intelligence identifies discovery and sales-oriented mentions, surfacing these details in the call summary to ensure important signals are noticed to help progress their sale.
As a seller or manager, you'll be able to see information related to budget, authority, need, and timeline (BANT) in the following places:
BANT classification for detected questions.
BANT-oriented call notes.
BANT grouping of mentions, including a new category for a person's role, such as manager, VP, accountant, etc.
BANT topics for playback segmentation.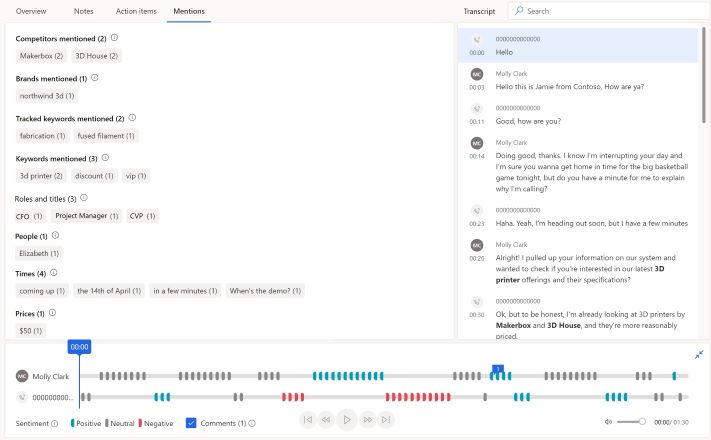 SMS capabilities
As the world shifts towards a digital lifestyle, more and more customers prefer to be contacted via SMS as it is a convenient and effective channel for sellers to send reminders, provide updates, and respond to queries.
This feature will allow sellers a number of capabilities:
Admins will be able to assign specific numbers to any user/team for SMS.
Receive customer responses for SMS sent and revert to build an ongoing conversation.
Receiving and responding SMS from all relevant Dynamics 365 Sales entity forms.
Get real-time notifications for incoming SMS.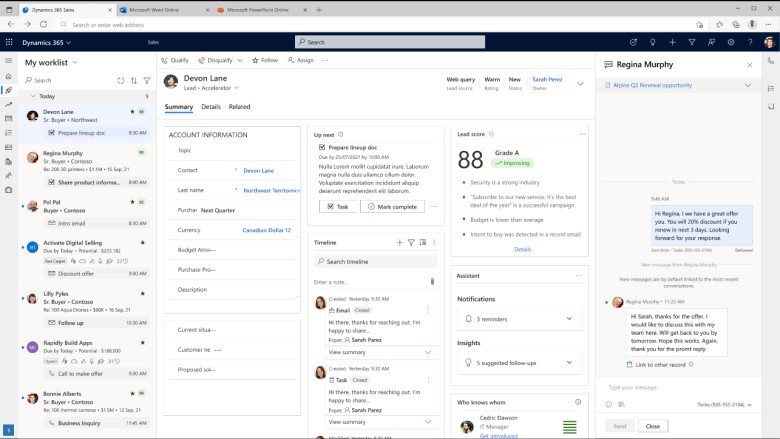 What's new for Dynamics 365 Marketing?
New B2B analytics dashboard
Track your pipeline development and analyze the impact and contribution of journeys, marketing messages, and content at different stages of your business process with new out-of-the-box dashboards. When using Dynamics 365 Marketing and Sales, further optimize your pipeline velocity by aligning marketing and sales teams on common goals through a shared view of the pipeline.
Seamless integration with Dynamics 365 Sales gives a comprehensive view to track accounts moving through the pipeline (from prospects and leads to won opportunities).
Identify the main drivers for lead generation and qualification.
Learn about your most effective sources that produce high-quality leads.


Customizable Preference Center
In real-time marketing, marketers now have the ability to fully customize the out-of-the-box preference centers. Customize your preference centers, enforce and track consents across multiple brands and business units to meet your business needs. Keep your customers engaged by giving them control over the topics and channels they want to connect with. Customers can subscribe to the topics that matter most to them, while ensuring that you capture the consent you need to meet legal and regulatory requirements.


With real-time marketing topic support, you can avoid embarrassing and costly configuration mistakes, maintain and enforce lists of subscribed customers, and take advantage of enhanced preference centers that better represent your brand.


These new functions allow you to design consent to match your brand and compliance needs:
Create and manage topics for customers to opt-in to marketing subscriptions.
Create topics and preference centers that align with your brands and business units.
Real-time marketing automatically enforces consent and topic checks, eliminating the need to create and manage subscription lists of contacts or leads.
Configure real-time marketing preference centers that represent your brand's look and feel with new logo, style, and color options.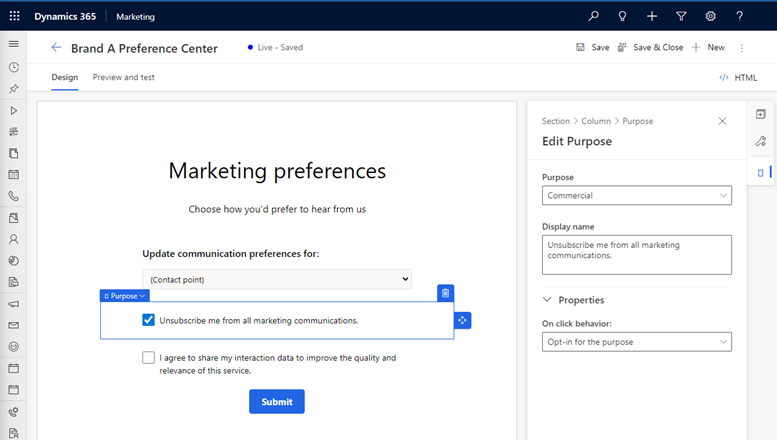 UTM Marketing tagging
Marketing messages can be a significant contributor to your website traffic, but it is hard to track their sources without UTM (Urchin Tracking Module) parameters. They're often left out entirely from the links in messages due to the time-consuming process of manually adding the tags to each link.
Dynamic 365 Marketing now automatically adds UTM parameters to your messages, following a consistent taxonomy. This provides a complete visibility into your marketing contribution to web traffic and, in turn, empowers you to optimize traffic and conversions.


Prevent message fatigue by limiting the messages sent to a customer in a specific period
To ensure optimal engagement with your key messages, it's important to make sure that customers receive the right message at the right time and frequency, while also preventing fatigue and avoiding unsubscribes. However, some customers may qualify for multiple journeys and campaigns that run simultaneously, which can result in them perceiving the messages as spam and disengaging.


With the frequency cap feature, you can optimize engagement by controlling how many messages are sent across multiple channels over a period.
Define a specific cap per channel (email, text message, push, and custom channels).
Enable daily, weekly, and monthly frequency caps.
Decide which journeys should have the frequency cap enabled or disabled.
Transactional messages will always be excluded.
Check which messages have been sent and which are still pending for each customer.


Emails in timeline
Deepen your understanding of the customer by viewing exact copies of sent emails, allowing you to build more personalized experiences. By reviewing sent emails, you can improve visibility, ensure compliance, and enable better auditing. Here are some of the benefits of this feature:
See exact copies of emails sent in contact and lead timelines.
Review the output generated by advanced personalization features such as conditional content.
Adjust storage of archived emails to meet your business needs.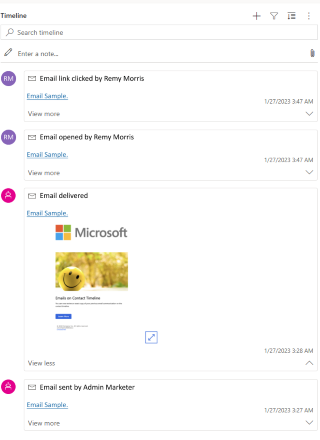 What's new for Dynamics 365 Customer Service?
Updates for CS Agents
AI-suggested replies and AI generated summaries
Going into public preview in April 2023, Customer Service will be powered by state-of-the-art natural language processing technology used in Nuance Agent Coache, learning and adapting from an organization's chat history to suggest relevant and high-quality responses. This will drive significant improvements in key contact center metrics including handle time, throughput, and agent satisfaction.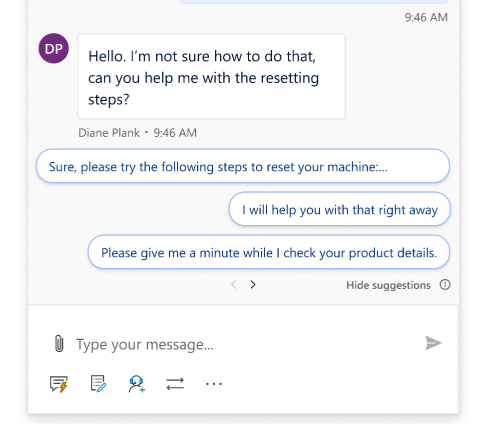 You will also be able to keep track of conversations with the auto-summarization feature that will allow agents, supervisors and SME's to get better summaries and an improved user experience.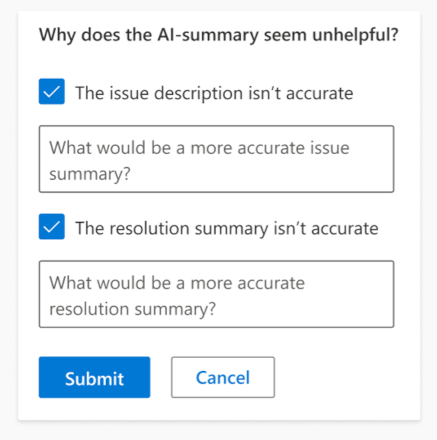 Forecast agent demand to handle customer conversations
In this release, more granular agent forecasts will be provided at 15-minute intervals that customer service managers can use to create agent schedules for voice and digital channels.


Agent forecasting for conversations (voice and digital channels) was released as a preview in October 2022 with the following set of capabilities:
Forecast conversation volumes daily.
Automatically detect seasonality from historical traffic to help customer service managers accurately forecast conversation volumes during special, seasonal events.
Forecast agent demand to handle forecasted conversation volumes daily to account for business goals such as service-level agreements (SLAs) and average handle time.
Visualize volume and agent forecasts on a daily, weekly, and monthly basis, for up to six months.
Slice volume and agent forecasts by any combination of channels and queues.


Forecast case volumes daily and at 15-minute intervals
In addition to a daily case volume forecasting, this release will provide a more granular forecasting at 15-minute intervals so that managers can perform agent planning and scheduling with higher precision.


Case volume forecasting was released as a preview in October 2022 with the following set of capabilities:
Forecast case volumes on a daily basis.
Visualize forecasted volumes on a daily, weekly, and monthly basis, for up to six months.
Slice forecasted volumes by channel and queue.
Automatically detect seasonality from historical traffic to help customer service managers accurately predict case volumes during special, seasonal events.
Updates for omnichannel
Enable customers to keep queue spot, get callbacks
Enabling active callbacks by using automation for their customers means they don't have to remain on the call for an agent during busy periods. Direct callback provides better customer experiences and helps administrators staff queues more efficiently.


For companies using the voice channel, this feature provides their customers with an option to request a direct callback by retaining the caller's queue position in the following scenarios:
The call wait time exceeds the specified threshold.
The call's queue position exceeds the specified threshold.


Updates for supervisors
Monitor support operations in near real time
This function will give visibility into the overall support performance through near real-time reporting, empowering managers to monitor key operational metrics, make course corrections at the right time, and keep service levels high.


Key capabilities to optimize agent allocation in real time and to provide top-noch support and boost customer satisfaction include:
Summary report: Helps understand the volume of customer interactions and service levels, along with the available capacity in near real time.
Agent report: Provides information about the agent capacity and status for the last 24 hours with the ability to drill down to see details, like capacity and adherence, at each agent level.
Voice report: Provides voice-specific metrics for the last 24 hours.
Conversation list: Provides the list of currently ongoing conversations (in the last 24 hours).
Visual customization: Helps customize the visual display of the out-of-the-box Power BI reports and publish to your organization.
Personalization: Lets report users save and manage multiple bookmarks with the ability to set a default bookmark.
Auto refresh/Pause refresh: Lets users pause and resume data refresh of reports.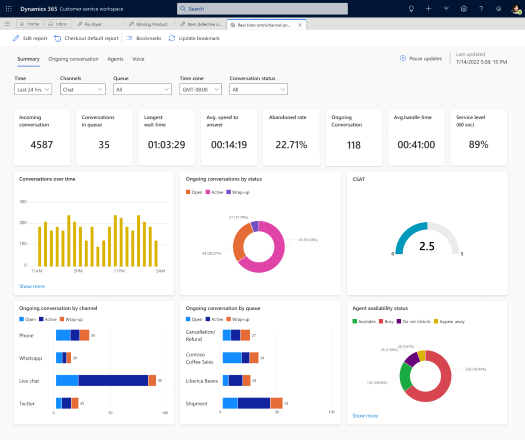 Microsoft Teams Integration
Use customer support swarming for complex cases
Customer support swarming enables agents to bring together the right experts across their organization to resolve complex cases faster.
Enhancements to admin experience include:
Guided admin setup:

A guided, step-by-step setup helps significantly reduce the time required for administrators to configure swarming in their organizations, helping make the onboarding experience more efficient.
Swarm form enhancements:

During the swarm configuration, administrators will no longer have to manually activate the case form for swarming. It will be automatically activated.
With the swarm form now being customizable, administrators will be able to add a new tab, section, or field to the swarm form (1). The changes they make will promptly reflect on the agent side (2).
Enhancements to agent experience include:
Enhanced user interface for swarm creation:

The swarm creation form now comes with an advanced look and feel. With the visual indicator, agents can view the progress of swarm creation and see a clear indication of steps already completed and those remaining.
Lesser manual effort required for agents to create swarms:

Agents will no longer have to manually type the swarm title. The title will be prepopulated with the case title, which agents can then edit if desired. This will help them save time and allow them to focus on getting the expert help they need to quickly resolve customer cases.
Want to learn more about Microsoft Dynamics 365 release wave 1? 



Discover all the new features included in Microsoft's release wave 1 plan, or contact our experts to find out more about the opportunities these updates can bring to your business.

Written by
Maarten Bekaert
Solution Architect with a strong affinity for sales & marketing, having over fifteen years of experience in business & IT consulting for digital transformation and CRM-related solutions. Fascinated about the flexibility of Dynamics 365 and its potential to digitally transform companies without limits. With Power Platform at its core, translating company strategies into effective solutions will never become impossible.
Want to give feedback? Deliver it straight to the author